You might not think about your bathroom that often, but there are lots of important decisions to be made when it comes to designing and building your bathroom suite. A bathroom that is connected to a bedroom is known as an ensuite. The master bedroom often has an ensuite, however bigger homes can have more than one. Ensuite bathrooms usually include: A bath or shower, wash basin, toilet, towel rail, mirror.
From the layout to the colour scheme, the design options are numerous, and choosing one that you love could be the best investment of your money. Choosing the right tiles, sink, mirrors, bathtub or basin will make or break the look of your bathroom. Read on to discover everything you need to know.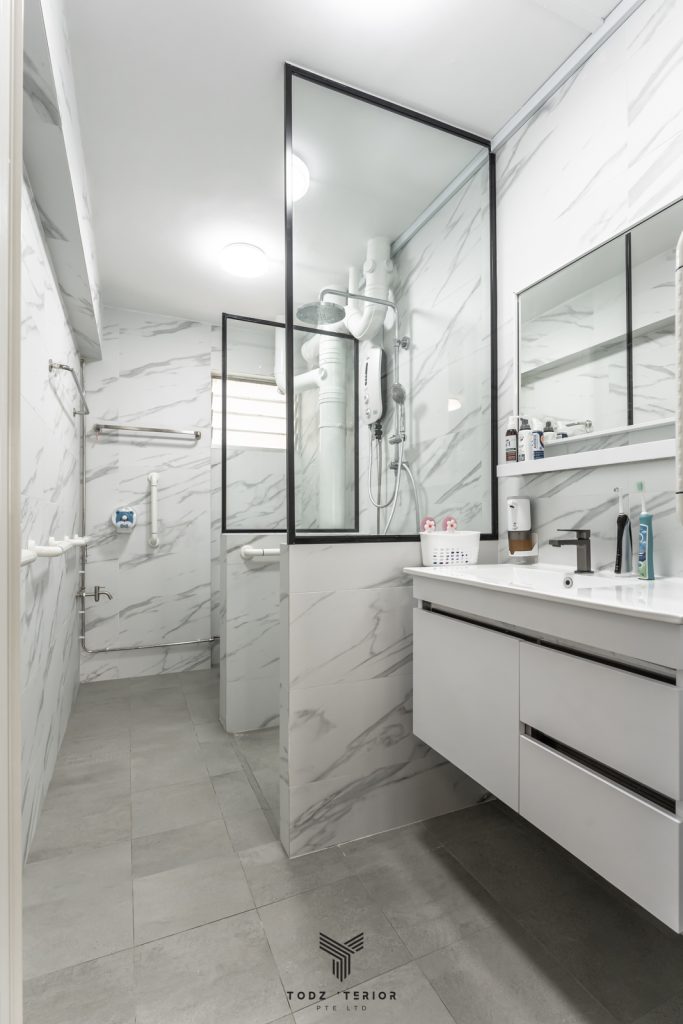 What is a good size for an ensuite?
An ensuite bathroom typically requires at least 0.8m by 1.8m of floor area, which is sufficient for a shower, sink, and toilet. In a larger area, you might be able to add a double basin vanity unit or include a bathtub and a shower.
An ensuite is a very important part of your home. There are many things that you can do with an ensuite. For example, you can use the bathroom to clean yourself after a long day of work or school. A bath can also be used for relaxing, getting ready to go to bed, and playing with your children. The bathroom is also a great place to entertain your friends. You can put your favourite board games in there, and play with your family.
What is smallest space for ensuite?
The very minimum required for an ensuite bathroom, which is typically 0.8 m by 1.8 m, can accommodate a shower, sink, and toilet. There may be additional alternatives for your ensuite if you can install a bath and a shower in a bigger space in addition to a double basin vanity unit.
You should decide where you will install the bathroom. The place to start is usually where you will sleep. If you will sleep in a separate bedroom, this is the place to start. You will find that the area where you will install the bathroom is pretty small. You may be able to install a shower, sink, and toilet in this area. This is also where you can install your vanity unit. You might want to consider putting the toilet right next to the sink to avoid using too much floor space. If you plan to have a bathtub, you should consider installing it in the middle of the room or next to the shower. If you don't have enough space, you can put the tub in the corner. The best place for a bathtub is right next to the shower. You should install the bathtub so that it is facing away from the bed. The shower and the toilet are located next to the bathtub. You can put your toilet inside the bathroom, but this means that you will have to walk through the shower to use the toilet.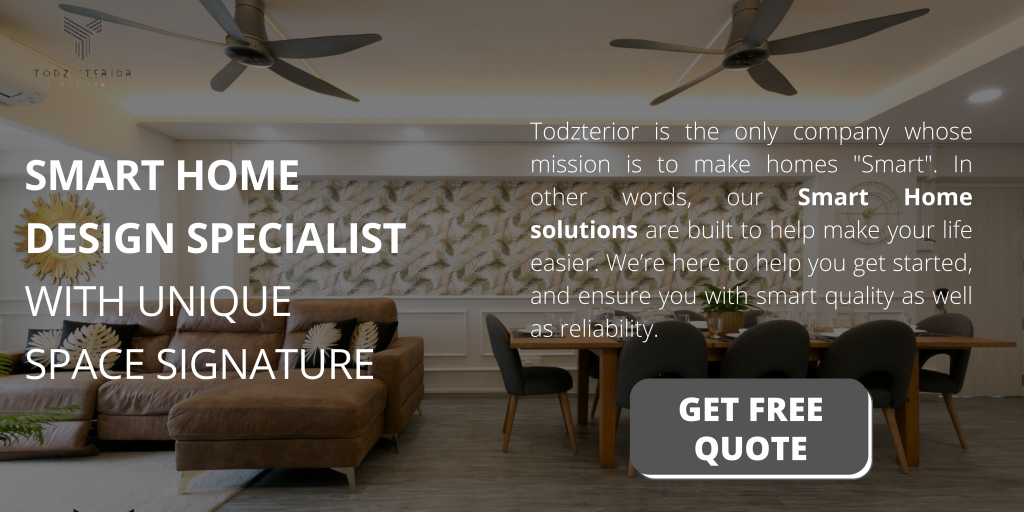 How do you design an ensuite?
The arrangement of your sanitary ware in a small space-constrained ensuite bathroom is just as crucial as the things you decide to have. Here are three fantastic ensuite bathrooms ideas in Singapore that demonstrate what can be done in your own home, even with a limited amount of room.
Sliding doors
Adding sliding, barn-style doors will enhance the traditional ambiance of a luxury ensuite and make it more reminiscent of a tranquil rural hideaway.
Modern Tub
A contemporary, deep soaking tub can offer a genuine air of grandeur to your room if your bathroom has enough for both a bathtub and a shower.
Bold with Colour
Your ensuite will quickly feel like the most opulent of spas if you paint the walls in lavish hues like deep blues and greens or add tiles.
Wet Room
Because every piece of sanitary equipment may be included into the space, a wet room can be an excellent method to construct an ensuite in a compact space.
Go with Glass
Since lighting is always important in an ensuite, why not install a glass partition for your ensuite instead of a conventional stud wall to take advantage of the natural light from your bedroom?
Lighten up
Another crucial step in bathroom design is making sure there is adequate lighting. You'll need a light source that produces strong light to lighten the space because some en suites can feel dark or lack a window. LED spotlights are useful for bathrooms because of their flush design, which prevents them from hanging down into the space and consuming valuable real estate.
Combine your Basin and Toilet
If you have a small bathroom, you might want to think about merging your toilet and sink into one small unit.
Drawing up
It's a good idea to mark everything out on the floor once you've chosen the various elements for your new en suite so you can see exactly how the space will look. Without actually seeing the size of the sanitaryware in the area you're constructing, it can be challenging to visualize its dimensions.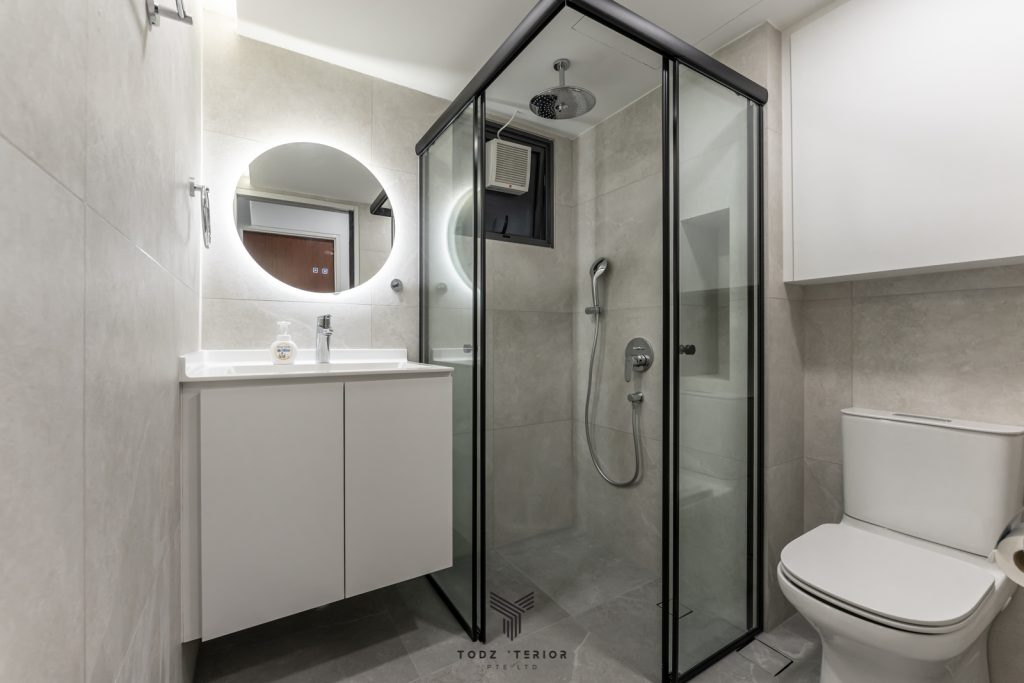 Floor Plan
Consider where the door will be placed and which direction it will hinge when designing the layout of your bathroom suite. Consider using a folding or sliding door instead of a standard door if it will swing uncomfortably into the en suite because they won't take up any valuable floor space.
Perfect Placement
Despite the small size of this ensuite just 1.5m by 1.5m the owner was able to incorporate a shower, a toilet, and a sink by effectively utilizing the room's corners.
How do you maximize space in a small ensuite?
Bathrooms are one of those home interior design features that, like closets and pantries, never seem to have enough storage space. Your nightly shower and morning cosmetic routine are just two of the multiple uses for your small bathroom. If you're tired of battling your small bathroom but don't have the time or money for a total renovation, use these simple techniques to make the most of every square inch of space you do have. With these creative small-space solutions, you can enhance bathroom storage and keep your cosmetics, toiletries, and linens organized. With the right storage, even the smallest bathroom can appear luxurious.
Space Savers
Sanitaryware is available in a variety of shapes and styles to fit different spaces, so choose items that are space-efficient and won't take up extra space. Smaller bathrooms benefit greatly from back-to-wall or wall-mounted WCs because the cistern is concealed in the wall and just a little projection is made by the entire unit. The same is true when choosing a basin: if your room is small or your wall space is limited, use a corner basin, which will fit nicely against the wall.
Mount a Towel Rack
Utilize vertical space to help make room in your linen closet or bathroom cupboards. Extra hand towels, washcloths, and other small bathroom necessities are best kept in a wall-mounted rack or storage unit with individual open cubbies. To make larger towels fit the narrow holes, try curling them.
Add Storage
With the help of this behind-the-door hack, you may increase the bathroom wall cabinet's storage capacity. To transform the surface into a storage hub for tiny grooming equipment and beauty supplies, attach a magnetic message board inside the door. To hold objects, use thin magnetic containers and hooks. You can also attach magnets to the back of cosmetics to place them directly on doors. Make sure everything is set up so the door can still close all the way.
Basket Shelves
Install a set of baskets on the bathroom wall for a low-cost storage option. Lotions, travel-sized towels, and cosmetics are kept confined by the elevated sides, which also offer easy access. Installing these basket shelves requires driving nails into the wall through the basket's weave.
Store Bathroom Essentials on a Cart
Convert a bar cart into a mobile storage unit for the bathroom. Shakers and glasses can be swapped out for towels and lotions, or a mobile mani/pedi station can be set up. Simply roll the unit into a closet until you need it again when you need more room.
Utilize old furniture in the restroom
In situations where cabinets and drawers are insufficient, furniture designed for living areas can also serve as additional little bathroom storage. This tiny glass display case, tucked between the vanity and the wall, contains extra towels close to the sink. You can keep goods you'd prefer not to exhibit, like extra toilet paper or cleaning materials, in a basket on top.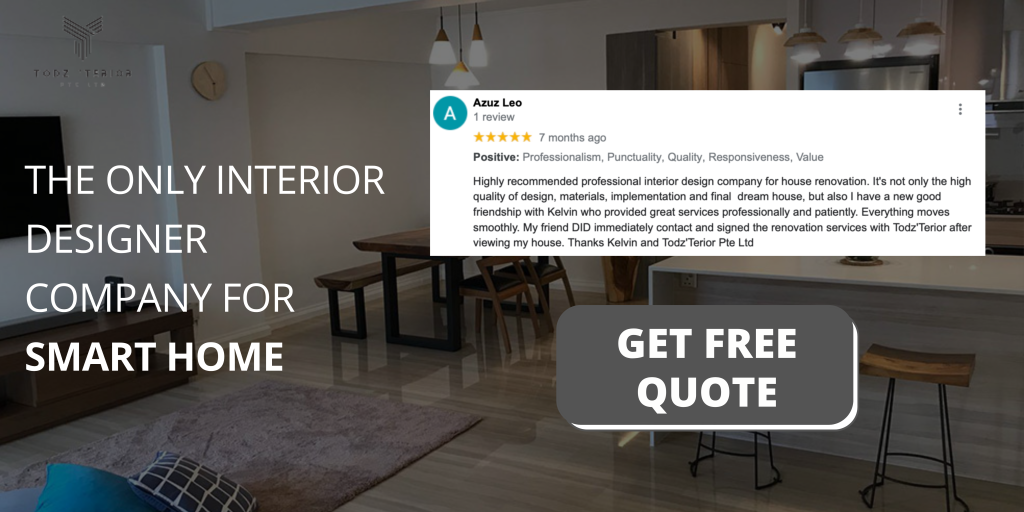 TodzTerior
We're here to help you get started Smart Home solutions
Todzterior in 7 Gambas Cres, #01-03 ARK@Gambas, Singapore 757087 is the only company whose mission is to make homes "Smart". In other words, our Smart Home solutions are built to help make your life easier. The possibilities for the future of the smart home are endless. You've come to the right place. We're here to help you get started Smart Home solutions, and ensure you with smart quality as well as reliability.