All photos by Todz'Terior
As far as home decor goes, what you think about the place you live in directly impacts how you feel about yourself and your life in general.
If you're thinking about changing the interior design of your home, you may think that the task will require you to spend a lot of money and time. In reality, the amount of money and time you spend will pale in comparison to the amount of joy you get out of it.
You can say goodbye to your worries! 
At Todz'Terior, we pride ourselves on being a multi-headed design firm that is able to offer a wide range of services. Our team specializes in creating simple, yet special spaces. We believe that good space planning and design are crucial in order to create an overall positive energy for the space. We understand that spaces are not passive bystanders, but rather an active environment that can provide users with a better quality of life and experience.
Get to Know Us
Tod'z'erior is the only company whose mission is to make homes "Smart." In other words, our Smart Home solutions are built to help make your life easier. The possibilities for the future of the smart home are endless. You've come to the right place. We're here to help you get started with Smart Home solutions and ensure you with smart quality and reliability.
Moreover, we have a team of experienced and professional home decoration consultants who will work with you to ensure that your home project is completed on time and within budget. We also have a team of skilled tradespeople who will carry out the work to the highest standards.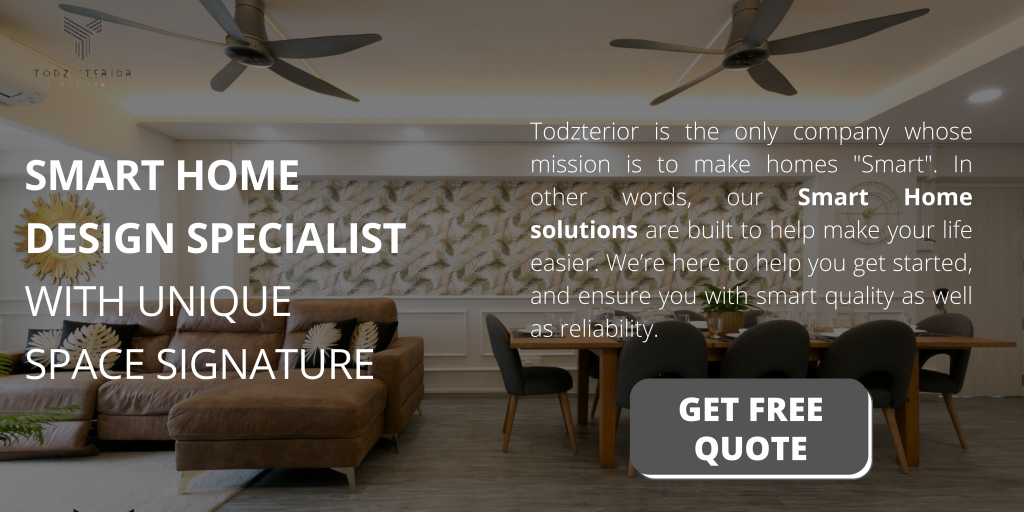 Our Past Projects
With years of experience in the industry, Todz'Terior services has a proven track record of providing quality services to its clients. The company has a team of highly skilled and experienced professionals who are always ready to take on any challenge. Below are some of our latest projects:
362C Sun Natura HDB
263 Tampines Street 21 HDB
Commercial
Testimonial
Todz'Terior services is also known for its transparency and customer service. The company is always willing to go the extra mile to ensure that its clients are satisfied with the results of the project. Below are our customer's testimonial about our services:
"It was a great pleasure to get my house completely remarked by Todz'Terior! Their professionalism is commendable. I am a very particular person with so many requests but Todz'Terior were extremely understanding and accommodated to all my requests. They did a lot of homework and kept us updated with the work but we were stress-free." – Hemashantini, Customer.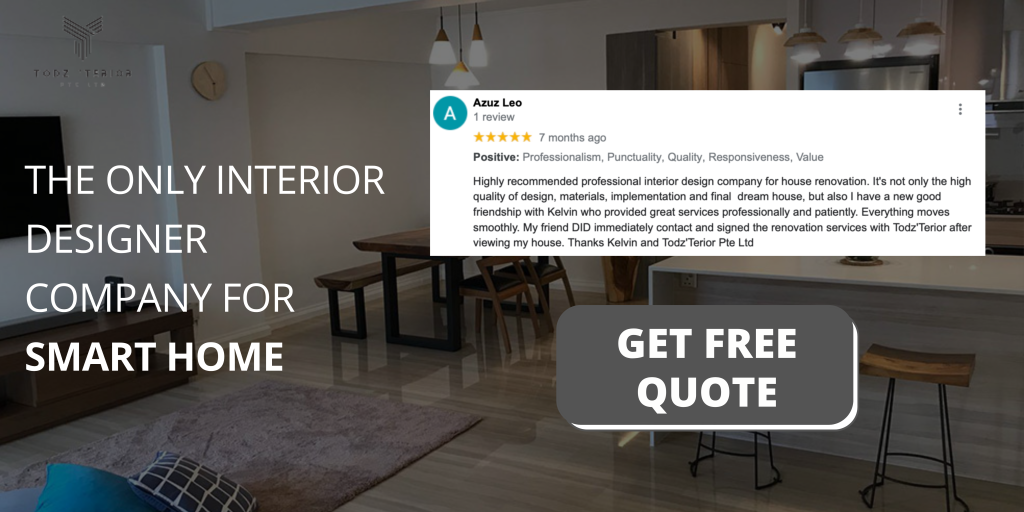 "We would like to thank Todz'terior Pte Ltd, specifically Kelvin Kew and his team of designers and contractors for the excellent work done from the period of 29 Nov 2021 to 21 Jan 2022. Over the course of the project, Kelvin would provide value-added advisory when we were in doubt and was quick to respond and address issues. Overall, we would recommend him for any renovation projects as we had a pleasant experience working with him." – Javier Ang, Customer.
Don't hesitate to find out more about us. Call us here or visit our showroom at 7 Gambas Crescent #01-03 Ark@Gambas Singapore 757087.