The design of a space can change everything from the function of a room to its overall appeal. The interior design team is often responsible for developing a layout and planning out the aesthetic details of any given space. In fact, the initial stages of a home renovation project can involve engaging an interior designer to determine the look and feel of a specific space.
While the initial stages of a design project often involve a handful of tasks such as creating a plan, shopping for furnishings and materials, and finding out what works best in that particular location, it's not always clear when you can engage a designer. This article will walk you through the ideal times to get in touch with an interior designer to discuss your next project.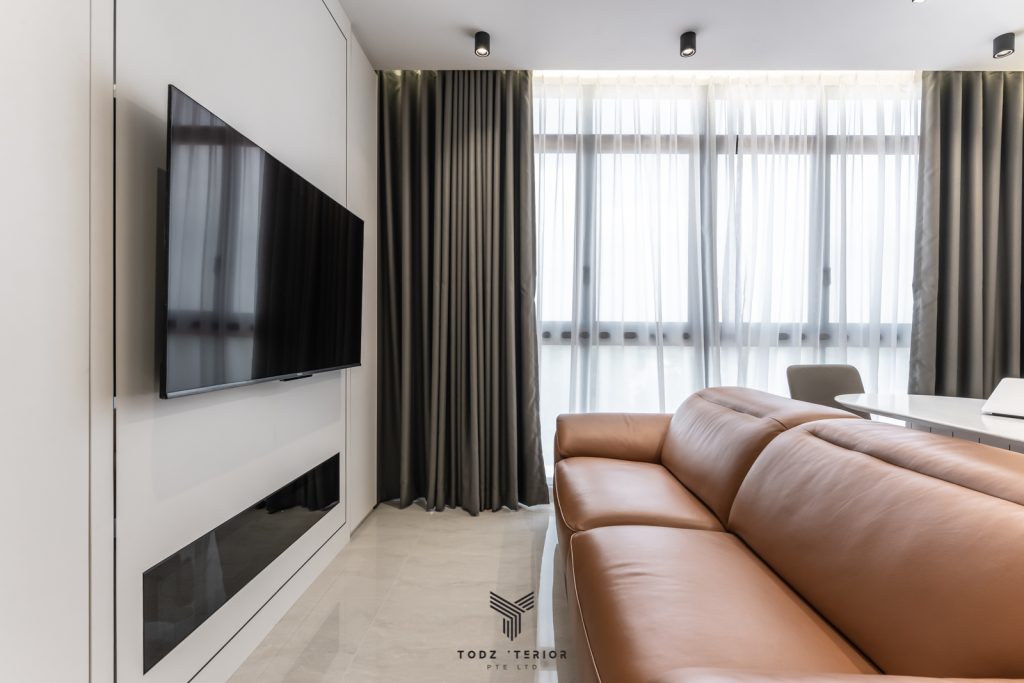 When You're on a Responsive Budget
Working with a designer doesn't cost a lot of money. They might even assist you in sticking to your budget. A designer can help you save time and money by providing a dossier of insider knowledge. This information might range from discounts to undiscovered gems to understanding whether an item is pricey or not.
Some individuals do not understand that designers pay trade prices for the majority of items and pass the savings along to their customers. They also understand when it makes sense to save money and when it does not. Thus, hiring a designer can almost be considered free.
When You Want Everything Done In One Day
Is it the intention to move into a completed house? Postpone your move-in date if at all possible, or think over your strategy again. Designing well takes time. Due to shipping and customization, the time it takes to choose things may be increased by weeks or even months. There may be problems over which the designer has no control, such as lost items during shipping or delays from foreign suppliers, etc.
Using an interior designer won't allow you to move into a new property with little notice and everything neatly set up and finished. The business that sells packages of rooms and includes complimentary lamps and a side table is usually the one you should go to. You will have a comfortable seat, even though it won't appear as nice or have a designer touch. Instead, you may rent some furniture and take your time figuring out what you actually want.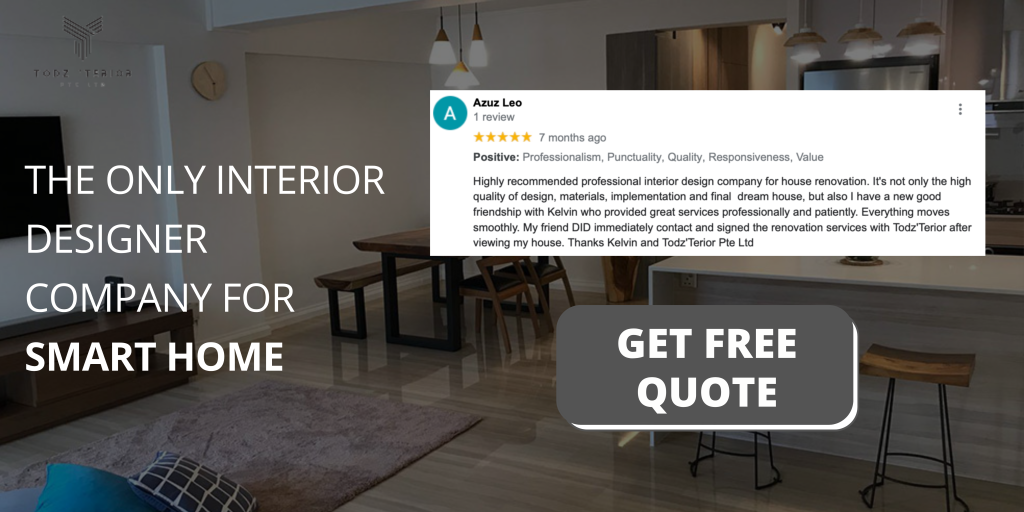 When You're Ready For A Change
If you're not a skilled designer, it can be overwhelming to have fewer alternatives for wallpaper, flooring, or lighting. emphasizes the importance of having as much information as you can because every decision you make will ultimately exclude hundreds of other alternatives.
Due to their ability to understand the wider picture, designers can assist you in avoiding decisions that will not benefit you in the long term. Because it's their profession, they are also knowledgeable about particular products. They are either well-versed in the advantages and disadvantages of the several options you will be choosing from or have firsthand experience with them.
When You go for Major Renovation Projects
A contractor can assist you in making plans for demolishing items and relocating walls, but there are a lot of small issues to take into account while making a significant remodeling. They will assist you in creating a strategy to ensure that all decisions—big and small—work together to create a final appearance that not only expresses your personal style but also makes practical sense.
Keep in mind that designers can help you determine the more useful components of a project with a wide scope. Even decisions that may seem insignificant, such as where to place your kitchen's outlets, can have a big effect on how the project turns out. For instance, if you prefer a solid piece of marble rather than a tile backsplash in your kitchen, it is best to conceal the outlets behind the taller cabinets. By doing this, outlet cuts won't harm the backsplash.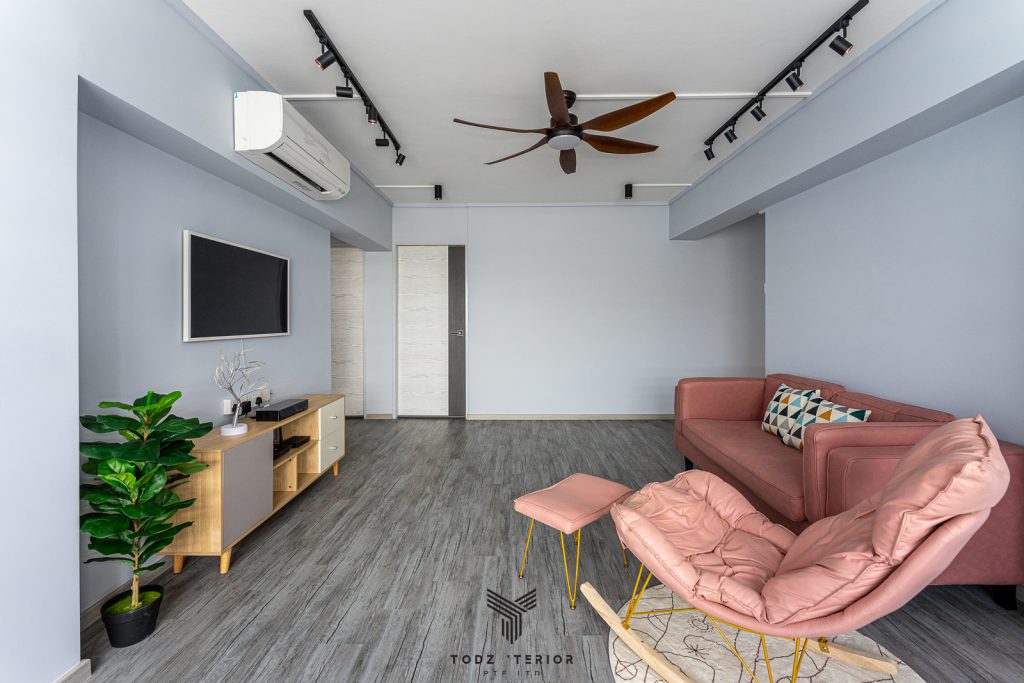 For Mid-Level Renovations
Even if you only buy furniture, you're definitely doing considerably more than that, especially if you don't entirely redo your kitchen or bathroom. choosing new cabinets or appliances, installing a new countertop, etc. Resources are plentiful for designers.
Design must serve a purpose. For instance, a countertop made of unsealed Carrera marble may appear lovely, but if you cook every night, it would probably get stained and unusable. You can locate a quartz-like material that is far better suited to your lifestyle with the help of an interior designer.
When Moving Into A New Home
Moving to a new home can be intimidating. You might get help from an interior designer to update important things like paint colors, lighting, window treatments, and floor plans. They can also help you decide what new items are needed to complete the space in a way that is aesthetically pleasing, harmonious, and appropriate for your taste and the way you intend to use it. You can use their services to simply help you make decisions about what furnishings from your previous home to keep and their best placements.
How To Choose The Right Interior Design Firm in Singapore
Attend online and offline shows to view the work of a variety of interior design companies in addition to asking your family and friends for advice. Make careful to inquire about the firms' various areas of expertise: Some interior designers in Singapore concentrate on a specific design aesthetic. Find a designer with whom you can speak well and with whom you feel at ease.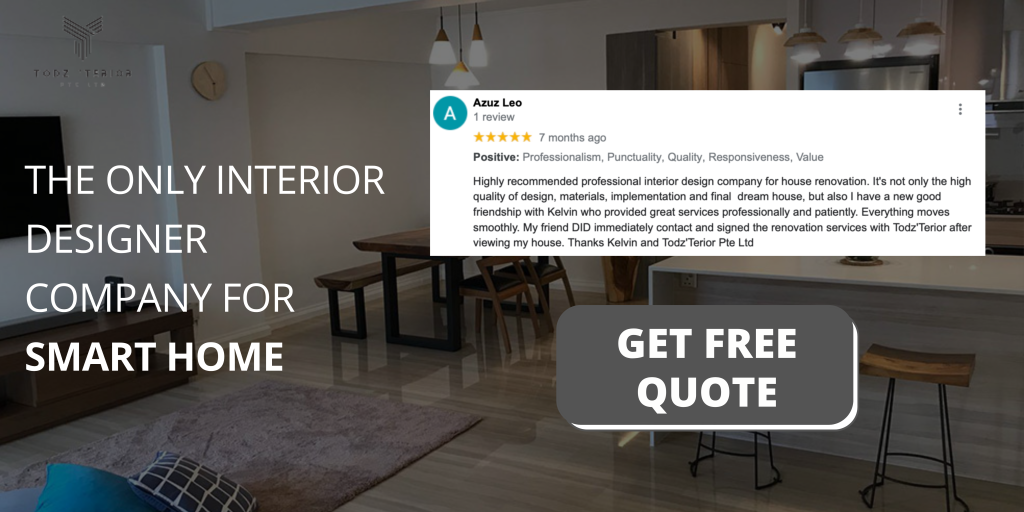 We're here to help you get started Smart Home solutions
Todzterior is the only company whose mission is to make homes "Smart". In other words, our Smart Home solutions are built to help make your life easier. The possibilities for the future of the smart home are endless. You've come to the right place. We're here to help you get started Smart Home solutions, and ensure you with smart quality as well as reliability.