There's no denying that lighting is one of the most important aspects of a home. It not only gives the room a specific ambience but it also makes the room more aesthetically pleasing. You should always look to incorporate some lighting ideas into your home in order to brighten the space. A well designed lighting system can either make or break the mood of your room. Lighting is a very important aspect of interior designing, and lighting design for residential spaces is usually a little tricky. Choosing the right lighting fixtures, ceiling, wall, floor and table lamps is quite a task. If you want to add some additional beauty to your home, then here are 6 ideas to consider.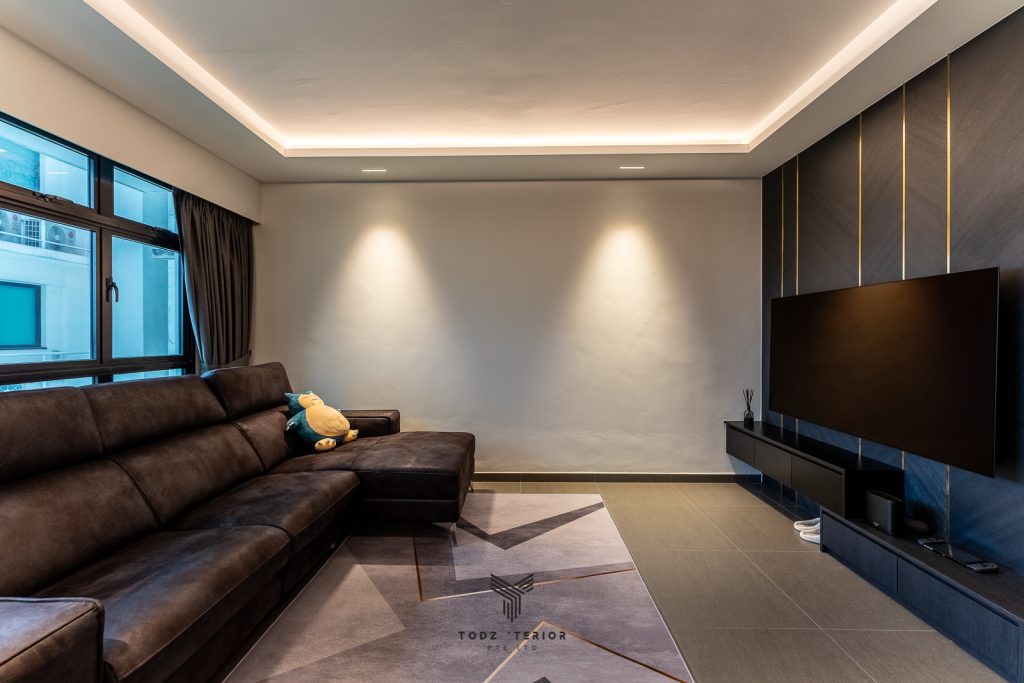 Elements of luxury home decor Singapore
Comfort
The gift of luxury entails living in a state of comfort and convenience, in which your interior environment and the systems that keep it running smoothly serve you, the user. It should feel warm, inviting, and distinct in its features, while also evoking feelings of extreme well being.
The quality of early luxurious interiors and objects was once defined by opulence and extravagance, but today we look to design to provide us with a sense of being alive, nurtured, and comfortable, rather than just a sense of pride and accomplishment.
Material
Sturdy fabrics like cotton, linen, and silk, as well as leather and other luxurious fabrics like velvet and satin, are commonly used in modern luxury interiors. Using classic prints like houndstooth, arabesque, and subtle geometric patterns on accent pieces like curtains, pillows, rugs, or even armchairs and sofas is a great way to create luxurious-looking homes without breaking the bank.
In addition to fabrics, the modern luxury interior incorporates natural elements such as stone, wood, and even concrete to create a bolder, more elegant, and one-of-a-kind look. Natural stones, such as granite and marble, have the ability to improve the appearance of a space, and wooden pieces are ideal timeless pieces of furniture to incorporate into your home.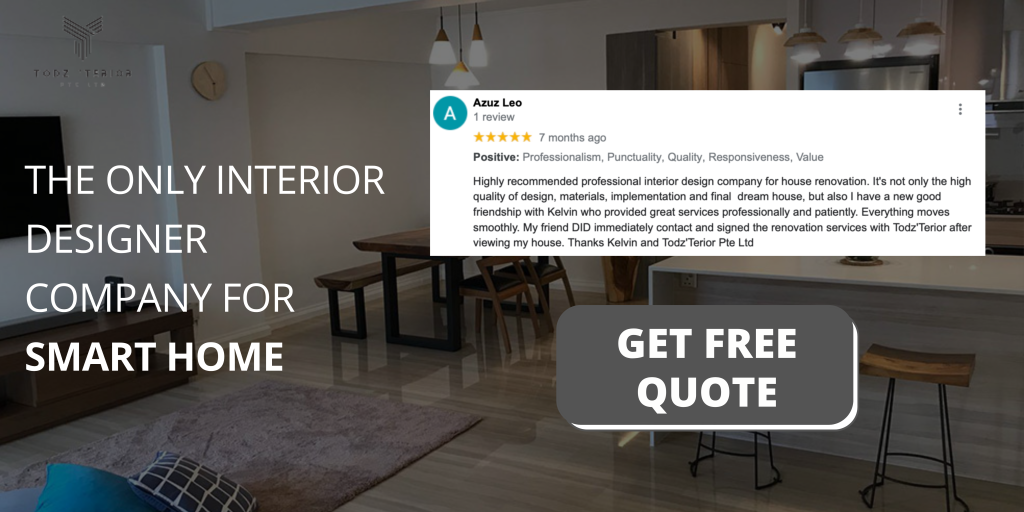 Colour
Modern Luxury interiors use a color palette that includes modern colors like grey, black, white, brown, and beige, as well as metallic colors like steel, rose gold, and platinum, and luxurious colors like red, purple, teal, and jewel tones like emerald and topaz.
It is simple to conceptualize the best color scheme for your modern luxury home interior design; begin by selecting three of your favorite modern colors, followed by two luxurious; the number of colors used can be adjusted. The modern colors will serve as the base color palette for your home, while the luxurious colors will serve as an accent color.
Furniture
The interior design of a modern luxury home is characterized by straight and clean lines, with little use of curves or intricate details. Consider simple geometric shapes and clean lines. When shopping for furniture, look for simple and functional pieces that will complement your home's interior design. You don't have to buy a five-figure designer piece of furniture; one with a straight and clean aesthetic will suffice as long as it fits your interior. Of course, it would be a plus if you could find one that is reasonably priced and made of luxurious materials. Marble and glass tops, straight lines, glossy finishes, and metallic trimmings are some design elements to look for.
Decorative
Accessorize your modern luxurious home with minimalistic flower vases, aesthetic display books, or even modern artwork. Display your paintings or prints in soft neutral or gold frames, or use decorative items like polished pebbles, miniature figurines, and potted plants with small subtle leaves.
Lighting
For the perfect home interior design in modern luxurious homes, the right lighting must be chosen. Choose modern and simple chandeliers or drop pendants, and then finish the look with cove and pin lights for a subtle yet dramatic feel, as well as to create an ambience by lighting up specific areas of your room.
Avoid the typical lights found in Singaporean homes in favor of unique and interesting light fixtures for an elegant appearance. Warm lights are frequently used in modern luxury interior design to create a homely and sophisticated vibe.
Home decor singapore lights ideas
Chandeliers as Decorative Lights
Want to give your living area a striking touch? Add the appropriate chandelier! Use this ceiling-mounted lighting solution to increase ambient illumination. They also infuse your living room design with a new sense of elegance. Choose the greatest decorative lights for your living area because chandeliers can quickly become the center of attention there.
Above your couch's center piece is the ideal location for a chandelier in your living room. It also looks great in a drab living room corner or even a reading nook. If your living room has low ceilings, stay away from using these lights. It will make the area appear crowded.
Home Decor with Pendant Lights
Pendant lights in the living room draw attention to a particular area or illuminate a dim spot. As you can see, the pendant lights hang from the ceiling on a chain or rod like a pendant on a necklace. Due to the fact that pendant lights are frequently made to stand out, they're also fantastic for making a statement.
Since they can be installed in confined spaces, pendant lights are preferred for task lighting. This option for focused lighting is ideal for quaint nooks where you can have private conversations. Anywhere near the TV is the one location where pendant lights for the living room are inappropriate. The reflection of pendant lights from TV screens can obstruct your viewing. A pendant lamp should also have enough headroom for you to pass underneath it.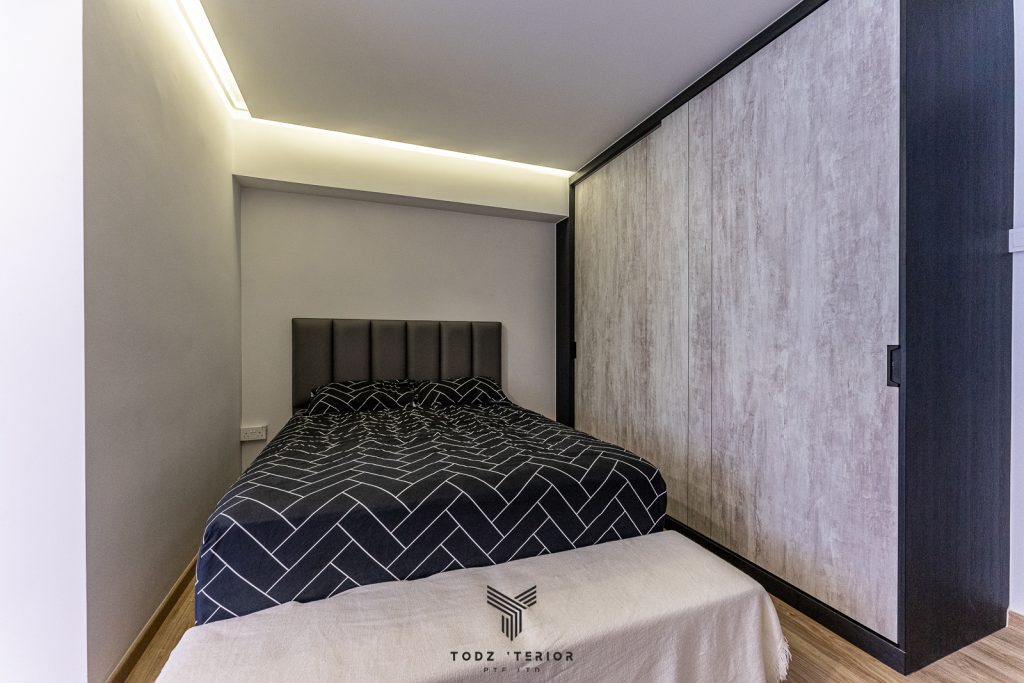 Floor Lamps in HDB Living Room
The most adaptable type of lighting is provided by floor lamps. Put them close to a comfortable couch or beside the writing desk. These lighting suggestions will work in every crevice of the space. Given their ease of movement, we think lamp lights for the living room are a surefire choice.
It is simple to define a cozy coffee spot with floor lamps. For the ideal evening, add chairs and a place where you can read anything fascinating! Keep them away from areas where people could wander.
Home Lighting With Recessed Lights
Recessed lighting is used to uniformly light the living room. Recessed lighting is an excellent approach to provide ambient light if brightening your living room is your goal. Recessed lighting is a better alternative if you want to draw attention to particular effects or artifacts.
Put them to use in your living room as general illumination. To concentrate on particular areas, they can also be layered with cove lights. Recessed lighting may not be the best option for lighting your entire living room because they can make the space look drab. To give them more personality and focus, layer them with other lighting concepts.
Set the Mood Using Profile Lights
After you've taken care of the fundamentals of the living room's general illumination, you may employ profile lights to highlight particular areas of it. One of the recommended small living room lighting ideas to spruce up your home decor Singapore. In essence, profile lighting creates the ideal ambiance for your living area.
Everywhere profile lighting is effective, including in dark crevices and beneath display shelves as well as above the TV unit. A round or angular diffuser can be used with the lights to create a special effect. Profile lights can be used everywhere! When using these lights in the living room, you have free rein.
Track Lights for Contemporary Home Lighting
Track lights for living rooms in HDB are an excellent replacement for obsolete ceiling lights in living rooms. These are the greatest wall lights for living rooms since they are simple for any HDB or condo and don't draw much attention to fixtures. These lights can be directed at wall art or other features on the walls by running a straight track of them down the hallway. These unquestionably are the
This is one of your best options for living room lighting if you want to give your space a contemporary feel. However, if you prefer a Vintage or Traditional feel, feel free to think about other lights for the living room. The best HDB living room lighting options do not include low ceilings or track lighting. recessed lights are a better choice if your ceiling is low.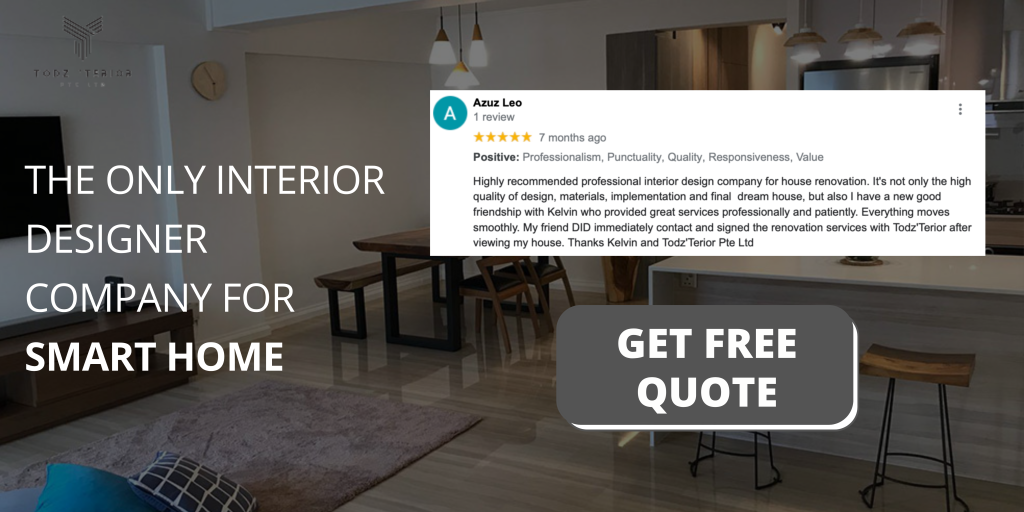 TodzTerior
We're here to help you get started Smart Home solutions
Todzterior in 7 Gambas Cres, #01-03 ARK@Gambas, Singapore 757087 is the only company whose mission is to make homes "Smart". In other words, our Smart Home solutions are built to help make your life easier. The possibilities for the future of the smart home are endless. You've come to the right place. We're here to help you get started Smart Home solutions, and ensure you with smart quality as well as reliability.