Kitchen islands have become a staple in almost every home. Not only do they provide extra counter space, but they also can be used as a makeshift table.
When buying a kitchen island, the first thing you need to think about is the style of your kitchen. What style are your cabinets and countertops in? What type of flooring do you have? There are many different features that you can choose when purchasing a kitchen island. Some of the most popular features include a breakfast bar, a wine rack, storage cabinets, or a sink. You should consider your needs and preferences when choosing an island table kitchen.
Once you have an idea of the style of your kitchen, you can start looking for kitchen island tables that match that style. So, we have curated 4 kitchen island design ideas based on your home style!
1. Modern kitchen island
For modern kitchen island ideas, a sleek and simple kitchen island table is a great option. Go for a design with clean lines and little ornamentation. This will help to maintain the minimalist aesthetic of your home. For instance, you might want to consider having white quartz or marble island top, which will look stunning against dark cabinetry. IKEA kitchen island KASKER Quartz countertop can be customizable to fit your needs. You can also consider adding IKEA kitchen trolley for more moveable storage.
2. Rustic kitchen island
If you have a rustic home, a country-style island table kitchen might be the perfect choice for you. Opt for a kitchen island counter design with a butcher block top, open shelves and wrought iron details. This will help to create a warm and inviting atmosphere in your kitchen. Try to check out IKEA kitchen island TORNVIKEN series and combine it with a steel-wood IKEA kitchen trolley to create a rustic look for your kitchen.
3. Traditional kitchen island
If you have a traditional home, a classic kitchen island table might be the best option for you. Choose an island table kitchen with a rich wood finish, granite countertop and decorative details. This will help to create a formal and elegant feeling in your kitchen. A little tip: you can go to the IKEA store to find IKEA kitchen island inspirations that match your kitchen.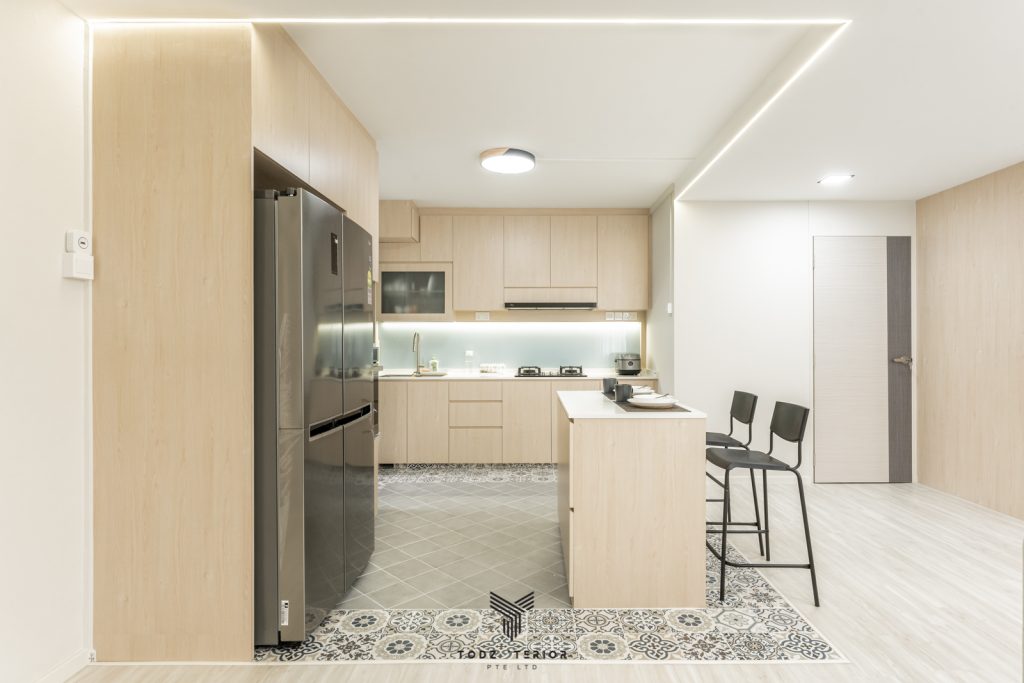 4. Minimalist kitchen island
A minimalist kitchen island table can add both function and style to your kitchen. The kitchen island table can provide extra counter space, a place to eat, or extra storage space. Choose a table that is made from a durable material, such as wood or granite. If you are looking for extra storage, choose a table with built-in drawers or shelves. If you need a place to eat, choose a table with a built-in breakfast bar or dining area. Check out IKEA kitchen island since they are famous for its sleek design, ample storage, and affordable price tag. The island is a popular choice for homeowners which can be customized to fit into any kitchen, and it is available in a variety of different finishes.
With Todzterior, You Can Design Anything!
You want a new look for your home but you don't have the time or money to hire a professional. Not only do we have years of professional experience, but our service is affordable and can work with any look you want. Since there are various choices to choose from, we can also help to pick out the best kitchen island table or IKEA kitchen trolley that works together to make your kitchen look refreshing. Todzterior offers easy, affordable, and professional home decor and design service that will give your home the makeover you've always wanted!
More Reasons to Choose Todzterior
If you're looking for an experienced designer who won't break the bank, look no further.
Looking to renovate your kitchen but not quite sure where to start? Come to us! We offer professional interior design services that will work within your budget. Whether you're looking for a complete overhaul or just a few new pieces, we'll work with you to create a kitchen you'll love.
After you answer a few quick surveys, one of our skilled designers will put together two different design concepts for your space. You'll then have five business days to rate and provide feedback on the designs.

Other Interior Designers
Livspace
Suitable for those who want a more personalized experience that comes at a higher price point, but with better quality.
They have great design packages that offer a range of options, from a simple update or a complete overhaul, with a higher cost.
To work with them, you must first identify the specific type of room you want to design. This includes deciding what type of room you would like to build, your budget, and how long you would like the process to take. Once you have made these decisions, you can then create an account on Amazon and select a package. If you are unsure of which package to select, there is a quiz on the site that can help you make a decision.
Weiken
Having excellent customer service and providing outstanding service for mid to high-priced packages.
A well-designed home or space.
The process includes picking the rooms you want to design, choose your style, then you'll receive an estimated quote. You can then decide if you want to proceed further.