Kitchen design in Singapore is a popular topic. There are many misconceptions about kitchen design in Singapore and what you can get for your money. In this blog post, we will discuss some of the best ways to save on kitchen design with the help of an expert from Hdb Kitchen Design. We hope that by reading this blog post, you will be able to make an informed decision when it comes time to redesign your own kitchen!
Even the tiniest areas can accommodate your every need with the intelligent use of kitchen layouts and ideas.
Are you ready to begin? To gain some ideas, have a look at these 7 stunning HDB kitchen designs.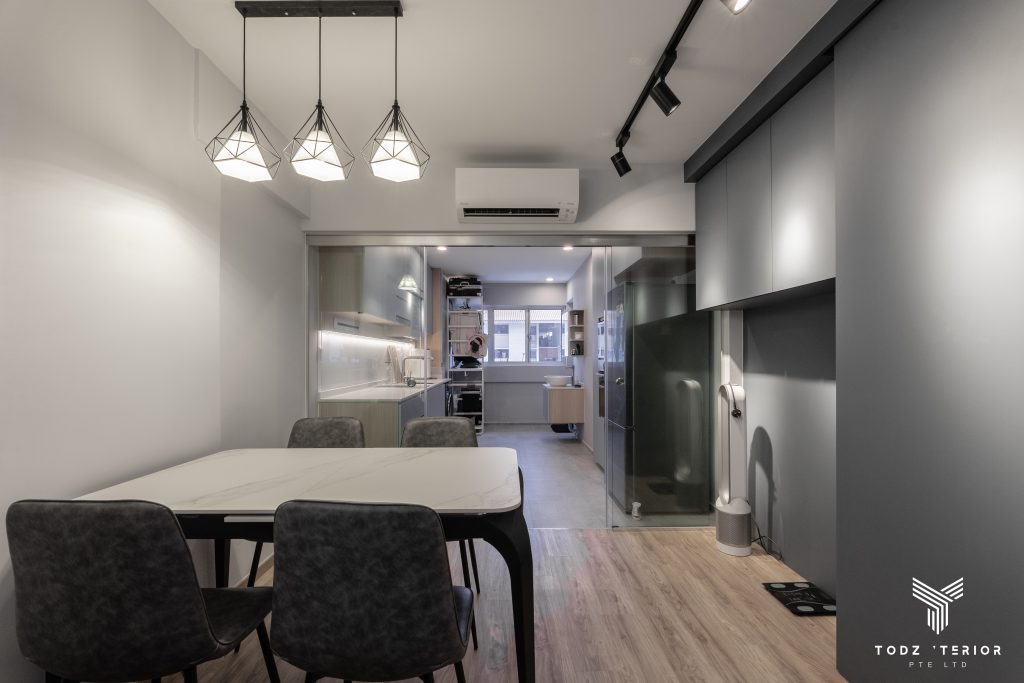 Open-concept Kitchen
This is one of the most popular designs among Singaporeans; when HDB conducted a trial run in 2012, 7 out of 10 homeowners chose this concept.
Furthermore, the government has declared that the open-concept kitchen will be extended to BTO projects. As a result, such kitchens will soon become the norm in HDB apartments.
It's simple to see why the design is so popular: it lets more light into the space and allows you to keep an eye on your children while you cook.
An open kitchen is a fantastic choice. Cooking grease and odors, on the other hand, can readily travel throughout the entire flat. Here are some suggestions to help you deal with this problem: Install a hood in the kitchen.
A decent cooker hood keeps bad odors from remaining in your house; it absorbs noxious odors and leaves your house smelling fresh. Consider positioning your kitchen range against a wall. A kitchen backsplash can then be built to keep grease splatter to a minimum while you cook.
Single Wall Kitchen
In Singapore, kitchen space is limited. As a result, building a single-wall kitchen could be the answer to your space constraints.
As the name implies, this design concentrates all of the kitchen's features on a single wall. The requirement for fewer cabinets allows homeowners to save floor space and money on construction.
It also provides for a boost in productivity. Work zones that are too far apart will be avoided by a well-planned design. In addition, you may prep, cook, and clean all in one place. This increases your kitchen productivity while also increasing your convenience.
Open Shelving Kitchen
Having open shelves, in contrast to most kitchens with rows of built-in cupboards, is unusual. It gives the impression that the kitchen is larger than it actually is. These shelves are also a great place to store your essentials. They also provide you with a place to exhibit your prized tableware collection.
Kitchen Island
One of the most desired kitchen ideas is a kitchen island. It's not only beautiful, but it's also highly practical, as it serves as both a storage unit and a workspace for meal preparation.
Apartment residents make up the majority of Singapore's homeowners. This implies that space is a constraint that prohibits us from constructing an island. It's not impossible, though! Here's how to make an island counter work in your kitchen: Install a multi-purpose island in your kitchen.
By combining your cooktop, sink, and storage onto your island, you may save space. You can also turn it into a dining area by adding some additional seats: Invest in a portable island.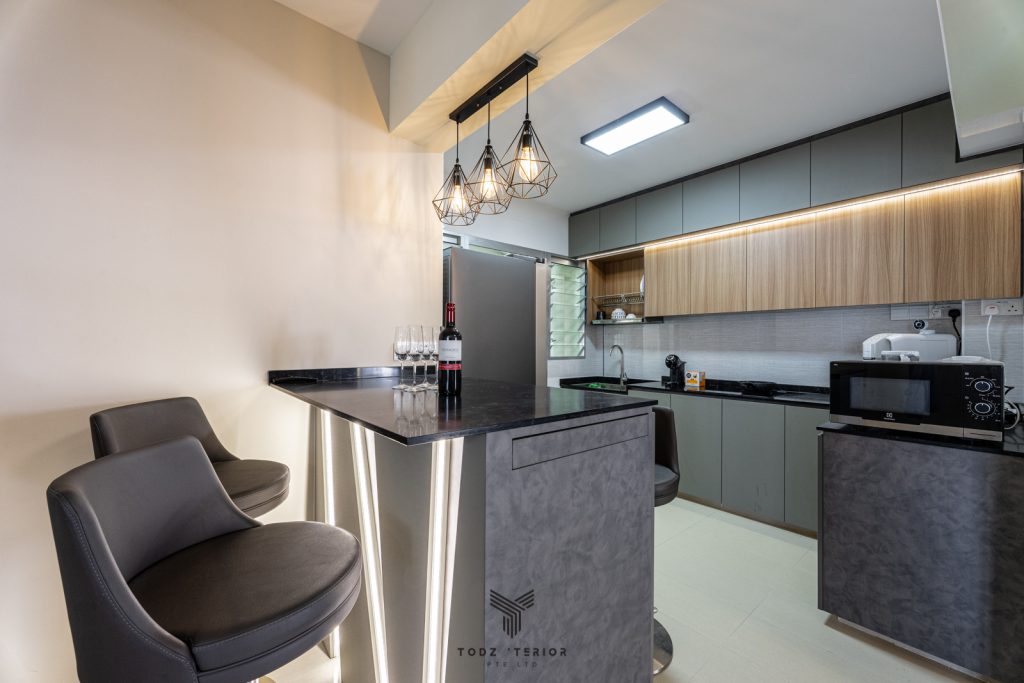 You don't have to settle for a huge, immobile island in the centre of your kitchen. A portable island counter may be used in the same way; simply roll it out when you need extra space and tuck it away when you don't.
L-shaped Kitchen
A useful kitchen ought to be planned in view of the 'working triangle' kept. The game plan makes an intelligent work process between three of the most basic kitchen components: the oven, sink, and ice chest.
Moreover, the design comprises of two dividers that are bordering and opposite, framing an 'L' shape.
Due to its ergonomics, this kitchen setup achieves various advantages, for example,
Improved proficiency in more modest spaces
Cooking region and sink are isolated
Access to more capacity
This design works best in little to medium-sized kitchens. For greater spaces, the L-molded kitchen can likewise fit a kitchen island – ideal for the individuals who require additional work or extra room.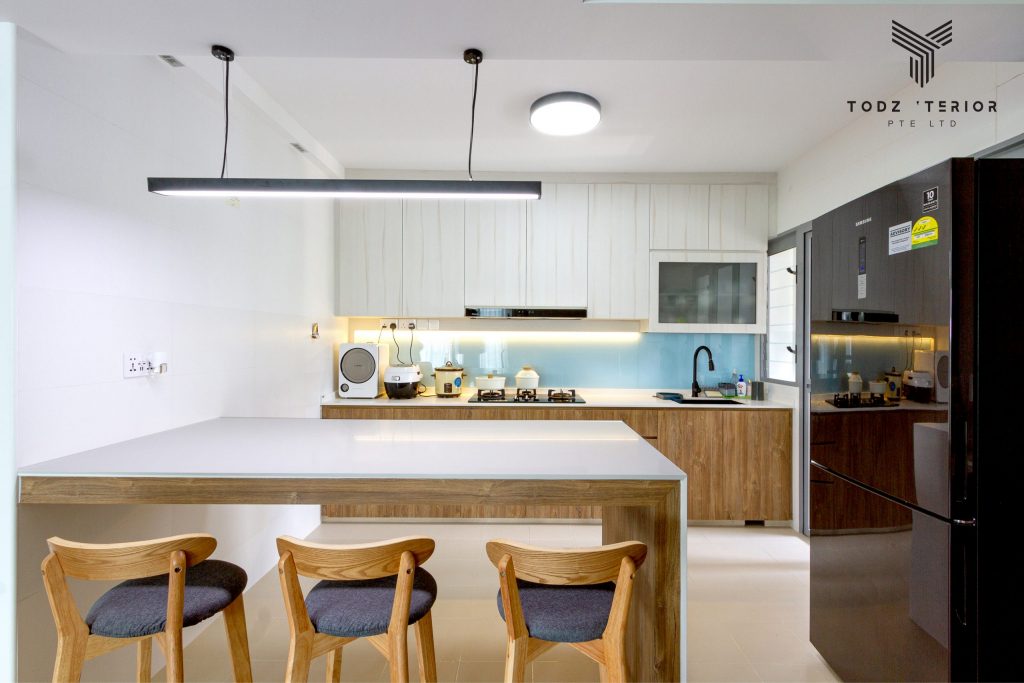 U-shaped Kitchen
A utilitarian kitchen ought to be planned with The u-molded kitchen, as it's appropriately named, highlights a horseshoe-formed workspace; cupboards and counters are fixed against three dividers with an open end for access.
A u-formed kitchen configuration is extraordinary in light of the fact that it's , Proficient. The format is intended for high proficiency – you can move easily between your sink, cooktop, and ice chest. Having ledges on three unique sides will give you sufficient space for cooking. Also, it makes your apparatuses effectively open.
How to Select an Interior Designer For Kitchen Renovation
The importance of selecting the appropriate "kitchen renovation Singapore" for interior design firm cannot be overstated. The appropriate business can ensure that you get the house of your dreams with the least amount of hassle.
Unfortunately, horror stories about interior design abound. Homeowners are frequently left with half-finished renovations after the contracted contractor disappears with their money. They are dealing with the double whammy of losing a significant sum of money and having to haggle with workmen to fix the mess left behind.
To avoid becoming a cautionary tale, make sure you answer these questions before making an interior design decision.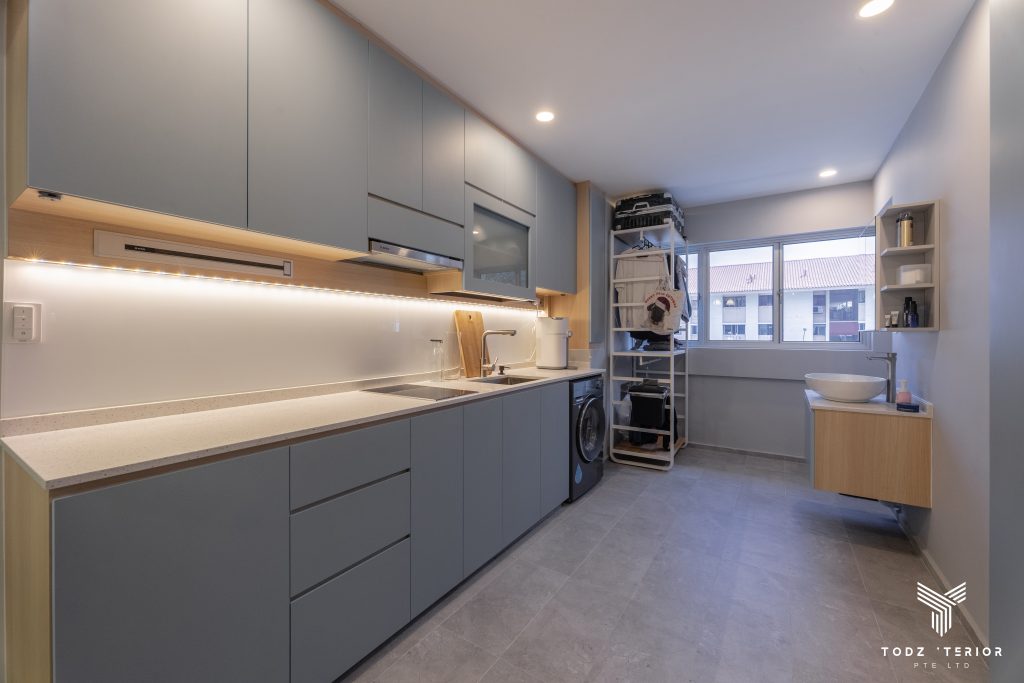 IS THE COMPANY HDB-LICENSED?
There are a slew of rogue interior design companies on the market looking to defraud customers.
A company's registration with HDB indicates that it has received adequate training. It also shows that they are familiar with the ins and outs of upgrading HDB apartments.
Both of these things imply that they will design your kitchen according to the rules.
WHAT CONTRACTORS DO THE interior design FIRM WORK WITH?
Some interior design have their own factories and hire their own contractors, while others outsource their labor.
In most cases, the former is favored. Because of the use of subcontractors, the line of duty between the parties involved is blurred. Due to the requirement to negotiate between the interior design and the subcontractor when concerns arise, the fee quotation may increase.
There's also the possibility that subcontractors will cut corners and produce subpar, unsatisfactory work.

If your are looking for Best Kitchen Interior Design Company
In Gambas Crescent Singapore, it may seem like there is an endless variety to choose from. The challenge becomes narrowing down your choices and finding the best fit for your specific needs.
We would be happy to provide any consultation or guidance you need in order to make these decisions so that you can find what works best for your space.
What Ideas You Might Want? Let us know by contacting us