Singapore Renovation is never an easy task. With Singapore renovation, you are not only changing the look of your home but also how it functions. This can be a stressful and costly process for many homeowners. But renovation doesn't have to be difficult or expensive! We've compiled 5 renovation ideas that will make your renovation project easier and less costly than you thought possible.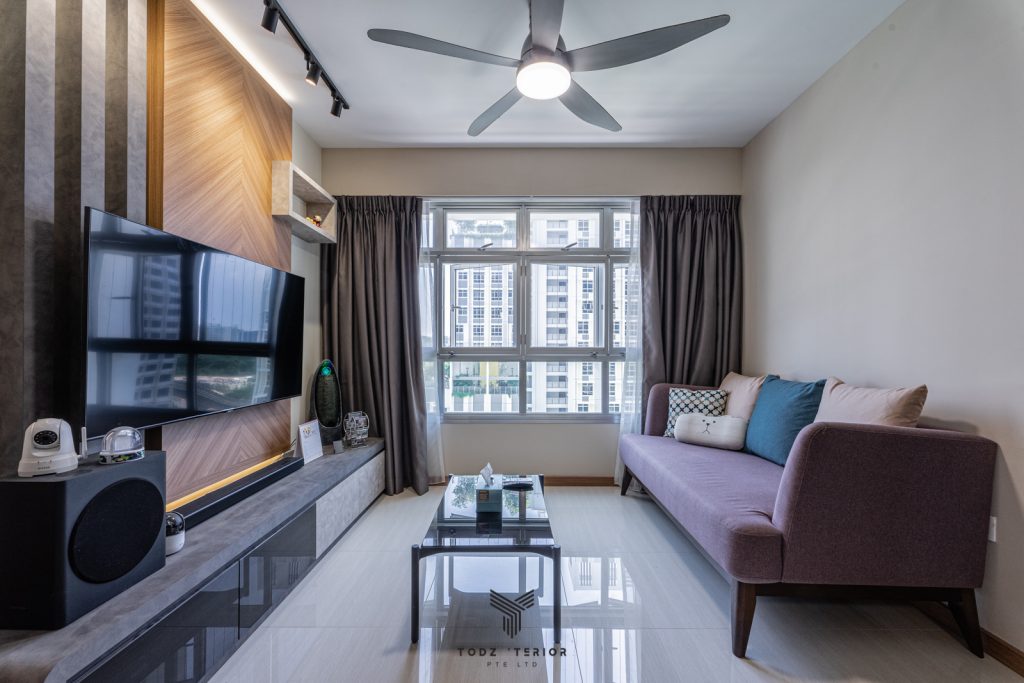 Are you moving into a new place or simply want to give your old one a makeover? To suit your dream house style – from classic, contemporary, plain, British, retro, futuristic, and thematic – both large and little areas must be correctly planned and utilized.
All you need after a long day at work is some quality time with your family. It may be watching your favorite show together, playing board games, creating small pieces of art together, or simply sitting on the couch and conversing with your children, all in the comfort of your own living room. Storage and layout in the living room are important and can benefit you and your family. A joyful mood is also created by a cozy home.
Before you start setting up a plan with your contractor and organizing your lovely furnishings, there are four things you should consider. I recommend that you produce a simple diagram to ensure that everything is in order.
THE WALL
The first item on your to-do list is to choose the proper wall design. Colors and patterns generate changes depending on your selected environment design.
There are thousands of designs of wall stickers available on the market to liven up your walls, including floral, trees, animals, and wordings. Most individuals would choose light colors such as white, light blue, and beige to make the room appear larger. Working adults, like you, want a place to unwind on vacation, and light paint colors can help you achieve that. Bright colors, such as yellow and orange, elicit an energizing response. Dark colors like black and grey create a minimalist atmosphere and visually make the room look bigger.
Light blue for ocean theme
Dark blue for marine or sailor theme
Pink for romantic theme
Grey and brown for static theme
Purple for elegant theme
In a living room, for example, behind the television, you can have a feature wall that matches the wall color. Kompacplus is an excellent material since it comes in a variety of designs, including Wooden, Motif, and Solid.
If you're thinking about adding a marble feature wall (or TV wall) to your living room, see our previous article on the 7 finest feature wall materials and concepts.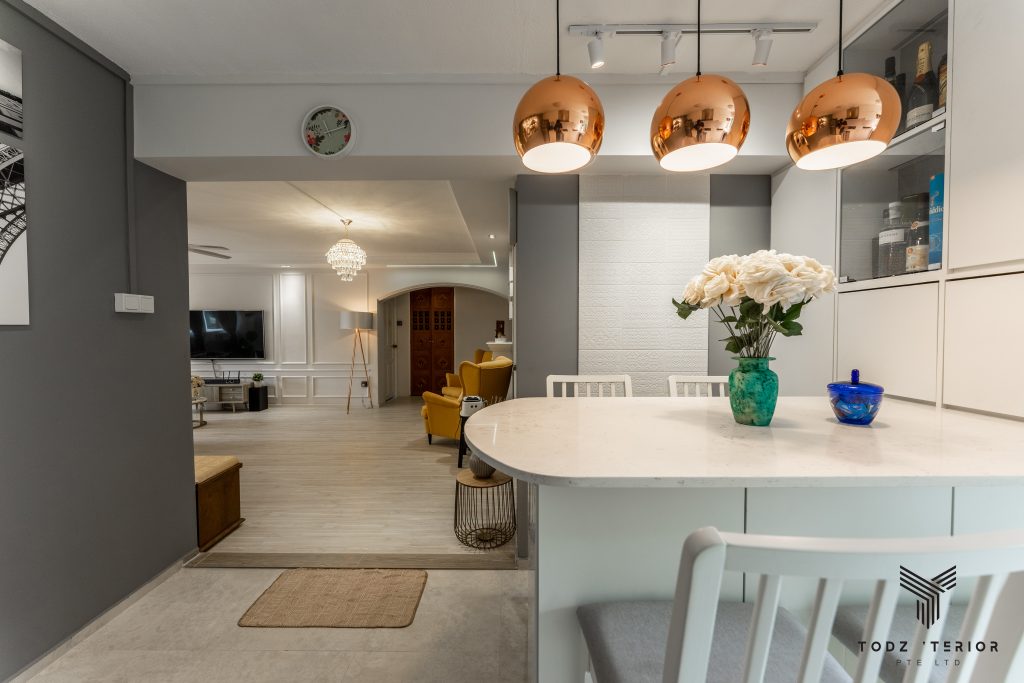 THE FLOOR
Before you move the furniture in, make sure the floor is properly spread out. A vast variety of flooring designs are available, each with its own set of benefits. If you're new to this, start with one of the following popular flooring materials:
Marble. It's a sort of wood flooring with a natural vein pattern. Because each piece is one-of-a-kind, it's very hard to find another with the same design. The marble surface is also gleaming, and walking on it is refreshing.
Slate-Lite. It's a stone veneer with a genuine stone surface and a flexible cotton or fiberglass backing. Slate-Lite emits a stunning light effect from within. California Gold and Molto Rosa, for example, are remarkable patterns that harken back to a bygone era.
Granite. Another natural rock that is both beautiful and long-lasting. The house owner's confidence and sophistication are reflected in the granite flooring. Emerald Pearl, Chinese Granite, Jet Black, and a variety of other patterns are among the options.
It's a composite material made up of coarse aggregate and a fluid cement that hardens over time. The concrete floor is as strong and long-lasting as a pavement or highway. Low upkeep is required for a well sealed and polished concrete floor.
THE LIGHTING
House owners should arrange the lighting in their living room after spending time choosing the proper design for their floor and wall. The lighting in a room affects the mood and reflects the room's size from different perspectives. Ambient, positional, and recessed lighting are all needed in your living rooms. Ambient light illuminates a room evenly, positional lighting distributes light to specific work areas, and recessed lighting can be installed in floors and ceilings to provide vertical beams of light rather than an overall glow from ceiling-mounted light fixtures.
Natural light creates the illusion of spaciousness in your living area. If there isn't enough light in the room, you'll feel claustrophobic, especially if the room is tiny and the furniture is positioned close together. Daylight has a bigger effect on creating the appearance of space since it illuminates the entire room (man-made lights only illuminate specific regions) and highlights the colors of your walls and furnishings.
Color, practicality, and space are the three factors to consider. Yellow and white lights, on the other hand, make the space appear larger and give a relaxing atmosphere, whilst black lights have the opposite effect. Each lamp in your room should have a purpose and not just be decorative; otherwise, you will be wasting electricity. A chandelier in the center of your living room will provide wonderful lighting. You can also use a wall light to give it more length and width. When you have a small living room, you can use corner lamps, wall sconces, and a ceiling chandelier to help lighten it up.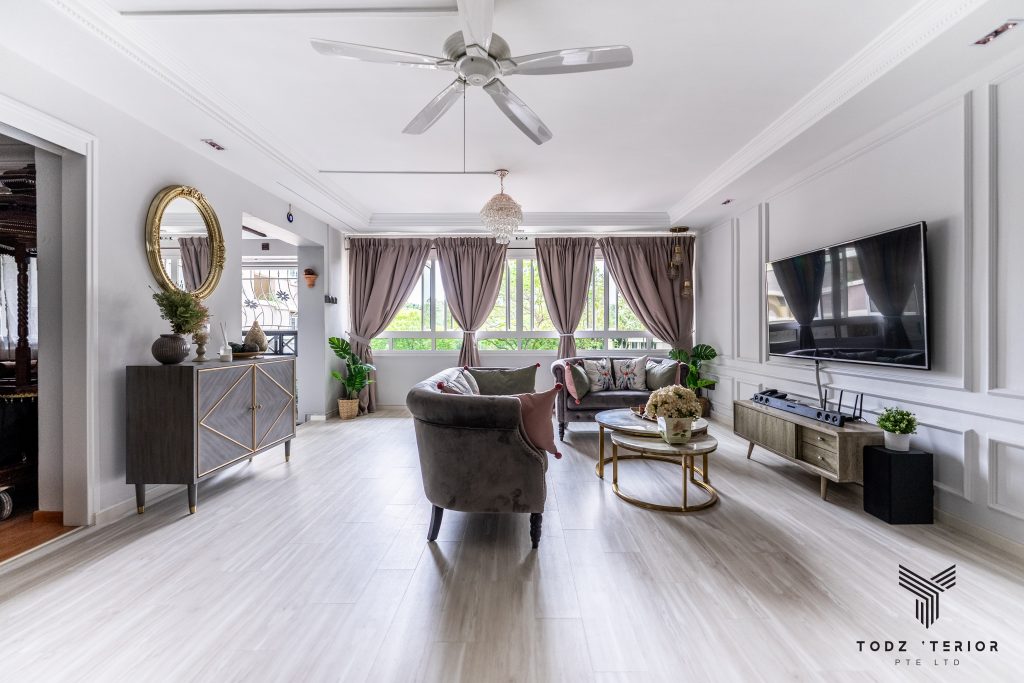 THE FURNITURE
Finally, you get to go to the hippest furnishing store in town, IKEA. It can be difficult to choose the perfect furniture for your living room and to arrange it properly. You must match the wall and floor colors, create adequate space, and consider furniture functioning all at the same time.
If your living room motif is cosy or laid back, you can choose a comfortable couch in light colors like beige, white, or light brown. A specially built armchair can be put opposite your couch for a younger and funky look. To preserve the flooring, place a similar-colored carpet underneath your couch and coffee table set. To save space and appear nice, bookcases and shelf units should be placed against the wall.
When you can't locate what you want in a store, have some custom-made furniture manufactured by a reputable source. Is a custom-made dining table, coffee table, or decorative object appealing to you?
THE BAY WINDOW
Bay windows have been a hallmark of home-style till today, thanks to its popularity with Victorian domestic design. Nothing beats casually sitting by a large window and gazing out at the world around you, wondering as people go about their everyday lives or simply soaking in the scenery and fresh air.
Unfortunately, many homeowners overlook this wonderful feature of their property due to a lack of inspiration or sheer laziness. As they wander from room to room, most people are barely aware of it.

Todzterior are an award-winning, full service design firm in Gambas Crescent Singapore. Our team of designers and project managers will work with you to create the perfect living room design that reflects your style and personality.
With our help, you can transform your living room into a place that's beautiful, functional and uniquely yours. Whether it's designing a kitchen from scratch or adding some finishing touches to an existing room, we have the expertise to make it happen seamlessly. Contact Us Now!