So how do you decide which project to tackle first? In the end, you'll want to focus on projects that will have the greatest impact on your overall success and happiness. This means that when making the choice between your home renovation or creating a side hustle, you want to choose the one that will add the most value. In this post, we're going to talk about three key indicators to help you identify whether or not your renovation plan will be worth your time and money.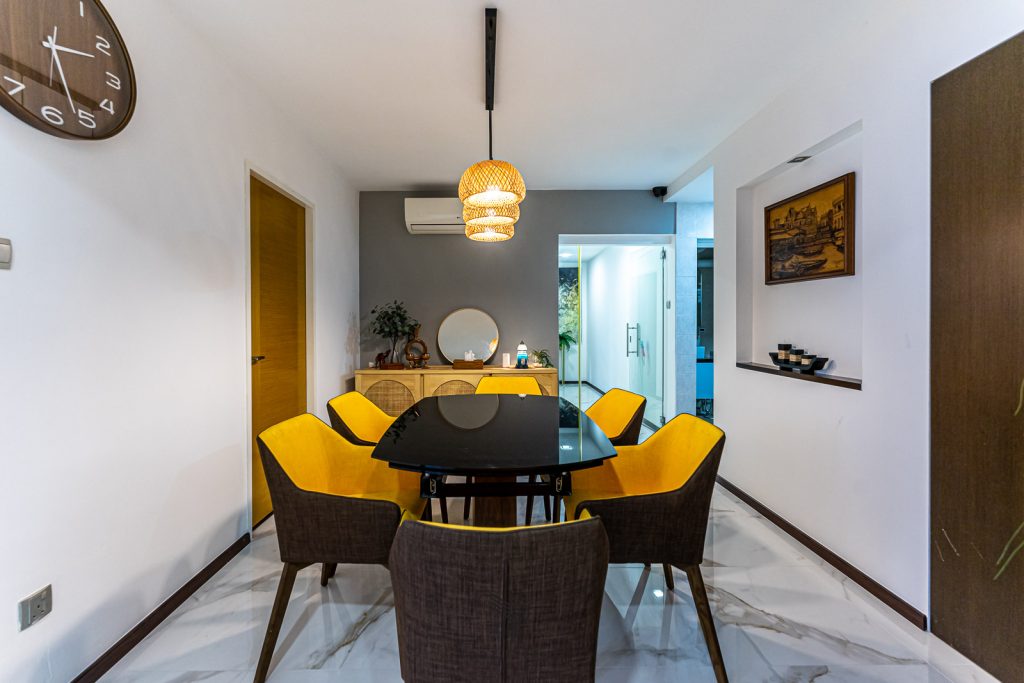 Why do you Need to Plan Your Home Renovation?
Planning ahead never hurts, whether you're awaiting your BTO keys or your condo TOP date. Before you're prepared to move in, we advise waiting at least 10 months.
This allows you plenty of time to wait for contractors, interior designers, engineers, and architects to finish their work. You'll also be able to recognize your own wants, tastes, and aspirations with regard to interior design. By organizing your home renovation in advance, you may avoid worrying about the budget, the design, and any other details you could overlook.
What Are the Best Months for Renovation?
We are fortunate to not have to cope with seasonal changes that could delay renovations here in Singapore. In fact, remodeling is doable at any time of year, even during the rain!
However, because many workers will be traveling home for the Chinese New Year, we advise against performing renovations during that time. If you're feeling superstitious, you might also wish to refrain from home renovations during the Hungry Ghost Month. Additionally, we advise against remodeling your house throughout the summer because it could interfere with other plans you have.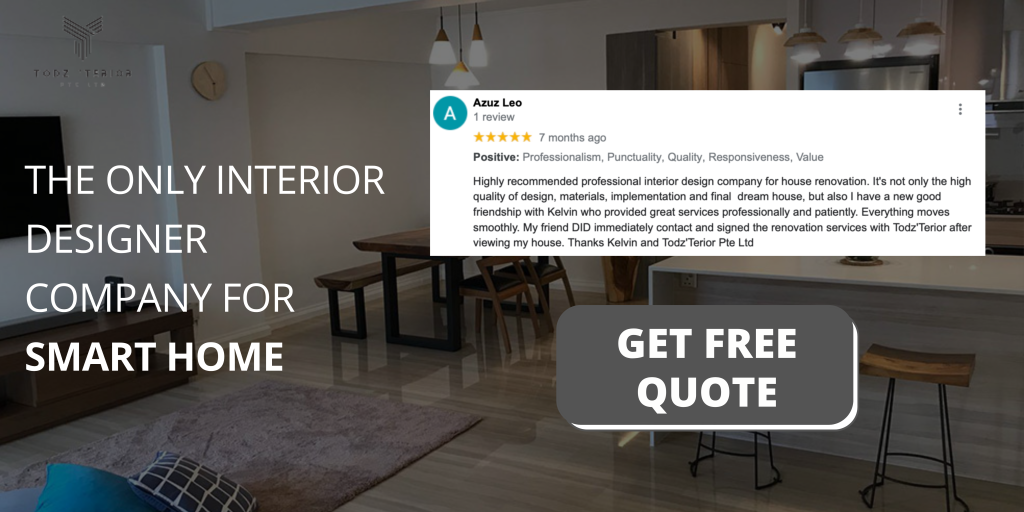 What Should You Consider While Renovating?
Budget and Progress
Verify that your interior designer provides you with frequent updates regarding your spending and renovation. Make sure the project is finished on time, and let your designer know if you find any issues or mistakes. Verify first hand whether the renovation is on schedule and how much it costs.
Checking the Schedule
To ensure a smooth transfer, we urge you to discuss the remodeling schedule with your interior designers. Continue coming back once a week to check on the development. Please note that slight delays are acceptable. Therefore, you shouldn't sacrifice remodeling quality in order to complete it on time. Keep a starting margin of time.
Renovation Checklist
It's time to pull out the initial checklist you created. Check the checklist against the work that has already been done, and if anything is still missing, bring it to the interior designers attention right away.
Run the space through once, taking note of features like power outlets, electrical sockets, and hinge swings. Make sure to note any problems that need to be rectified.
Renovation Tasks You Should Plan
10 Months Prior to Key Collection
Map a Renovation Schedule
It's crucial to schedule house improvements so that they don't interfere with your daily routine. To accomplish that, a well-thought-out plan must be developed in order to prevent issues and guarantee that everyone involved in the project can operate effectively.
Inspect What Needs to be Renovated
If you're thinking about making modifications to your home, you should first check for any structural issues. Start by fixing issues like infestations, moist walls, and wall cracks. Over time, these typical wears and tears appear. Instead of choosing contemporary ideas to start the renovation, address these problems.
Cost Calculation
Before beginning any renovation work, a budget must be planned. Make a strategy for how much money you are prepared to invest without going overboard. Plan out how much you want to spend, say, renovating a few specific rooms. To account for delays and cost overruns, it is best to round up to the nearest 15% to 20%.
Make a Renovation Checklist
The idea of spending money to renovate your home may seem like a daunting task if you don't know where to start. Making a checklist will make the process easier and ensure that everything gets done on time and within budget. To keep track of the chores that need to be done and the order in which the home remodeling should be planned, create a room-by-room checklist.
6 Months Prior to Key Collection
Design and Planning
The best places to start are with a rough plan on your laptop, a thorough architectural layout, or just some ideas on how the renovation should go. As you begin looking around, create a mood board to save any interior design trends that strike your interest. If you're changing the interior design of your home, go through appealing home designs that portray the ambiance you desire. Social media sites like Pinterest, Instagram, and others are great places to find ideas.
Good Renovation Contractor
Visit a few interior designers agencies and have in-depth discussions with the designers. You should meet with three to five different interior designers agencies or individual designers before deciding which one to hire. Before you meet with them, prepare the following: a basic design plan, structural carpentry, projected timetable, and budget. In order to make the refurbishment process simple and hassle-free, interior designers can assist in facilitating it.
1 Months Prior to Key Collection
It's time to discuss your renovation must-haves and no-nos after choosing an interior designer to work with. If you want a walk-in closet, an open living and dining area, or accent furnishings, let your designer know so they can include it in the space plan. With their extensive industry experience, designers can provide you specialized design recommendations that are tailored to your lifestyle.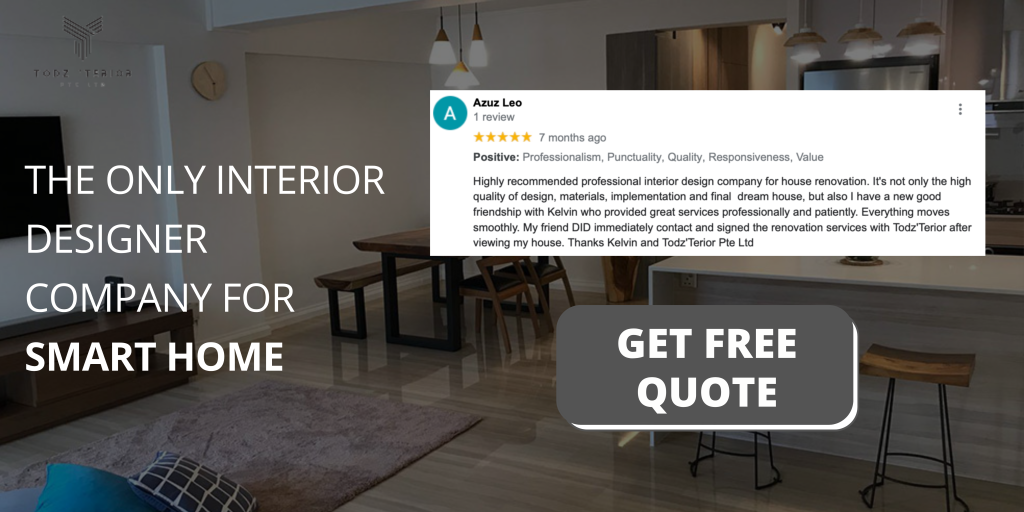 We're here to help you get started Smart Home solutions
Todzterior is the only company whose mission is to make homes "Smart". In other words, our Smart Home solutions are built to help make your life easier. The possibilities for the future of the smart home are endless. You've come to the right place. We're here to help you get started Smart Home solutions, and ensure you with smart quality as well as reliability.