There's no doubt that the cost of interior design is an essential part of creating a unique and beautiful space for your family and friends to spend quality time together. While an interior designer can do wonders, there are still ways that you can achieve great results yourself without breaking the bank. With that in mind, we've put together a list of the most common fees that interior designers charge for their services.
The cost of a home renovation depends on many factors. So, before you choose your next renovation, you have to consider your budget, location, type of project and looking for an interior design consultant. But one factor that will affect the cost of your renovation is the cost of hiring an interior designer.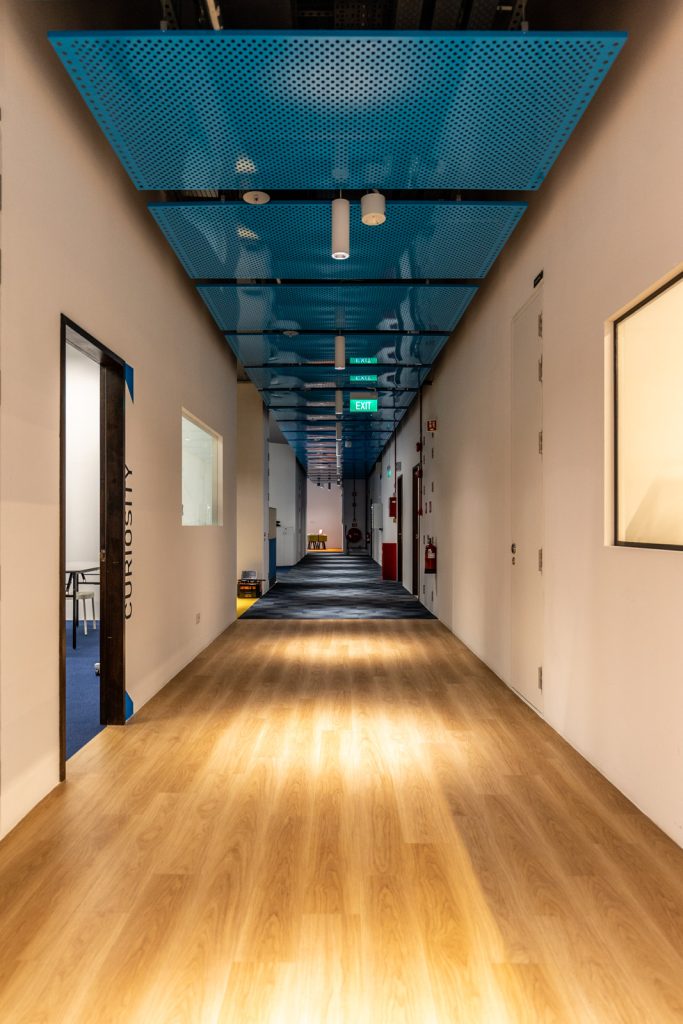 Interior Design Project Costs in Singapore
In Singapore, there are numerous different interior design projects. In contrast to certain IDs who offer to tailor the plan to each unit, others offer packages like HDB BTO or resale packages.
These packages often include project management, masonry, plumbing, ceiling & carpentry work, design consultations, space planning, and other ad hoc tasks like painting and cleaning.
Prices vary depending on the package, which may include labor and material costs as well as the area of the house being restored. For instance, there are design packages for bathrooms or kitchens that cost between $6,000 and $20,000.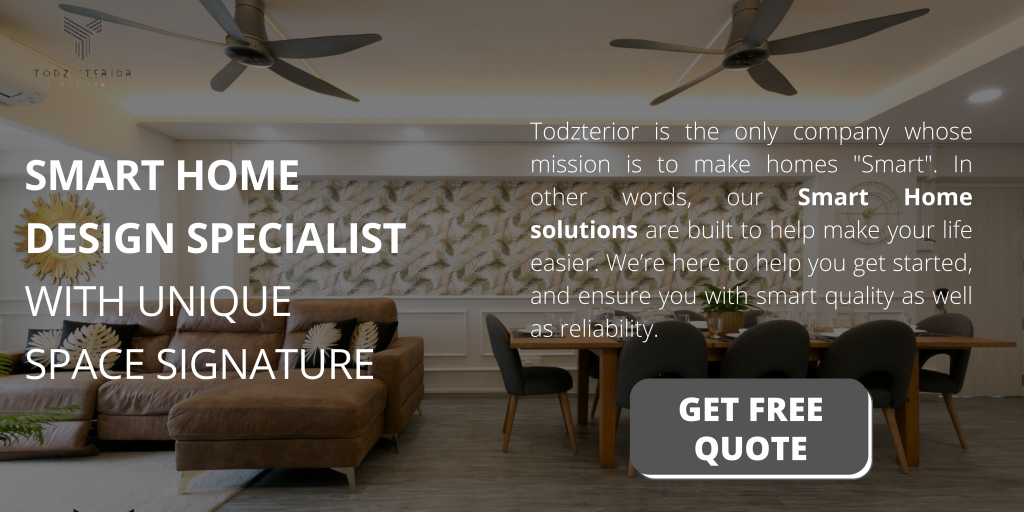 This difference between interior design and decorating, so be sure to do your homework, including reading reviews and asking prior clients about the company you'll be working with. The typical price range for interior design packages in Singapore for particular projects is as follows:
| | |
| --- | --- |
| Type of Housing | Estimated Cost |
| 3-room BTO | S$25,000 to S$45,000 |
| 4-room BTO | S$33,000 to S$58,000 |
| 5-room BTO | S$38,000 to S$65,000 |
| 3-room resale | S$30,000 to S$65,000 |
| 4-room resale | S$38,000 to S$73,000 |
| 5-room resale | S$50,000 to S$82,000 |
| Condominium (according to size) | S$40,000 to S$120,000 |
Interior designers often spring to mind when you are considering various styles and designs. The general categories into which house design can be divided are as follows:
Demolition
Cost: $50 per foot
Do you want a room combination or an open concept? The floor plan you've always desired can be achieved by tearing down walls. Remember to confirm that changing the floor plan is permitted before hiring a contractor to knock down the wall because some walls are essential to the building's structural integrity.
Paint
Cost: $350-$500 per room
Look at the ingredients in the paint before selecting one that is right for you. Heavy metals and organic solvents should be avoided as they release substances that are toxic to people. Choose water-based paints or those with the Singapore Green Building Label because they are less damaging to your health. Following your quality tests, you typically have a choice between three broad types of paint: odorless, waterproof, and mozzie guard.
Textile
Any woven fabric or cloth is referred to as a textile. Interior textiles include things like wall coverings, rugs, tablecloths, and bed linens. Due to its great variation, its price is typically in the same ballpark. We are confident that you will find one that both fits your budget and your style if you take a closer look at them beforehand.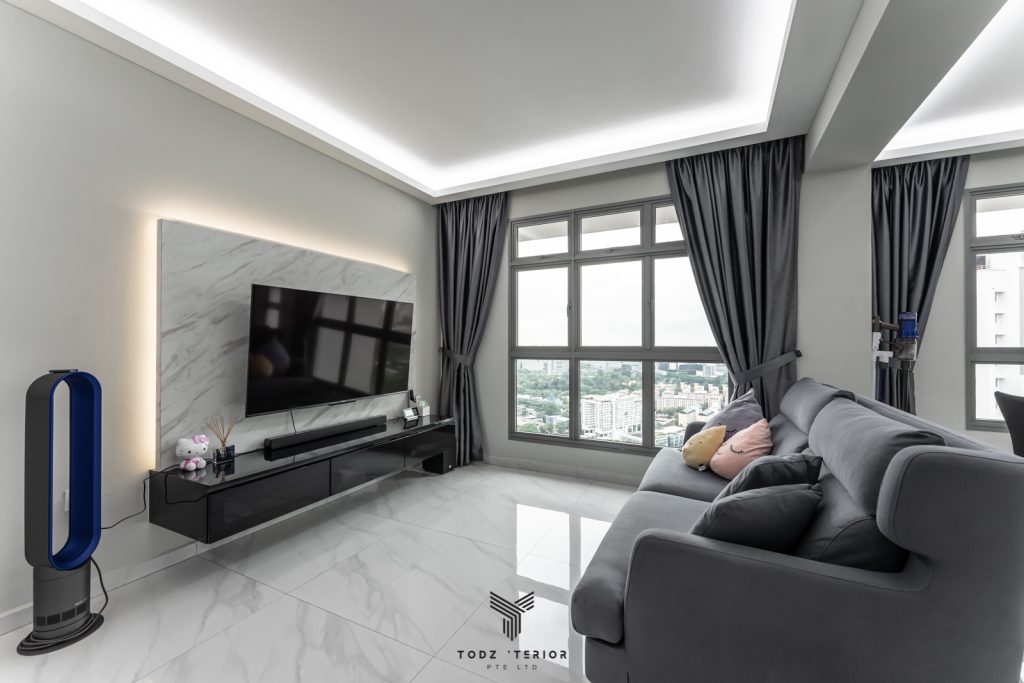 Flooring & Tiling
Cost: $3-$20 per square foot
Flooring in Singapore typically comes in six different varieties: vinyl, laminate, tiles, cement screed, hardwood, and marble. Consider which style is better appropriate for your current scenario because each has advantages and disadvantages. They are arranged from least expensive to most expensive, with vinyl being the most reasonably priced.
Plumbing
Cost: $270 to $600 per kitchen or bathroom
Your kitchen or bathroom's appearance and atmosphere might be changed by replacing a sink or faucet. You can easily speak to toilet installation firms on Homes because there are so many brands and alternatives accessible in Singapore.
Electrical
Cost: S$50 to S$150 per piece
Knowing what to do in that situation is crucial if you want to avoid having to deal with calling an electrician. It is highly advised that you hire qualified electricians in Singapore for the majority of electrical-related jobs in order to prevent any potential accidents, fires, and in the worst-case scenario, fatalities. Electrical expenses and everything you should know before hiring an electrician are covered in the electrical cost guide.
Lighting
A new light fixture installation is a great method to update the appearance of your home. Although there are a few things that could make the labor cost go up, this is one of the rare electrical jobs where the material cost might be higher than the labor cost.
Furniture
The mood and atmosphere of any room are greatly influenced by the furniture you have in it. You will be astonished by the results if you make an effort to select furniture items that complement the theme of your home. When you no longer like your old furniture, do not just toss it away. Consider refinishing or fixing these worn-out pieces of furniture to give them a fresh look while also saving money in the process.
What Is The Average Interior Design Fee?
A design fee functions as a service charge for the time and effort the interior designer invested in planning and designing the arrangement of your home. It can be in the form of a pre-set rate, an hourly rate, a flat rate, or a percentage of the project. Having said that, if the company requests a deposit of more than 20% to 30%, requests payment in cash, or requests that you make checks payable to someone other than the interior design firm you are hiring, this may be a clue that they are phony.
The design expenses will also be impacted by the floor area, labor, materials, and other incidentals. For either a HDB or a condominium, general design fees would range from about $1,500 to $6,000. You could wish to request free interior design consultations so you can assess their skills before choosing to hire them. The cost of Singapore home design varies depending on the company. The charge increases with the level of experience of the designers.
How to Save Money for Interior Design?
You can save thousands of dollars on your home remodeling project and stay within your renovation budget by following these advice on picking the best interior designer for your project.
You must invest the time and energy necessary to choose and identify the best interior design firm to work on your remodeling because there are many of them. Each interior designer has a distinct aesthetic and specialized expertise for a certain type of design.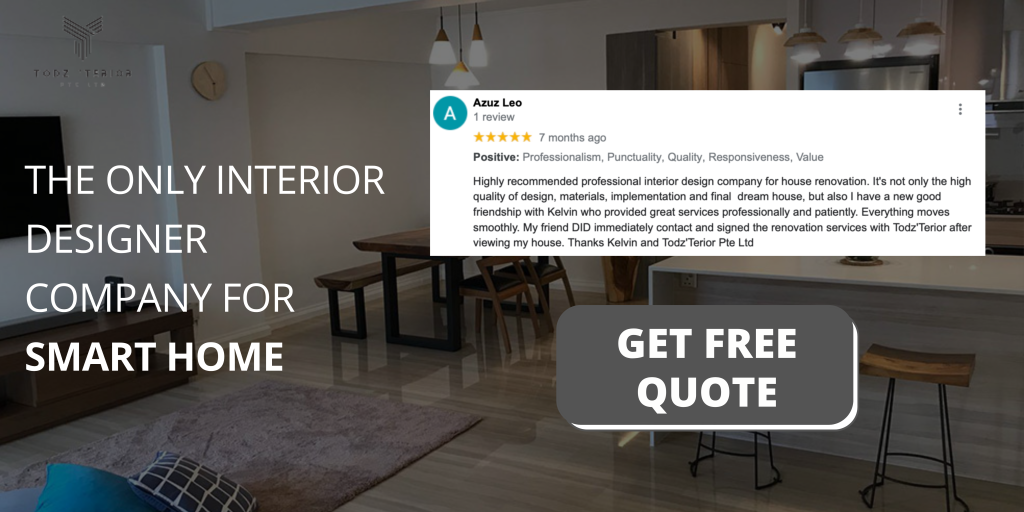 We're here to help you get started Smart Home solutions
Todzterior is the only company whose mission is to make homes "Smart". In other words, our Smart Home solutions are built to help make your life easier. The possibilities for the future of the smart home are endless. You've come to the right place. We're here to help you get started Smart Home solutions, and ensure you with smart quality as well as reliability.