The heart and soul of the house is frequently the kitchen. Cabinetry is another element that is both one of the most practical and one of the most immediately noticeable. The aesthetic of the entire space is heavily influenced by the kitchen cabinets. We contacted industry professionals who participated in a wider study on kitchen trends to tell us which colors they felt would be most frequently seen on cabinets in the upcoming year in order to determine what kitchen cabinet color trends will be the most popular. For you to see the hottest kitchen cabinet color trends for 2022, we've listed the trends they think will be the most popular below, along with the proportion of them who voted for it.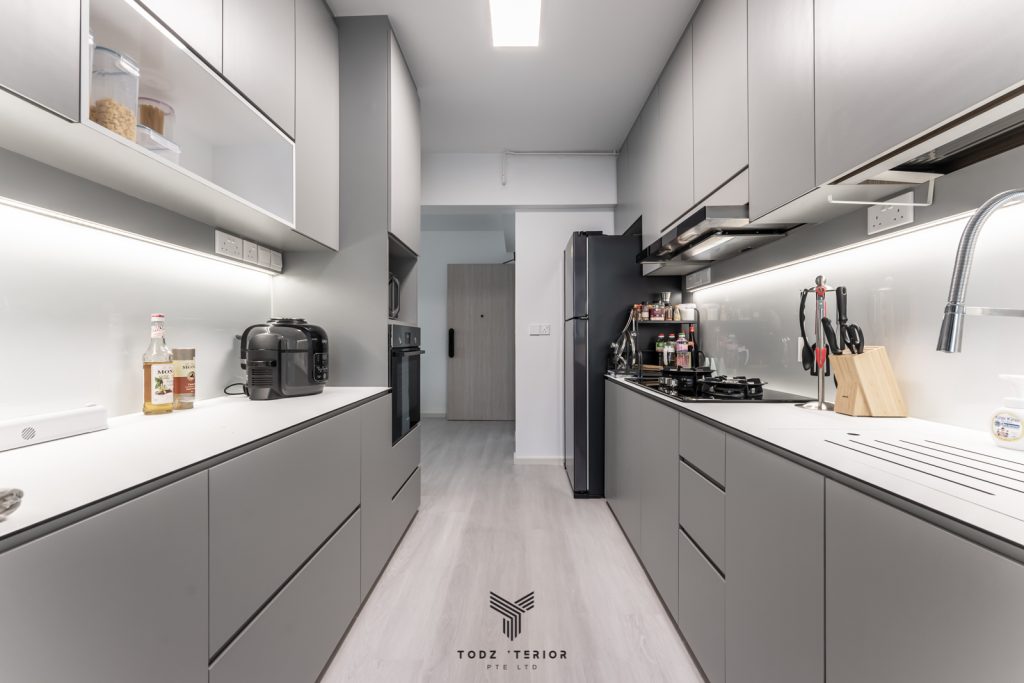 1.Black and Dark Colors
Black and dark hues have been popular in the kitchen for the last few years, and will remain popular through 2022 according to 50% of experts polled. Black and dark hues can create some very dramatic looks in the kitchen. This is particularly true if you opt for contrast, mixing the dark cabinet colors with lighter countertops or backsplashes. Sean Leffers, principal at Sean Leffers Interiors, likes the look of "black wood cabinets with white concrete counters".
MacKenzie Cain, interior designer at Habitar Design, agrees by saying, "Dark/black cabinets mixed with lighter quartz countertops and natural wood shelves/accents create a nice balance." And if you're wondering how you could make this look work long term, just remember what Nora Schneider (Nora Schneider Interior Design) points out: "Black works with everything." You can easily change up your wall color or cabinet hardware colors over time to give the room a fresh new look without a big-budget remodel.
2.Natural Wood
Natural wood cabinets are far and away going to be the most popular kitchen cabinet color trends 2022 according to 72% of industry experts. This popularity makes sense in conjunction with many other popular trends this coming year. Natural materials and nature-inspired trends have been on the rise for the last few years and show no signs of slowing down in 2022.
There are many different ways to include natural wood cabinetry in your home as well, with costs that can fit every budget from $70 to $450 a square linear foot.
Wood comes in an incredible range of different species, as well as colors, grain patterns, and tones. Best of all, wood tones work well with many other colors and materials, which can allow you to mix your cabinets with other popular trends. As Gloribell Lebron, CEO of G. Lebron Interiors, explains that, "Neutral, wood color and even green can all be mixed with a variety of countertop materials and colors. Because wood tones warm up a space, light or white countertops (with some veining) will create a perfect balance in the space."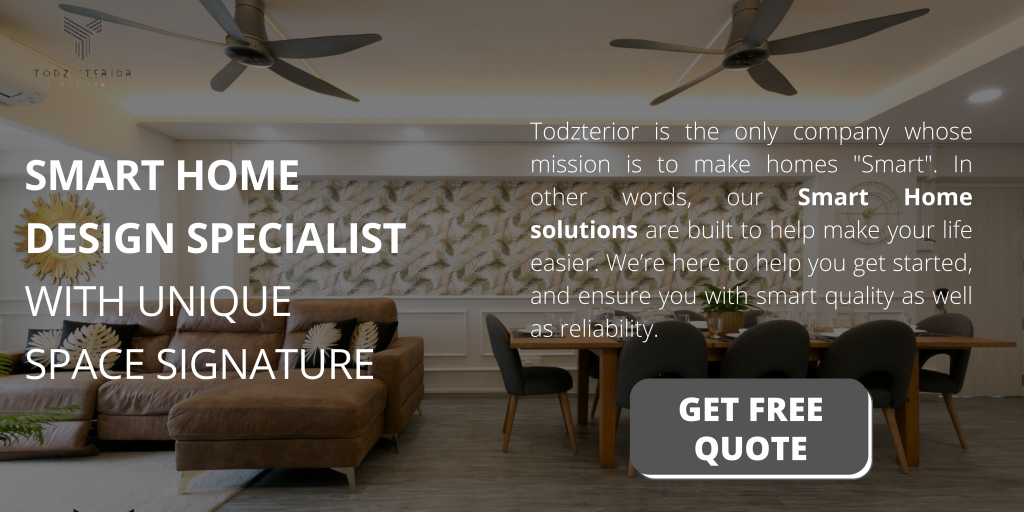 3.Earthy Greens
67% of experts also feel that earthy green tones are going to be the biggest cabinet color trend in 2022. Considering the fact that 6 different companies this year have decided on a shade of green for their Color of the Year 2022, it stands to reason that green is going to be the hot shade of the future. Green is an incredibly versatile color as well, ranging in shades that can border both yellow and blue, as well as light and dark tones. This makes it easy to incorporate the color into many different kitchens.
When asked her favorite pairing for kitchen colors, designer Jessica Davis, owner of JL Design, answered "Sage green cabinets with butcher block counters on the island" which would make a beautiful pairing. Interior designers Tim and Jackie Santos (Scottsdale Interior Design Group & Prescott Interior Design Group) like a different combination explaining that, "Earthy green cabinetry is well-paired with pure white quartz countertops and a mix of natural elements."
4.Two Toned Kitchen Cabinets
Another popular color trend for kitchen cabinets is the two-toned look. Two-toned cabinetry can add a lot of depth to the kitchen design. There's also a lot of different ways you can use it. Mix a green or blue island with natural wood cabinets on the perimeter. Or opt for different tones on your upper and lower cabinets. By mixing shades you help prevent any one color or tone from dating the entire kitchen at once, which can make your style stay fresher looking longer. It can also help marry different elements throughout the home, as Patti Johnson, owner of Patti Johnson Interiors, explains that, "Choosing an island in a contrasting finish […] can serve to marry finishes from neighboring rooms and create a cohesive design vs entering an all white kitchen."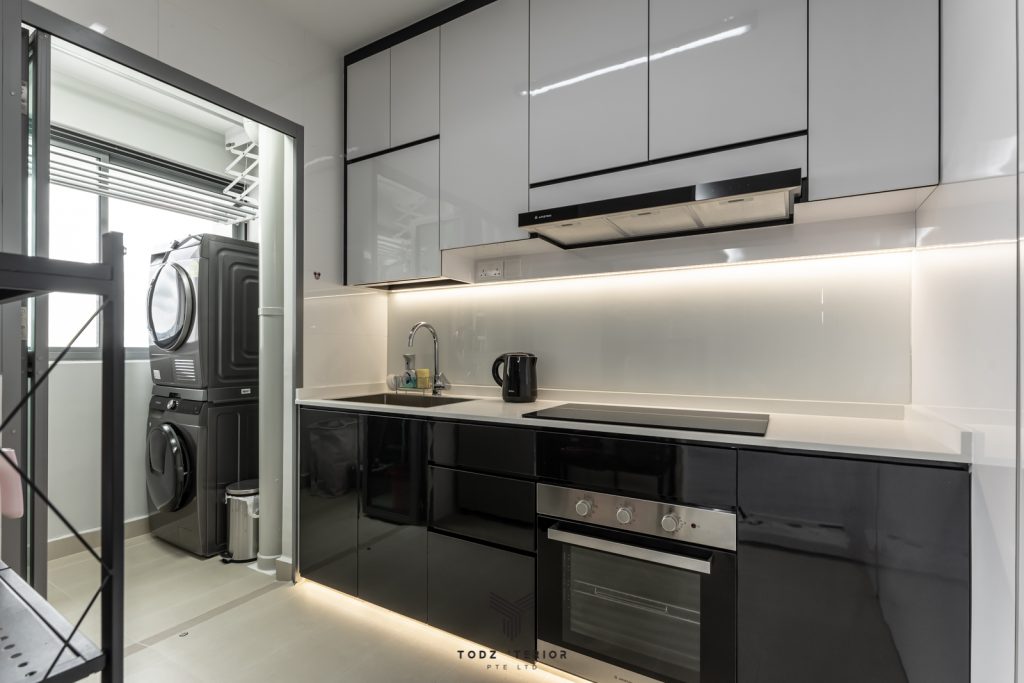 5.White
White cabinets have been popular for the last several years, and while only 38% of experts still think they'll hold onto their popularity in the coming year, this is still a relevant trend. White cabinets work with anything, and it's easy to change things like wall and accent color to liven up a design when your cabinets are white.
White also mixes well with many of the other popular trends, such as natural wood. Laura Muller, owner of Four Point Design Build, loves the look of, "Creamy white surrounding cabinets with a natural wood island" and Suzanne Lasky, owner of S Interior Design, agrees and prefers, "White and wood toned cabinets with Quartzite natural countertops in a light tone with warm veining running through it."
The key to keeping white on trend seems to be making sure that you prevent an all white kitchen, and include some other shades as well.
These trends can easily be incorporated into many kitchen cabinet colors – whether you're renovating or not. Painting your cabinets or walls, swapping out cabinet hardware and countertops can all help keep your kitchen up to date without breaking the bank. By staying on top of these trends and others, you can help ensure your kitchen continues to look beautiful, up-to-date, and on-trend.
Looking for Some Help with modern kitchen cabinets colors?
Feeling inspired to refresh your cabinet kitchen design with modern kitchen cabinets, but not sure where to start? Schedule a Free Interior Design Consultation for expert assistance from Todzterior. Our designers at Todzterior can make your dreams come true. With the best team of specialised modern kitchen cabinets designers, our team can give you a customised design plan to suit your taste, budget and style.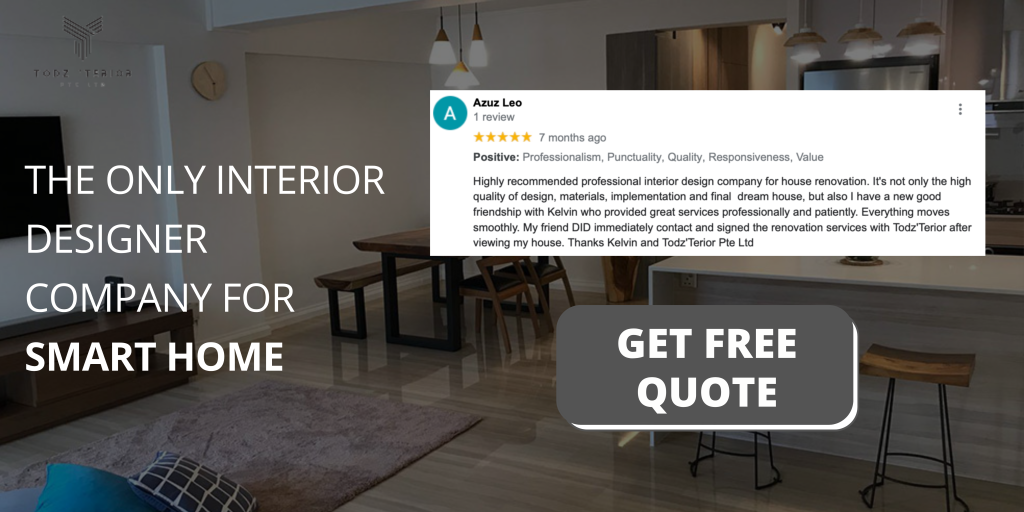 We're here to help you get started Smart Home solutions
Todzterior is the only company whose mission is to make homes "Smart". In other words, our Smart Home solutions are built to help make your life easier. The possibilities for the future of the smart home are endless. You've come to the right place. We're here to help you get started Smart Home solutions, and ensure you with smart quality as well as reliability.