Are you planning to purchase a queen bed or maybe a king bed? Well, if you are looking for a bed for a guest room or an extra bedroom, buying a queen bed is probably the best choice. But, if you are looking to buy a bed for a master bedroom or the kids room, you might want to consider buying a king bed. If you are wondering why the difference, here is what you need to know about queen beds and king beds.
The dimensions of a queen bed are critical for buyers when they shop for this type of furniture. This piece should be wide enough for guests to comfortably sleep in, and tall enough so that everyone will have a spot to stretch out. If your space is limited, then buying a smaller bed may be the best option for your home.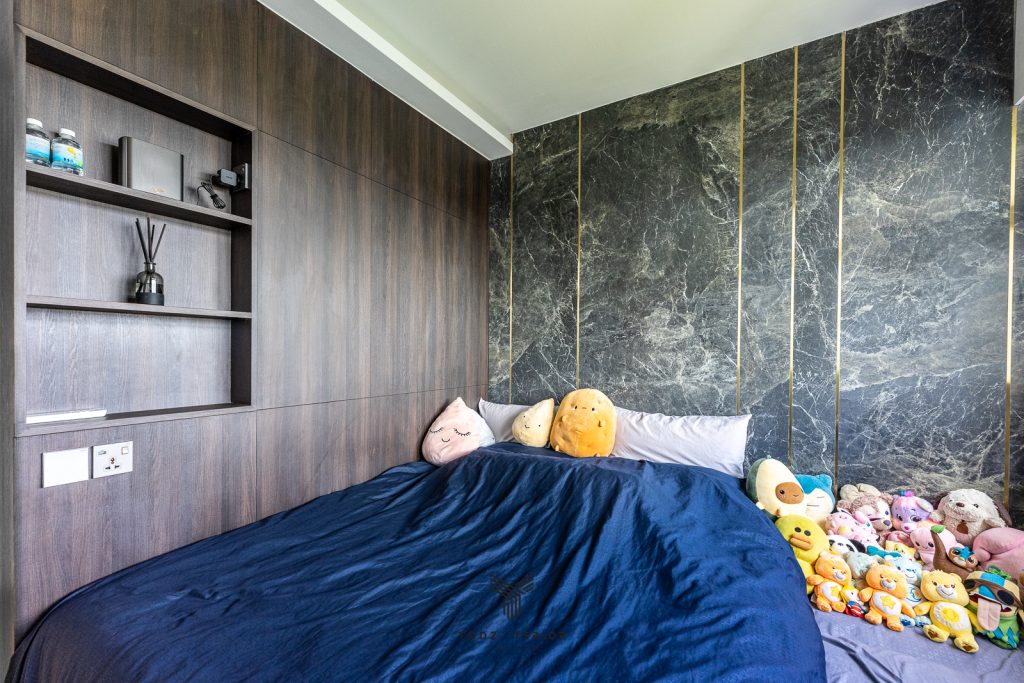 Dimensions of Common Mattresses
While the majority of this page concentrates on queen-size bed measurements in Singapore, it's useful to be aware of alternative sizes that are offered. This table might make things easier for you if you're unsure of what kind of mattress will fit in your room right now. Please take note that there may be a small error of approximately 2 cm for each of the measures below. As a result, when determining your queen size bed measurements, leave a little window of error.
| | |
| --- | --- |
| Mattress Type | Dimensions (width x length) |
| Single | 91 x 190 cm |
| Super Single | 107 x 190 cm |
| Queen | 150 x 190 cm |
| King | 182 x 190 cm |
The sizes of mattresses from various regions and locations might also range slightly from one another. Therefore, it's crucial to keep in mind that not every queen-size bed is the same size everywhere. Therefore, it is advised to only buy a mattress based on the queen size bed dimensions in Singapore for queen beds and the similar.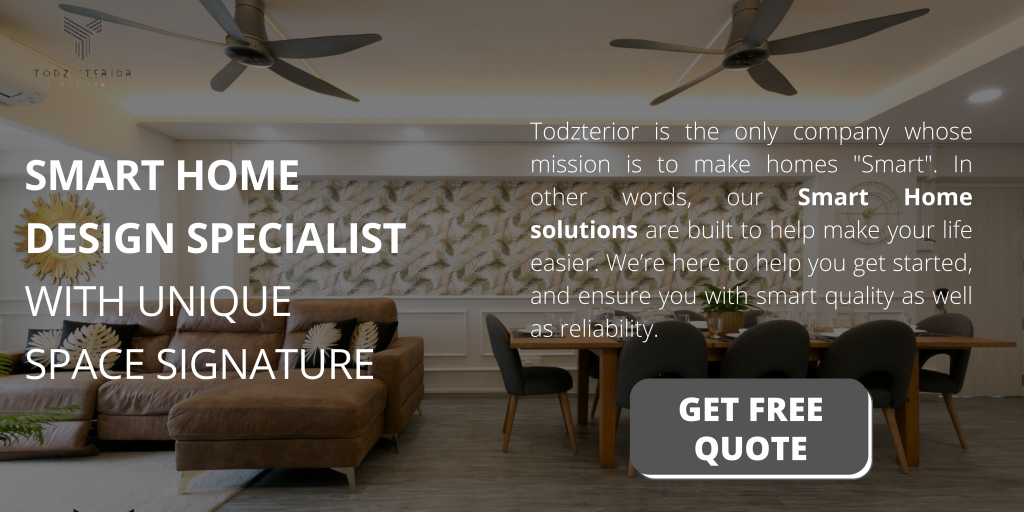 How Big is a Queen Size Bed in Singapore?
In Singapore, queen size beds typically measure 150 x 190 cm, or 60 inches by 75 inches, with certain brands having slightly different measurements. It's important to keep in mind that the design and material utilized can affect the height of the mattress. Therefore, even though the dimensions of a queen-size bed are typically 150 x 190 cm, the mattress' height might vary from 27 cm to 30 cm or more.
Queen Size Bed Cost
The next thought that may come to mind after learning the measurements of your queen-size bed is how much it will cost. An average price range can offer you a decent indication of what to expect, even if pricing for most queen size bed measurements can vary from one brand to another.
Depending on the quality and materials, queen-size mattresses typically cost between SGD1,000 and SGD3,000. For queen size bed dimensions, the majority of brands provide basic and premium pricing options in tiers. Nevertheless, there are other straightforward and inexpensive choices to take into account that range in price from SGDS$700 to SGD1,000, depending on the brand.
| | |
| --- | --- |
| Accessory | Average Price |
| Mattress with queen size bed dimensions | SGD700 to SGD3,000 (ranging from basic to premium materials and design) |
| Bed frames that support queen size bed dimensions | SGD600 to SGD1,700 (ranging from basic to premium materials and design) |
| Budget bed frames from IKEA | Starting from SGD300 (based on style, size, and material) |
Types of Bedroom Layouts That Fit Queen Size Bed
Without a doubt, queen size beds have larger proportions than single beds. Even while it might not seem like a big deal, this can impose certain limitations on smaller rooms. Therefore, make sure the room has enough space for a queen bed before you buy your bed and its accessories. The perfect room size for a queen bed is about 10 x 10 square feet (9 sqm). However, 9.6 × 10 sq ft (8.9 sq m) rooms in Singapore can also function rather well for queen size bed proportions.
It's crucial to understand the several layouts a queen bed can support in addition to the perfect room size for one. Whether or not your mattress fits in the required queen-sized bedroom, a clever plan will help you make the most of your available space. Here are a couple room layouts that are particularly suitable for a queen bed in a small bedroom.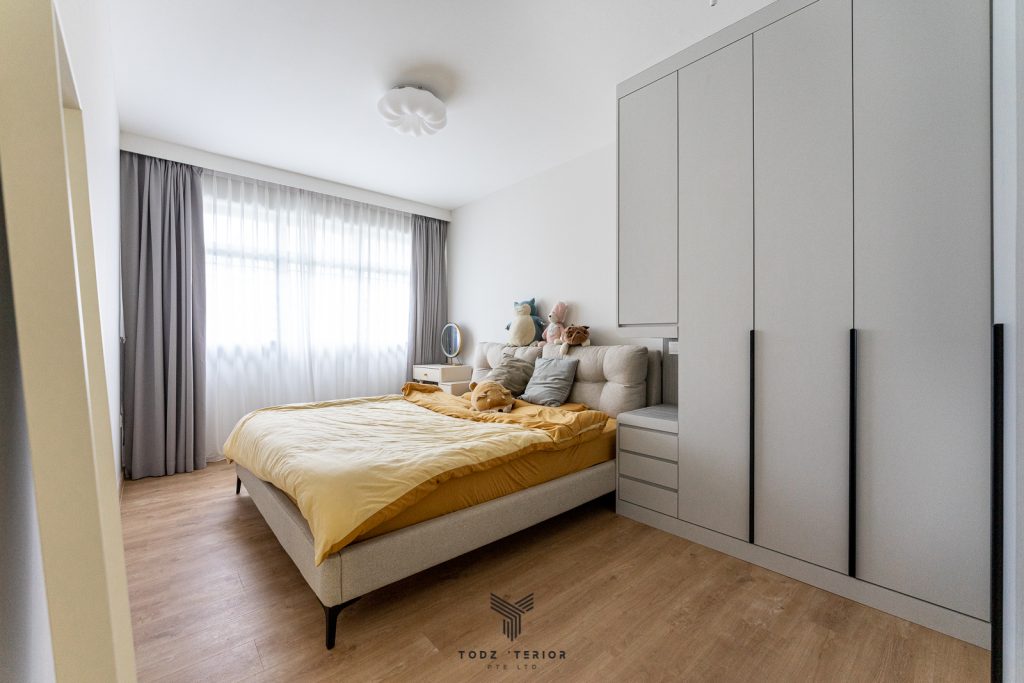 Square-shaped Rooms
Due to the symmetry it provides, a square form presents a fantastic opportunity to design your space in a practical manner. It is much simpler to fit a queen bed in a tiny bedroom plan because square spaces are proportionate. Your queen size bed dimensions need not overwhelm the room because you may place the bed against any free wall and maintain the symmetry of the room.
To ensure easy access from each side of the bed, just make sure to position it against the wall's center. Similarly, you can position your dresser and other bedroom furniture against the other side of the bed or the other two walls in the space.
L-shaped Rooms
You may still make things work even though L-shaped rooms might not always provide the symmetry that would be ideal for your queen size bed proportions. Consider putting the queen bed in the corner of an L-shaped compact bedroom to maximize the space. As a result, the bed can only be accessed from two sides, which helps to make the rest of the room more open.
You can use the remaining space in the room to store more stuff or set up furniture as this particular corner will serve as your bed area. Because it restricts movement to only two sides of the bed, this queen bed plan is better suited for young children or solitary people.
Narrow Rooms
Your queen size bed dimensions may be limited by long, narrow spaces because there is less room for positioning along the width or length of the room. This is due to the possibility that the wall along the room's length may be too short to accommodate queen-size bed measures or that the room's breadth is insufficient to allow for a central placement against the longest wall.
Here, there are only two ways to make a space big enough for a queen bed. Either the center of the longest wall or the narrowest wall can be where you place the bed. The space across from the narrowest wall can be used as a workspace or dressing area if it can accommodate your queen-size bed's measurements.
Multiple Entry Points Rooms
A room with more than 10 by 10 square feet (9 square meters) has enough space for a queen-size bed. Consequently, this is the perfect bedroom size for a queen bed with several doors on all sides.
Every wall of the bedroom, excluding the wall the bed is against, has a door. Even though the majority of these doors slide open, hinged doors could be a difficulty in a tight space. In a manner similar to how beds are positioned in square rooms, you can avoid this problem by aligning the bed symmetrically with the middle of a wall without doors. This still gives enough room around the bed on all sides to safely open and close each door.
Room Sizes That Are Ideal for Queen Size Beds
Since the dimensions of a queen size bed are roughly 5 x 6 feet, it's crucial to have a room that is larger than these proportions for a comfortable fit. In addition to the required bedroom size for a queen bed, you should be aware of the following space-related metrics for queen size beds:
| | |
| --- | --- |
| Category | Dimensions |
| Ideal room size for a queen bed (with clearance) | 9.8 sqm (105 sq. ft.) to 12 sqm (131 sq. ft.) |
| Minimum room size for a queen bed | 8.9 sqm (95 sq. ft.) to 9 sqm (100 sq. ft.) |
| Ideal amount of clearance space to leave around each side of the queen size bed | Minimum of 76.2 cm (30 inches) |
Queen Size Bed Ideas to Style a Small Room
Use a Rug
Your queen size bed's dimensions may draw the most attention in smaller rooms because it takes center stage there. The remainder of the space may therefore appear stark and naked-looking as a result. To counter this, place a rug under your queen-size bed to offer some visual appeal. To give the room a little coziness, you might choose between a huge area rug and a smaller one.
Position Your Bed
Clutter is the best way to make a small space look even smaller. Similar to this, depending on where it is placed, a queen size bed, which takes up the most space in a tiny room, can quickly make the area appear smaller. Try to position your bed against a wall that is solid and naked (without doors, windows, or other fittings) in order to prevent this.
To bring attention to the space, choose simple fixtures or a statement piece for the wall with the least amount of decor. If the bed does not have a defined headboard or supporting accessories, let the bed be the only focal point.
Bedside Tables
In tiny or narrow rooms, night stands occasionally tend to be bulky and take up more floor space. To decorate your queen size bed in a tiny area, look into open storage alternatives. A modern bedside table can match your queen size bed's measurements while taking up less room.
Accessories and Soft Furnishings
Some decorations can assist you deceive the eye since your queen size bed measurements are sure to become the center of attention in a limited space. When placed higher up in the space, soft furnishings like your curtains can assist lead the eye upward. This contributes to the creation of vertical length, creating the impression of a room with a higher ceiling and more space.
Similarly, light or neutral room paint colors can reflect light and increase the room's depth. Headboards that are higher might help provide the sense of more room. To make the most of a small bedroom with a queen bed, try combining these ideas.
Keep your furniture to a minimum
It is crucial to choose the proper furniture for a cleaner look because it is widely known that clutter does not work well in small spaces. To achieve this, choose only pieces of furniture with a minimalistic style and non intrusive features. Save the majority of the room for your queen-size bed's proportions and decorate the remaining spaces with a few select pieces of furniture. For a lighter appearance, look for tables with simple hidden storage or exposed legs.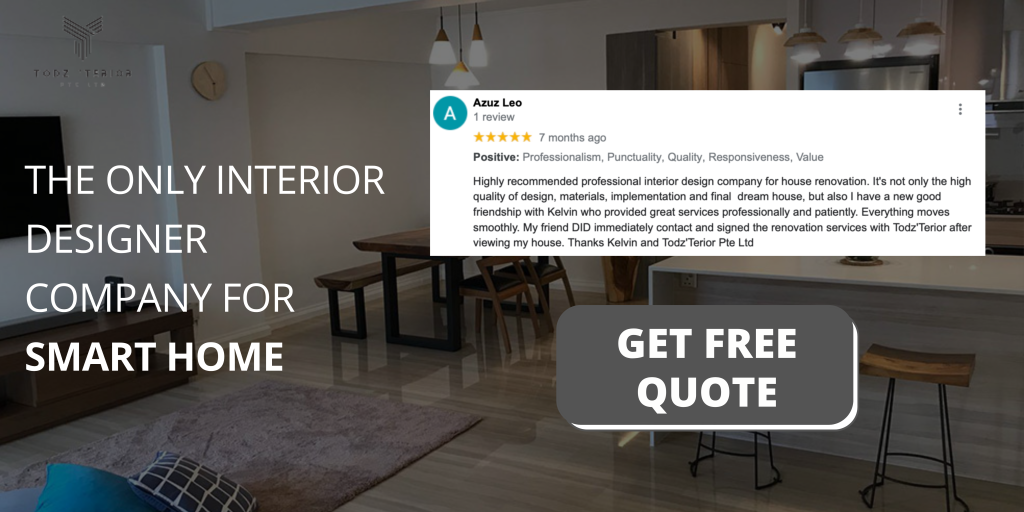 TodzTerior
We're here to help you get started Smart Home solutions
Todzterior in 7 Gambas Cres, #01-03 ARK@Gambas, Singapore 757087 is the only company whose mission is to make homes "Smart". In other words, our Smart Home solutions are built to help make your life easier. The possibilities for the future of the smart home are endless. You've come to the right place. We're here to help you get started Smart Home solutions, and ensure you with smart quality as well as reliability.