As an owner of a minimalistic house in Singapore, you must be very familiar with this problem: space. Yes, we all want a spacious and wide bedroom, but what if we live in an apartment? Sometimes, the limited space we have in our home prevents us from having an extensive bedroom so we have to do creative thinking to make our bedroom more broad than it actually is. So, what are bedroom ideas Singapore that will inspire you?
In creating a roomy bedroom, we have to accurately measure the area of the bedroom. You can't do this carelessly, of course. Call a commercial interior design firm Singapore such Todz'Terior to help you plan your bedroom renovation! TodzTerior will give you the best advice for your bedroom design ideas that you will have the bedroom you have been dreaming of!
The crowded area in your home is affecting your other rooms such as the bedroom. All you need is to find amazing ideas to make your bedroom seem bigger. Wanna know what the ideas are? Go check this article out!
Exploit Your Bed
This means that you have to make use of every single space around the bed or used by the bed. How do you take advantage of these spaces? First, consider getting a murphy bed Singapore. When you're not using the bed, you can lift up the bed and enjoy the free space. If you already got a regular bed, you can turn it into a murphy bed by calling the local mattress Singapore makers to make a murphy bed for you.
Second is, if you're not into a murphy bed, you can always utilize the space available under the bed. Purchase a new storage bed or make an under-the-bed storage by yourself. It will give you no regret! Don't forget to choose the colours that match your bed.
Don't Let the Wall Alone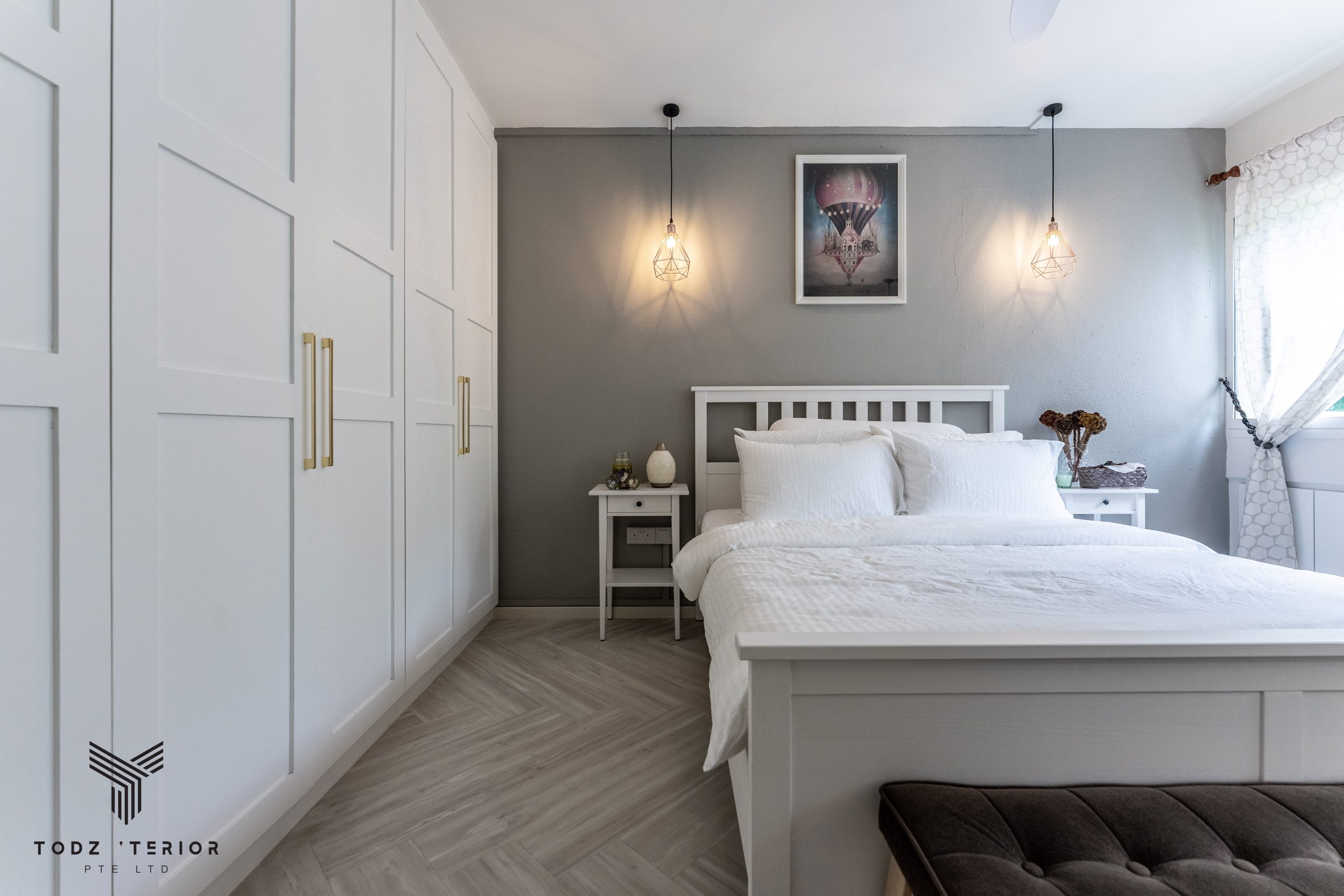 Some of us have been caught up in putting everything on the floor that we forget if walls have much space too! Instead of setting a drawer beside your bed, a floating drawer or rack sounds much better! There will be nothing getting in the way when you get up and out of the bed.
Some people think that adding wallpaper to your small bedroom only will make it even narrower. However, if you choose the right pattern, your bedroom will precisely look more spacious! Stripped wallpaper is one of the patterns that could create an illusion of a larger space. Vertical stripes will make the ceiling seem higher and horizontal stripes will make the wall seem bigger.
Have a Wisely-Arranged Wardrobe
Keeping a single wardrobe is better than having multiple drawers. To save space, it is recommended to have one wardrobe only and put every outfit there. This might make your wardrobe crowded, of course. However, you still can arrange the wardrobe by sorting your unused clothes and donating it to those who are in need.
Every inch of space inside your wardrobe is valuable. Use them wisely. Organize your clothes and shoes in the wardrobe until other stuff can fit in it. Applying a narrow wardrobe design to the wall is also recommended since it will add more storage and your HDB bedroom design will also appear cozier.
Move Away Unnecessary Furniture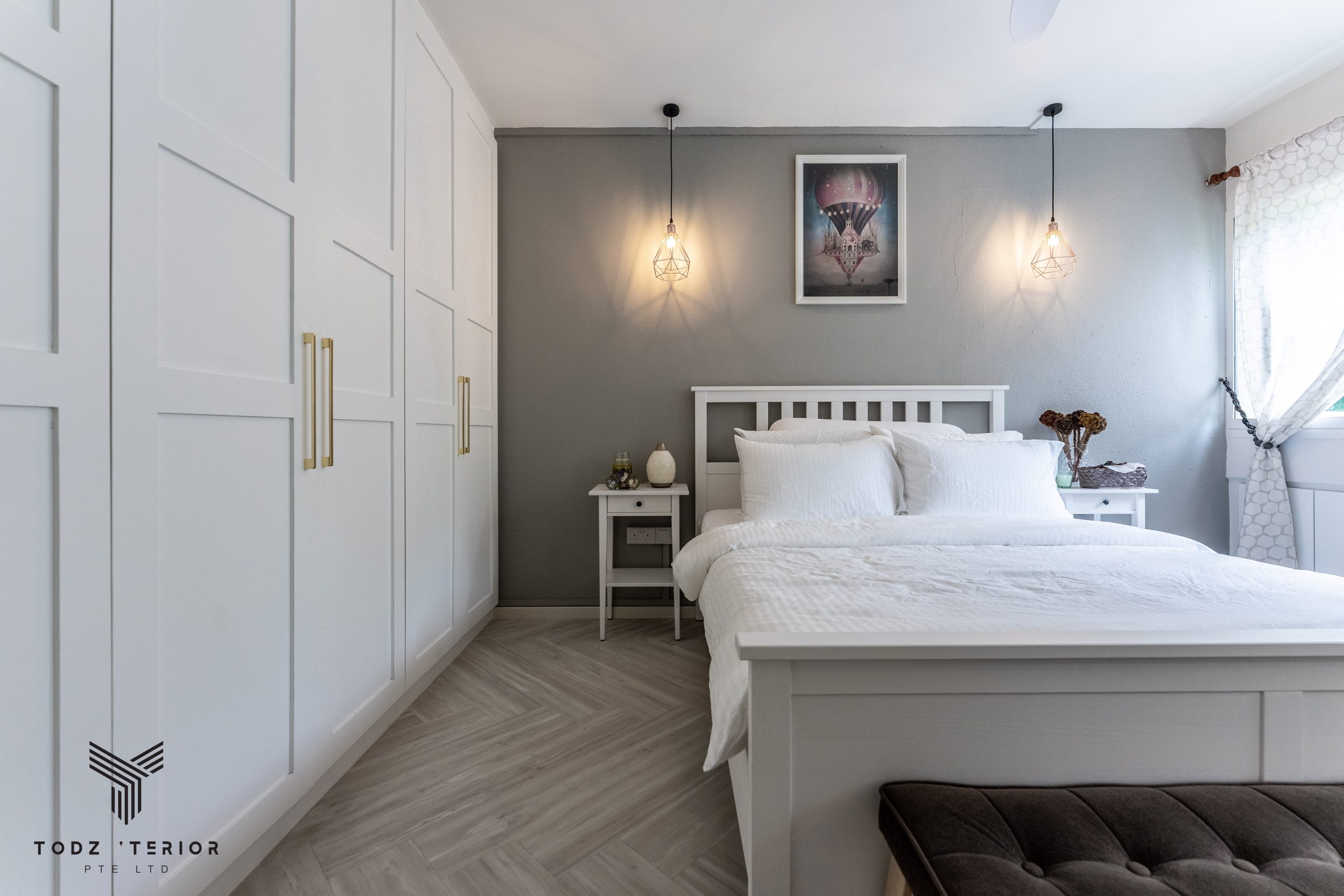 Do you think you need two sofas in your bedroom? Or maybe you do not need them at all? Then, put them elsewhere. Move them to the garage or the storage unit you have in your house. This also applies to other furniture in your bedroom. If you think you don't use them anymore, just move them away.
Additional Storage in the Back of the Door
The door you install in your bedroom is not only to protect you from something outside but also to give you additional storage! A little touch behind your door will provide you with useful storage such as a hook hanger and a small drawer.
Small things you own will be neatly put behind your door if you are smart enough to use the backside of your bedroom door. Making additional storage behind your door  might take more effort than you think, but it is worth it!

Todz'Terior: Your Best Interior Advisor
Todz'Terior has been diving into the interior world for years. As a professional interior design firm in Singapore, Todz'Terior provides you with amazing services with a good quality and will assist you to actualize the interior design you aspire to have in your lovely home. If you need experts to handle your interior design problems contsct us and our door at 7 Gambas Crescent will always open!