If you are planning to get a new HDB flat, do you think that there is a need to change things around to make it feel more like a home?
The problem with most HDB flats is that they are very boring and bland. They are just a place to sleep, work, and eat. So when you are living in an HDB flat, you don't really feel like you are in the "home" you want to be.
The first step in making any room feel more like a home is to add a few personal touches. A well-designed bedroom will give off the feeling of being at home because of its cozy and warm feel. And if you don't do anything to make the space feel more home-like, it will be very hard for you to feel like you are actually living in your home.
In this article, I'm going to give you 4 amazing ideas that will help you transform your boring and bland HDB flat into a home-like space.
If you want to make sure that your new place feels like home, then read on…
Go luxury with deluxe bed linen and curtains
Turn up the ante by adding luxury elements to the bedroom such as plush bed linens and throws, elaborate curtains and deep-coloured walls. Pair them with spotlights and recessed lighting for added drama and mood. Use plush bedding and throws to create an environment of modern sophistication. Keep the other elements simple and minimal for a sleek, sophisticated look. Plus, you can always change the bedding and throws to suit your mood or the season.
Choose the right lighting
If you are short on budget, you can still transform or do renovation to your master bedroom design with the right lighting. Compared to changing your furniture, walls and flooring, adding different forms of lighting to your room will be a much more budget-friendly way to transform the appearance of your room completely.
Moreover, different types of lighting will give your master bedroom a different feel. For example small master bedroom ideas, a chandelier will give your room a more luxurious feel, while a wall light will give your room a more homely feel design.
Use a platform bed
Platform beds are growing in popularity because they are space-saving, they offer plenty of customisable storage space, and they add a distinct uniqueness and streamlined style for a clean and modern interior master bedroom.
If you do not already have a platform bed in your home, then I highly recommend you purchase one. You can also use a tall bookcase, it is a great way to add extra height and storage space in a small bedroom, without taking up too much space.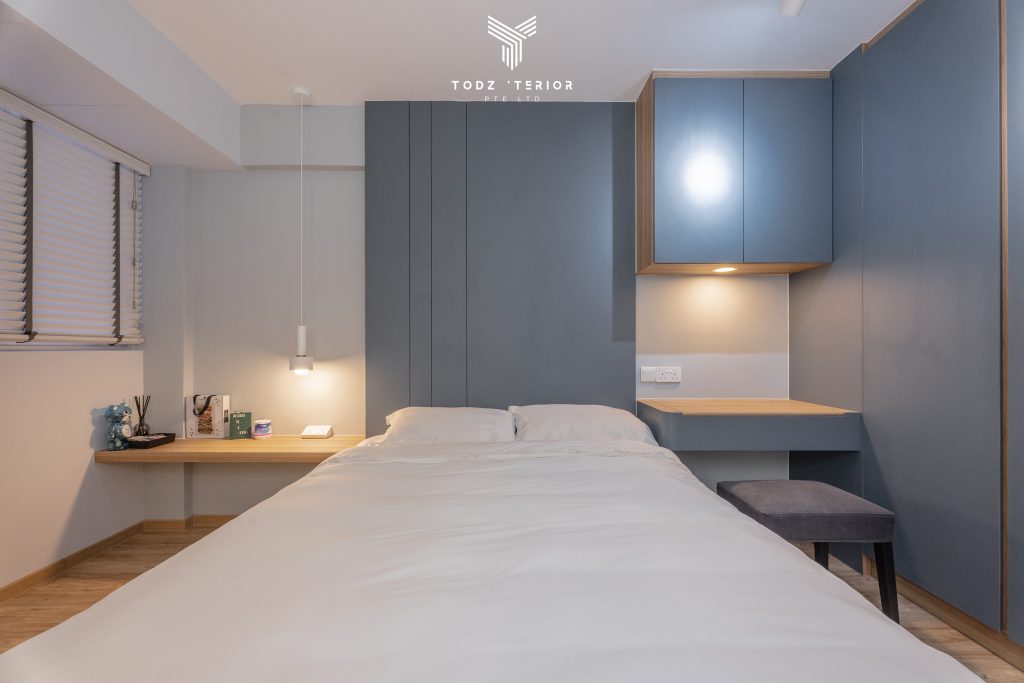 Platform beds can be modified to your needs and preferences. They physically segregate the space, without the use of any additional barriers. They can also add an added dimension visually. To add a touch of modernism to your bedroom, you can add integrated lighting, shelving, and use stylish curtains to balance out for a seamless look.
The next best thing you can do is to add fun and trendy wall hangings along with fancy table lamps. There are many possibilities for you to dress up your walls, and the more you think outside of the box, the better! Table lamps, when added to a bedside table, immediately enhance the appearance of any bedroom. With the addition of beautiful wall hangings, you can completely change the appearance of your bedroom without much renovation cost. They are very popular and useful for bedrooms, especially for those who have limited space.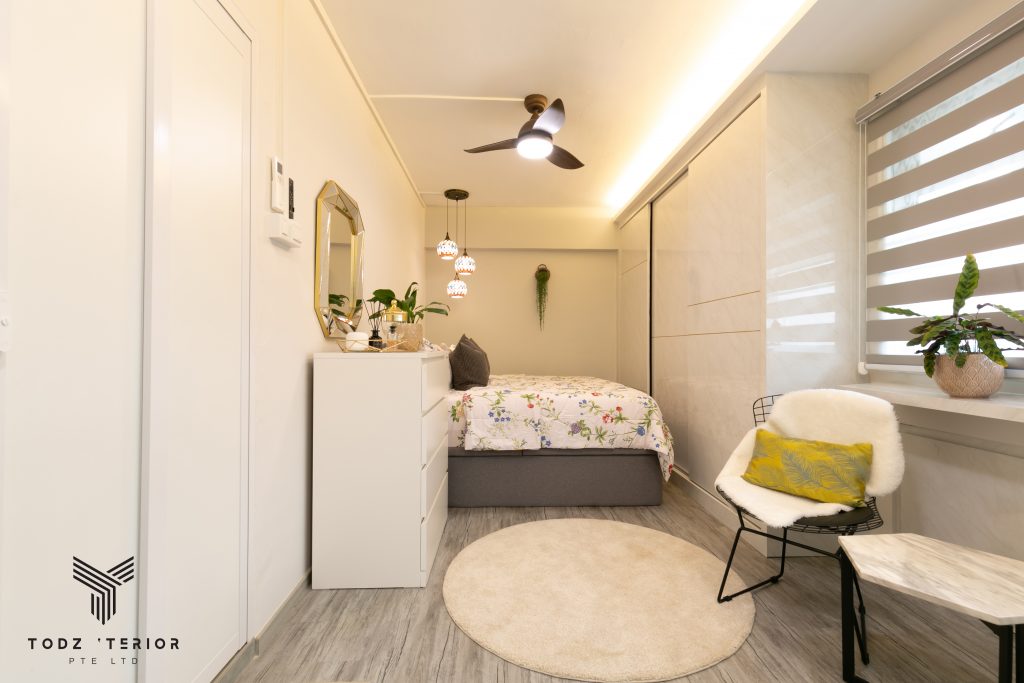 Choose deep and dark color palette
Bedrooms can be a great place to express yourself. A good color palette idea can be a great way to create an atmosphere that is rich, luxurious, and stylish. Use colors such as deep teal, navy, mauve, and mahogany to create an environment that is perfect for a good night's rest.
Bright colors will stand out against dark walls more than against light walls, so use them to accentuate the darker hues in the room. You can further enhance the appearance of the bedroom by using stylish lighting options, complementing accessories, and incorporating beautiful matching flooring to complete the look of elegance and style.

What can Todz'Terior do for you?
If you want to have a more personalized bedroom, then you need to start organizing your bedroom right now. With Todz'Terior, you can create the perfect bedroom to make you feel more comfortable. You don't need to spend a lot of money on buying expensive accessories, we can design it without breaking the bank!