What is a living room design Singapore? Living room space it's a place where you can relax and spend quality time with your loved ones. And every living room space should be designed in such a way that it reflects the personality of its owner, as well as being functional. This article will show how to design an amazing modern HDB living room for your home or office – one that will make everyone want to come over!
Check out these interior design ideas for your modern living rooms interior, walls, and flooring to create a modern functional yet personal space.
Modern Living Room Design Singapore: Hidden Storage Behind Walls
Create hidden storage as part of the walls to maximize the floor space in your living area. This enables smooth and convenient storage while being in keeping with the overall esthetic of the living space. This method of camouflaging would be ideal if your property is modest but you require a lot of storage space.
Divider Panels For Opening Living Room Space Up
Divider panels are an excellent way to free up space while still providing seclusion. If you have a small home, this design trick will make the space feel more spacious. A glossy, reflective divider can be used to split the living area from the bedroom. It creates a seamless design because the opening matches the rest of the divider.
Another design element is the half-glass partition, which has a more open concept than the former and gives the impression of a larger home.
Shelves That Float For Knickknacks
Do you have an empty wall and aren't sure what to do with it?
Floating shelves can be beneficial. It's an excellent filler for enhancing the room's overall appearance. You also gain additional display space for your prized possessions, such as photo frames and books, while maintaining a tidy appearance.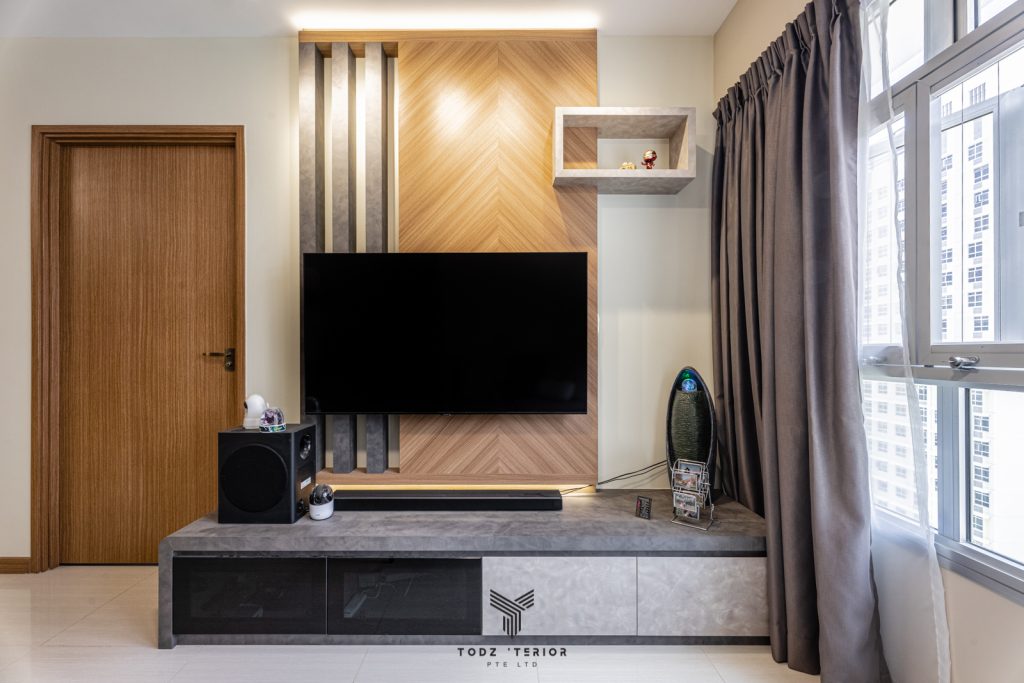 Have A Feature Wall For A Statement As Focal Point
A feature wall as focal point adds interest to an otherwise lifeless wall by adding a unique aspect. They will undoubtedly spice up your living environment, whether it is an interesting architectural design or artwork.
Show Your Collectibles
Have a floor-to-ceiling bookcase or showcase your toy collection to make a statement. This can assist define the tone of the area while also highlighting a certain feature. For smaller living rooms, a feature wall can be added, but the section you want to separate off for use should be limited.
Alternatively, use a full-length mirror feature wall to create an illusion of a larger space. Make it extra functional by having storage behind the mirrors too!
Add Wallpapers
"Should I go for a strong, huge patterned wallpaper or one with subtle patterns?" you might wonder. All of this is entirely up to your particular taste!
To obtain a nice aesthetic, make sure your wallpaper blends well with your furniture, flooring, and other décor accents.
Small patterns are a wonderful technique to add graphics to textures while still appearing to be a solid from afar.
Choose bold prints that convert your feature wall into a statement piece for a unique aesthetic.
By framing your wallpaper, you may turn it into a work of art. Use wainscoting to create an elaborate border, for example. Alternatively, combine top-to-bottom wallpapers with French paneling.
Don't limit yourself to just the confines of a room. For an astounding wow factor, use ceiling wallpapers in your living area.
Mix Portraits & Artwork
Are you apprehensive about having a whole wall painted? Consider incorporating artwork or portraits. It doesn't have to be a pricey work of art; it may be whatever you choose, including a few enlarged images of your family. It serves as a focal point and personalizes your environment.
Choose a colour scheme palette
The Lake Life Apartment chooses fresh pastel colours to make the small apartment feel larger. Soft gray hues of the sofa and long walls and furniture create an inviting and warm ambience. Once the palette was determined you can paint and make matching furniture. This keeps the living area from being messy and chaotic and makes it much easier to concentrate on what to speak.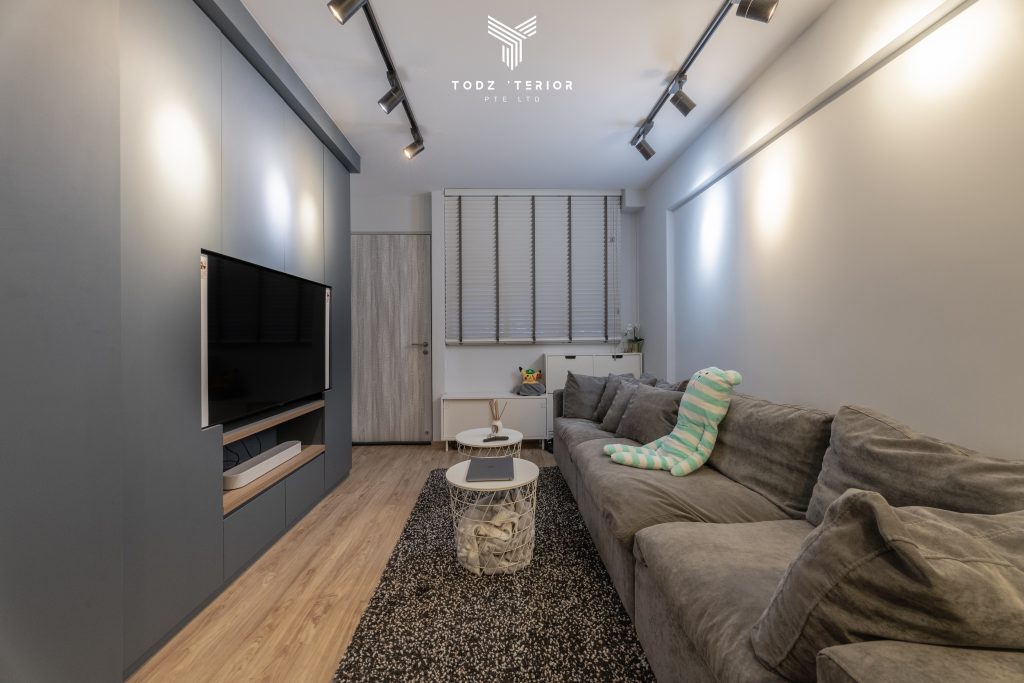 Rugs & Carpets On The Living Space
You may think you're finished once the sofa and furniture are in place, but a decent rug or carpet may add a nice finishing touch to the room.
You can experiment with a variety of materials and sizes —
Use a faux fur carpet or rug to create a softer, neutral feel in the area.
Use one composed of a brighter substance for a warmer-colored area.
Get a rug with a comparable tone if your color choice is mostly dark.
Not only is choosing the right design important, but the size of it should also be influenced by the size of your home. This is to prevent the floor area from being overly cluttered and out of place.
Platforms & Elevations
Floor platforming can also be used as storage sections, making your living space more functional. They also provide dimension to the home by dividing off the appropriate rooms.
The signature minimalist zen appearance is achieved by replacing the regular sofa and TV with tatami mats for midday tea.
Add a unique twist to those with higher ceilings by placing a little elevated staircase with side storage cupboards. The top acts as an extra play or rest area.
Play Around With Lighting
Take a moment to look around you. Examine your home in the dark – are you already in a position where natural light can easily reach you? Or do you live in a more secluded part of your neighborhood?
When done correctly, living room design lighting can reflect the mood you want to create. You should think about what you use the area for most of the time, as this will influence the type of lighting you get.
If you watch a lot of TV, for example, make sure the lighting doesn't generate glares or unneeded reflections. For that, choose cove lighting. It brightens the room while remaining modest and producing an equally distributed effect.
Another thing to keep an eye out for are task lights, which are very useful when natural light is sparse in your home. If you spend a lot of time in your living room working on coffee table, a coffee table lamp that creates a spotlight for the area is a good investment.
For the large or small living room, natural light can enhance the sense of relaxation. If households like to watch TV games or tv shows put a little more light so that reflection is prevented and no one glares their eyes. If you use a table lamp to illuminate a kitchen or bedroom you will also need some lights. A second thing to check is your task lighting which is important if your house is lacking natural sunlight. From design to installation and of the forms which are kind of natural light are the types you'll need. If you want to look at something stylish elements about them which are your important activities for which space you are most used,.?

Looking for a new interior designer for your living room design?
We are an award-winning, full service design firm in Gambas Crescent Singapore. Our team of designers and project managers will work with you to create the perfect living room design that reflects your style and personality.
With our help, you can transform your living room into a place that's beautiful, functional and uniquely yours. Whether it's designing a kitchen from scratch or adding some finishing touches to an existing room, we have the expertise to make it happen seamlessly. Contact Us Now!