Are you planning to buy a new wardrobe? Do you often find yourself stuck in the indecision of what to choose?
Choosing the right wooden wardrobe design can be a little tricky at times. There are so many different styles to choose from that it can be a real challenge to choose which one is best for you. So, it's important to get started right away and use these tips to help you choose the right wooden wardrobe design for you.
In this article, we are going to help you to choose the right wooden wardrobe design. If you still don't know how to choose a wardrobe, then read on…
Measure Your Room and Where to Place It
When deciding what kind of wardrobe to buy for your home, it's important to make sure the room where it will be placed will accommodate it. Make sure your flooring and ceiling have been done to have an accurate size. If you don't know what size wardrobe to get, this is a good place to start. By measuring your room and deciding where to place it, you can look for the wardrobe with the fitting size. Once you've decided what size wardrobe you want, compare different styles to find the one that suits you best.
You can use a professional wardrobe designer or manufacturer who can provide you with a professional measurement of your space and calculate how big your wardrobe should be. The price of designing may not be charged, but customization might be more expensive than buying a finished wardrobe in furniture stores.
Think about the wardrobe functionality
A wardrobe should serve your needs, but how do you know what type of wardrobe you need? There are many factors to consider, one of them is whether you need a built-in wardrobe or an external cabinet wardrobe. External cabinets are often the best solution because they require the least amount of work, space, and installation time. Analyze your storage needs so you can know what type of wardrobe that's best for you. Do you prefer your clothes to be stored away, or do you like them to be on display? How much closet space do you have? Will your wardrobe include hanging rods or hangers? If you live alone, a wardrobe with little storage may be more convenient and easier to organize for you. But, you may need a wardrobe with separate sections if you live together with a family.
Choosing colors
Your wardrobe can match your lifestyle. You can choose the colors that fit to the overall look of your room. If you're not sure how to choose the wardrobe color, it's recommended to have the same color as the other wooden furniture in your room. Dark or heavy wooden furniture, you may feel anxious since the wardrobe can take a lot of space in your room.
Wood type
Consider the type of wood you would like your wardrobe to be made from. There are a few popular types of wood that are both aesthetically pleasing and long-lasting, including oak, walnut, cherry, maple, poplar and mahogany. If you have a smaller budget, you may want to look into a pine wardrobe. If you have a bigger budget and want something that is sturdy and attractive, you may want to look into a teak, cedar, oak, or mahogany wardrobe. These woods are quite strong, very attractive naturally, and in some cases, resistant to water damage and bug infestation. They will cost you more money, however, so you should be aware of common costs of such furniture.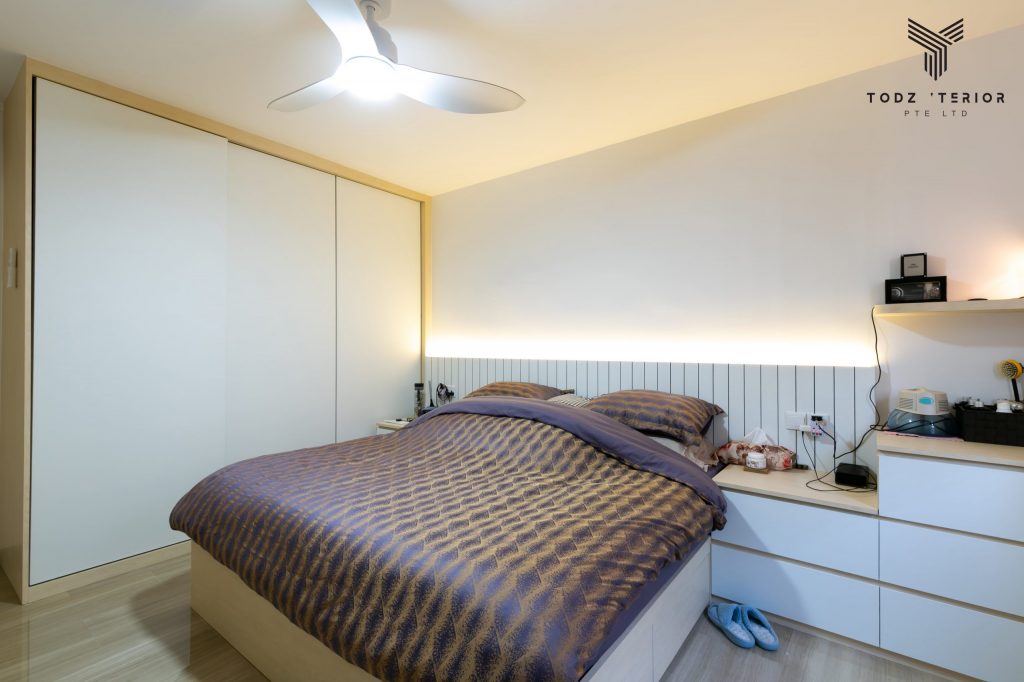 Pay attention to the quality
To know whether the wardrobe has a good quality, it must have a natural smell of wood. Don't choose a wardrobe that has a harsh chemical smell. Check if there is a gap between the boards and the joints. Also if you have children in your family, it's best to not purchase a wardrobe with glass doors or shelves. It can be dangerous if any glass breakage happens.

Wrap up
Choosing the right wooden wardrobe design for your home requires some research. There are a lot of styles to choose from. You may be able to find a variety of designs online or in a shop. A good wooden wardrobe should: be affordable, last a long time, be sturdy, and fit comfortably. There are 3 main factors that make a wardrobe choice difficult: design, quality and price.
As buying furniture can be confusing, time-consuming, and frustrating, Todz'terior can find you any customizations you want including choosing your own wood, wardrobe doors and shelves so everyone will be unique! We also provide materials and pictures so customers can clearly see the final product. No more surprises when it arrives!