The living room can be an important area in your 4-room HDB. It is where friends and family gather around, watch TV and laugh together. A home with a defective living room can seem boring and be a let-down. Having a 4-room HDB living room design ideas will definitely prevent you from that.
4-room HDB flats are the most common and most popular home size in Singapore. Having a 4-room HDB can increase the opportunity to experiment and play around with design styles and solutions. It really gives you an opportunity to think outside the box. You can play around with design styles and solutions to make your living room more creative.
For those who live in 4-room HDB flats, here are some 4-room HDB living room Singapore design ideas to inspire you to decorate your living room.
Use brown color for cozy living room
The warm and inviting brown color is a great choice for a living room. It also doesn't get lost in a colorful room as well. This can help with coziness as well. It's a safe space for everyone.
Accentuated with light wooden flooring, this living room is easy on the eye. The mix of warm browns makes this compact living room simple and tasteful.
Use bright colors for more neutral looks
Light tones of cream, beige, khaki and white have the added benefit of visually improving your space by reflecting more light, making them sophisticated wall colors.
In the living room, make use of natural materials from plants or flowers to give a warm, all-over lush appearance. Wooden surfaces are great for adding warmth and personality to your home. From floors to shelves, wooden surfaces make a timeless pairing with neutral color palettes.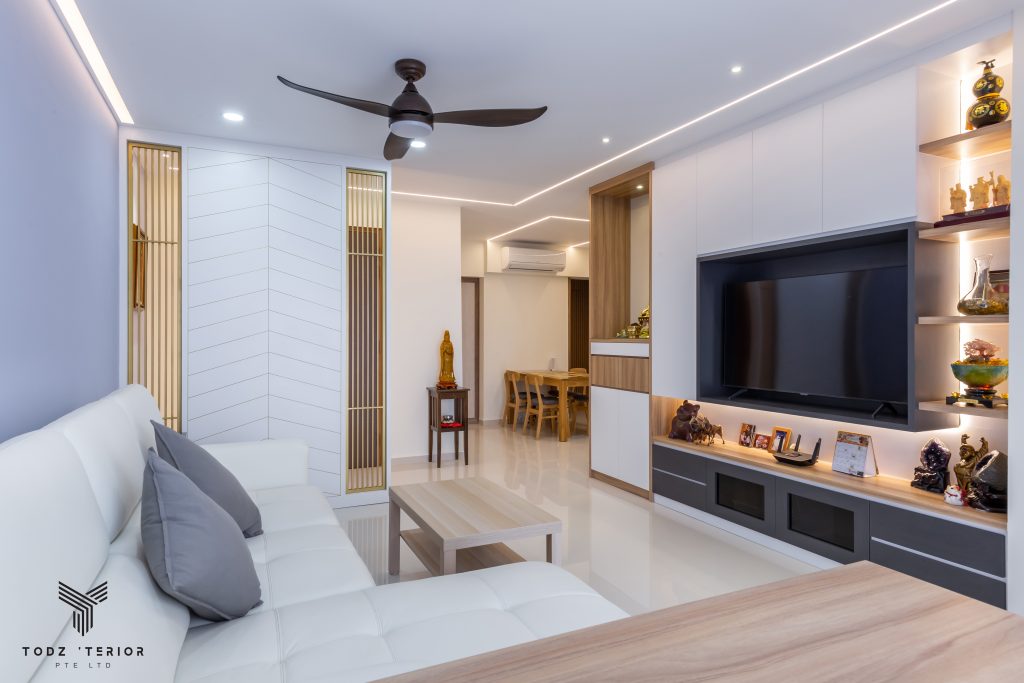 Use dark colors for a sophisticated look
If you want to make a statement, choose a more chic and sophisticated palette of blacks, gray, browns and blues. The colors you choose for your living room should reflect your personality. They can make a space look warm and welcoming, or they can make it feel cold and intimidating.
Scandinavian 4-room HDB living room design ideas
Scandinavian style has an understated look that concentrates on the essential elements, with a minimalist approach to decoration. Keep things simple and elegant.
The perfect Scandinavian 4-room HDB living room design ideas features lots of bright, natural light. You can embrace it through the use of windows and add some natural plants. With this style, you can get a strong welcoming, calm, and comforting feeling for your living room.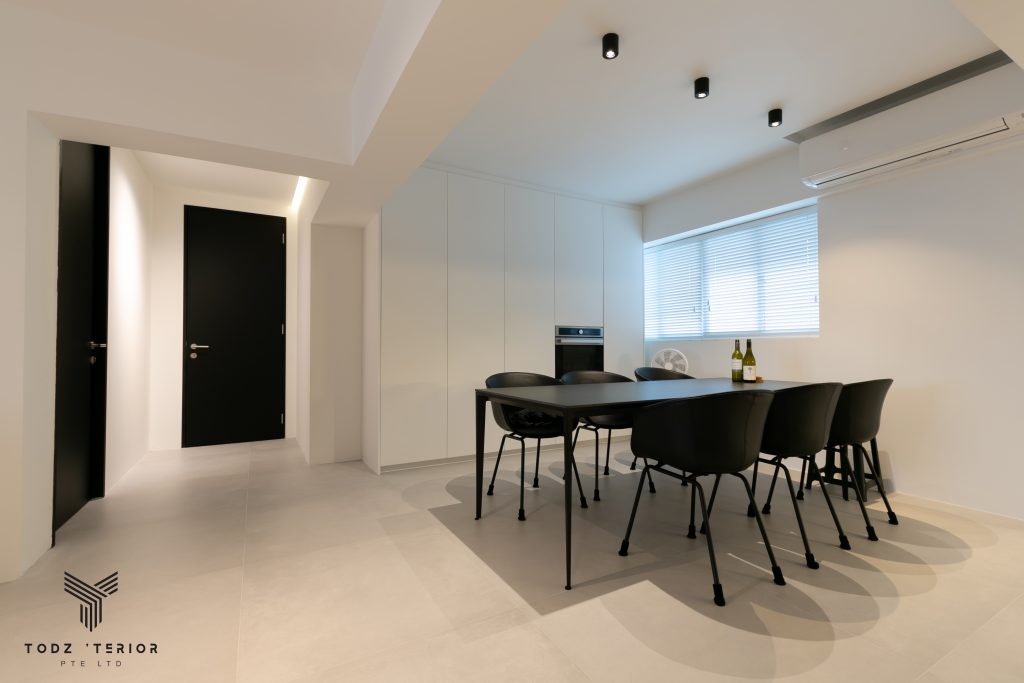 Luxurious 4-room HDB living room design ideas
You can create your luxurious living through the use of black and gold color. The combination of black and gold color for your living room design is not complicated at all. It will give a sophisticated as well as luxury look at first glance to your home.
Next, you can use the wallboard to mount your TV. This wallboard Made of fine marble and wood layers stacked atop each other, a style boost is the advantage of this style for the living room. Marble adds elegance and high taste to this living room design. This also creates a modern living room design.
Play with colors
Use furniture and home decor items that demonstrate your personality, like a favorite painting in your living room. Using bright pops of color in the form of quirky furnishings are allowed to stand out against a white backdrop.
Industrial living room style
The metal hooks are part of the industrial theme and are intended to hold up the cables that run across the industrial-themed room. The walls and flooring are given a cement screed finish, and the brown leather sofa and the large area rug inject warmth.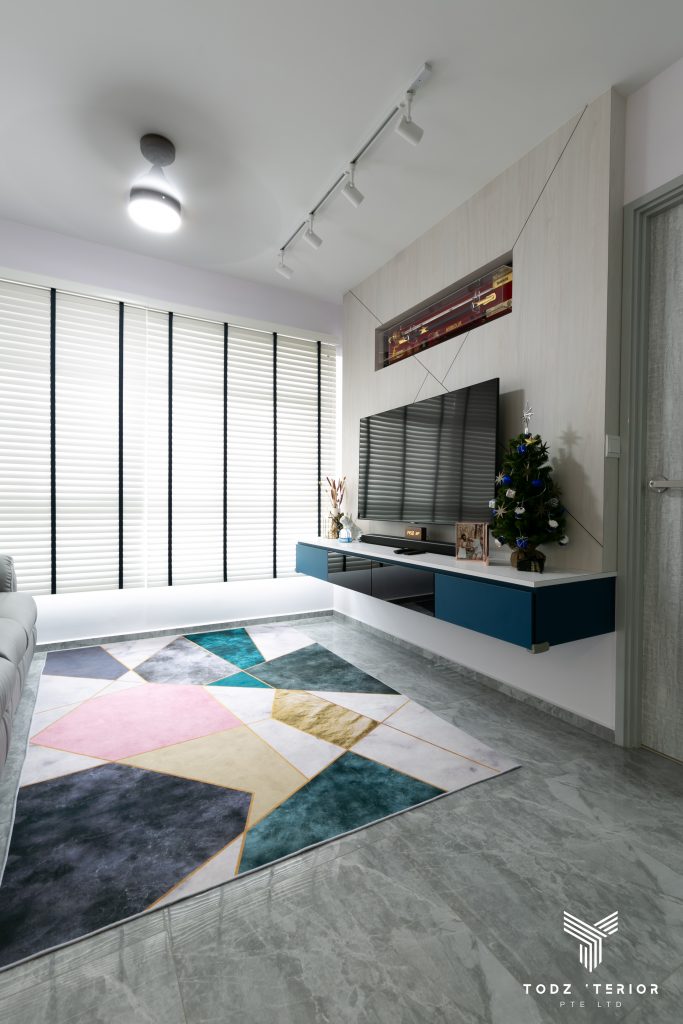 Playful decoration
You can turn your bicycle into a works of art, or you can use it to save space. Industrial style works well with the industrial look.
Other than that, you can also hangs your favorite miniature or sculpture. This three-dimensional decoration can be installed in the living room and added more characteristic and give a fresh soul to your room.
Designing your 4-room HDB living room can be a challenging process from start to finish. You have to have the ability to match your living room with your home style to prevent it from having a ho-hum appearance while also creating a sense of continuity. Plus, you also have to be creative in designing your living room.

Don't worry!
Although Interior design work can be very expensive, which puts it out of reach for many people. Todzterior brings the cost down by making the process quicker, easier and cheaper. Todzterior is an interior design business that helps you to decorate your living room by giving you a variety of options and ideas. Todzterior helps you to create an amazing living room the way you dream it to be!