There are many small kitchens with small square footage, but the clever use of space makes it appear much larger than it is. The small size may seem intimidating at first, but remember that with a little imagination, you can turn your small kitchen into a delightful work space!
A small kitchen design can be small in both size and scale. If you're used to larger kitchens, the small size of the work space may be intimidating at first, but with some careful planning and efficient organizational tools (such as free standing cabinet pantries), you can make your small kitchen live up to its full potential!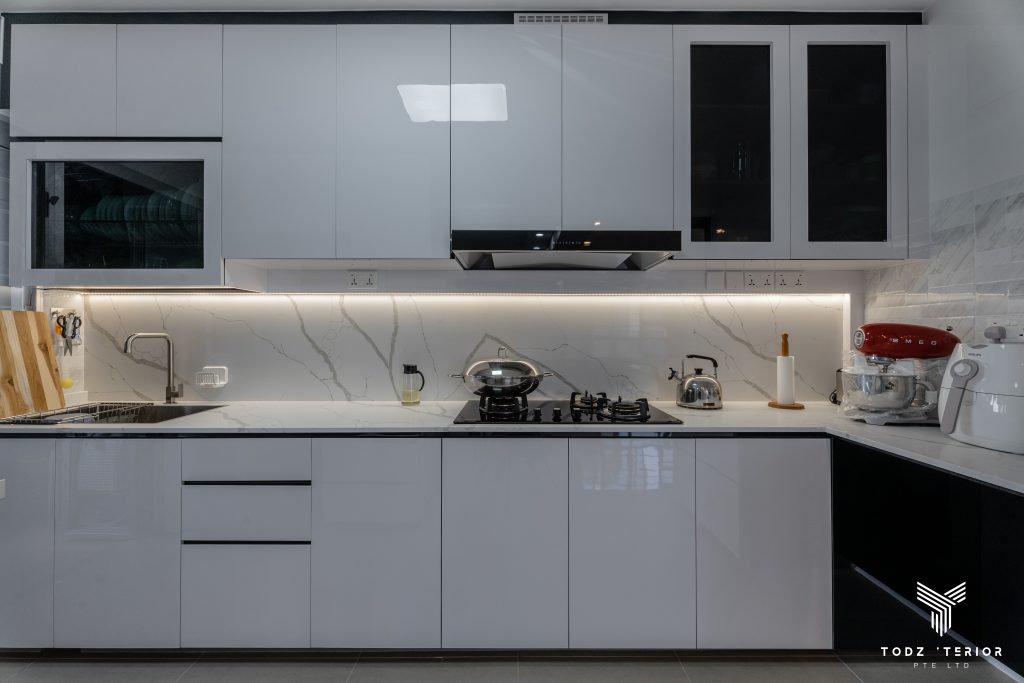 1. Save space with a sliding door
In a small kitchen with limited space, you may be tempted to remove the door to avoid feeling claustrophobic. However, a kitchen door is a useful tool for keeping cooking odors from permeating the rest of the house. Consider sliding doors, which are the ultimate room divider in terms of saving space. The homeowner has used a sliding door in this design idea, which takes up no space while providing separation from the kitchen beyond. Even when closed, the reinforced glass design prevents it from acting as a solid barrier between spaces.
2. Make more space with collapsable furniture
Choose collapsible furniture to give the space more flexibility in its use. This modern kitchen features an extendable table that serves as a sort of island. Then, when necessary, it expands to form a large dining table for meal times. The table could even serve as a useful desk for working from home. Because of the nature of collapsible furniture, the need for a table does not compromise the space in any way. It's a very effective way of making the space work to its full potential.
3. Get creative with corners
Even the most basic food preparation and serving requires a lot of'stuff' in a small kitchen. This means that it is critical to make the most of every available space by being creative with your design solutions. To elongate the space, make the units as tall as physically possible. Making use of magic corners and other clever mechanisms, such as this under-cabinet glass rack, will also help you make the most of every millimetre of space.
Hanging glasses beneath the cabinets is a clever kitchen storage solution. It not only saves space that would otherwise be wasted, but it also frees up storage space inside the cabinets.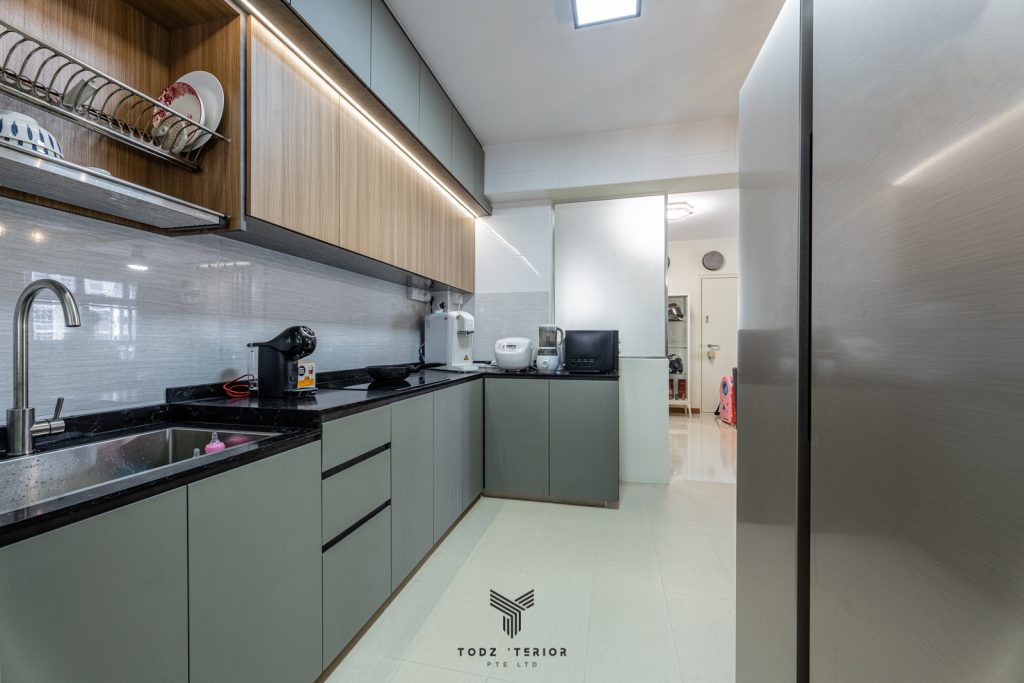 4. Create an optical illusion using colour
Painting kitchen cabinets is gaining popularity as homeowners seek less expensive ways to update existing kitchens rather than the more expensive task of replacing them. With a simple splash of color, this budget kitchen idea is a great way to revitalize the surfaces and make your space look brand new. In small spaces, a new color scheme can do wonders for making the space feel larger.
A neutral on the surrounding walls, such as Dulux's 'Timeless,' gives the space a fresh, airy feel. While a stronger, more dominant color, such as Dulux's 'Urban Obsession,' can give the kitchen cabinetry presence. By painting all of the base units a darker color, the room will appear divided, creating the optical illusion of more space between the floor and ceiling.
5. Invest in flexible storage
When it comes to storage in a small kitchen, you must be creative. Instead of investing in standard shelves, this wire panel shelving from string maximizes storage by adapting to the needs of your kitchen. Add or remove shelves, hang glasses upside down, and even incorporate a wine rack. When space is limited, you must make every inch count.

Conclusion
Small kitchens can be small, but they don't have to feel small. In this article we've provided some small kitchen design ideas that will help you make the most of your small space. Remember these five principles: use a sliding door instead of a solid one for better air flow and less claustrophobia, invest in flexible storage solutions so nothing goes unused or wasted, get creative with corners—think about how to utilize every inch of space possible by using magic corners and other clever mechanisms such as under-cabinet glass racks, think about what color scheme would work best in the given room (neutral colors are great when trying to create an illusion), and lastly paint all base units a dark shade which helps give the illusion of more height in the room.
Learn to make these recipes by clicking here to join todzterior.com