Homeowners are increasingly using their kitchens as functional and decorative spaces rather than just places to cook or eat. Kitchens can now be used to accommodate guests in a more comfortable manner, creating a sense of space. Whether you are looking for modern or classic styles, these kitchen designs have everything you need to start planning your next kitchen renovation!
Open kitchen
Singaporeans are now choosing the open-concept kitchen for their next home renovation. This will enable more natural light into the kitchen and enables you to keep a watchful eye on your kids while you cook. It's also an ideal solution for anyone who wants to be near their kids while cooking. On the other hand, cooking grease and odors may spread throughout the whole apartment easily. You can also install a kitchen hood since the odors and smoke are not only unpleasant but also can cause respiratory problems for the inhabitants. The presence of smoke and odors in a home can have adverse effects on its value.
Single wall kitchen
Kitchen design is important to any homeowner. However, the layout and design of your kitchen should be carefully considered. If you have limited kitchen space, then installing a single-wall kitchen layout could help you save space. It may also help to cut down on cabinet space. However, it will be difficult to make workspaces next to each other. But, it is possible to create work areas that are close to each other. You can also prep, cook, and wash up in one space.
Open shelving kitchen
This style of kitchen is different from most other kitchens. Instead of having cabinets built in, you get open shelves for the kitchen design singapore. This is because of how this style of kitchen is designed. You will see that these shelves can also be a place to store your essentials. In addition, they can be a place to display your collection of tableware. If you have a set of glass dishes that are old and beautiful, put them on display with a few other items. It will make a great focal point in your dining room or kitchen. To create an inviting space, add plants in small pots. Even if you only have one plant, it is enough to make the room look nicer.
Install kitchen island
Kitchen islands are an important part of the design of any kitchen, and it's no surprise that they're one of the most coveted kitchens. They're also a great source of extra storage and a perfect place for meal preparation. Most homeowners in Singapore live in apartments. This means that space is an issue. However, you don't need a huge space to build a kitchen island. If you have a small area, it will work perfectly. You can choose to go with a simple design or with a complex one. The simpler the design, the easier it will be to work on. If you are not planning to move your kitchen island anytime soon, then you should just go for a simple design.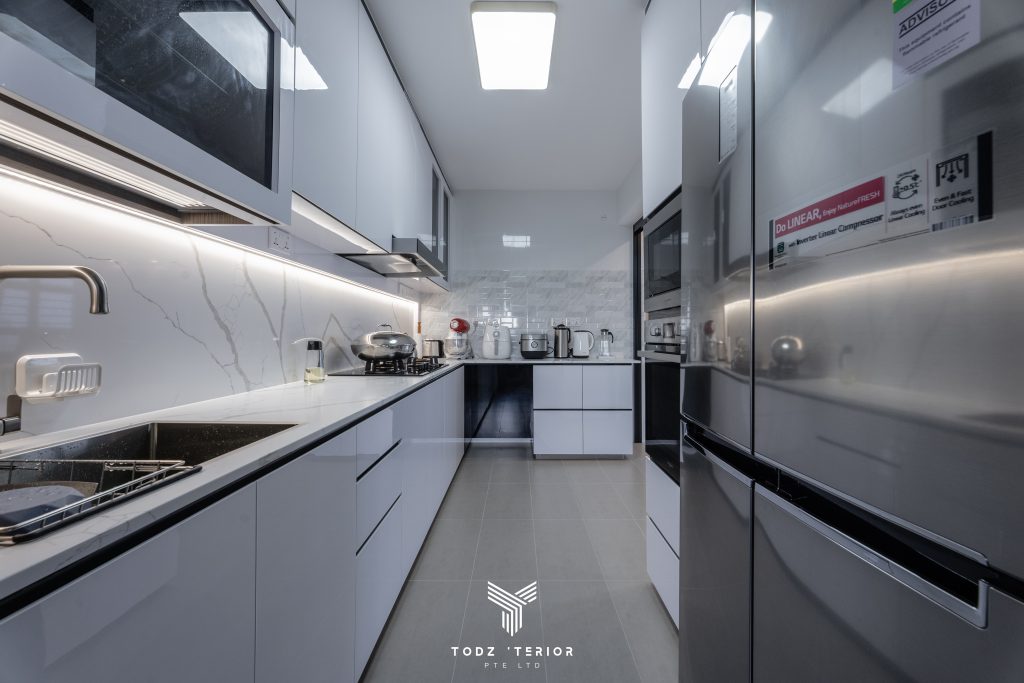 Galley kitchen
Galley kitchens are an ideal choice for HDB living. They are typically narrow, and there's usually only one sink and one or two appliances on each surface. Galley kitchens are ideal because they are compact, practical, and make good use of space. Make sure the kitchen isn't a cramped space. You don't want the room to feel like a hallway! It's important to have a combination of both dark and light colors for your cabinets. Moreover, you can also install a kitchen island to help save on space. Kook-style kitchen Kitchens can be a really great place to create a cozy atmosphere. For instance, the kook-style kitchen is ideal for those who want a space that is more like a lounge. It gives you the feel of a family gathering place. 

No need to worry, we will help you!
So, if you need to make your own kitchen design, Todzterior will help you to make your dream kitchen come true! It doesn't matter the kitchen space you have, with our professional designer, we can help you to choose the best design and material with an affordable price. Check our website for more information.