When you look at kitchen renovation ideas, you will be able to find a broad array of options. Some are well suited to large ones, whereas others are specifically designed to keep in view smaller ones. Whether you own a big house or a small apartment, you are bound to find many different kitchen renovation ideas from which you can choose the designs that best suit your requirements and preferences.
If you are living in Singapore, chances are you are living in an HDB flat. Whether you have a small space for your HDB kitchen or a huge area, there are various ways through which you can revamp its appearance. Even in small-spaces, if the space is utilised properly, it can lead to a convenient kitchen that not only serves the purpose but does not appear cluttered as well.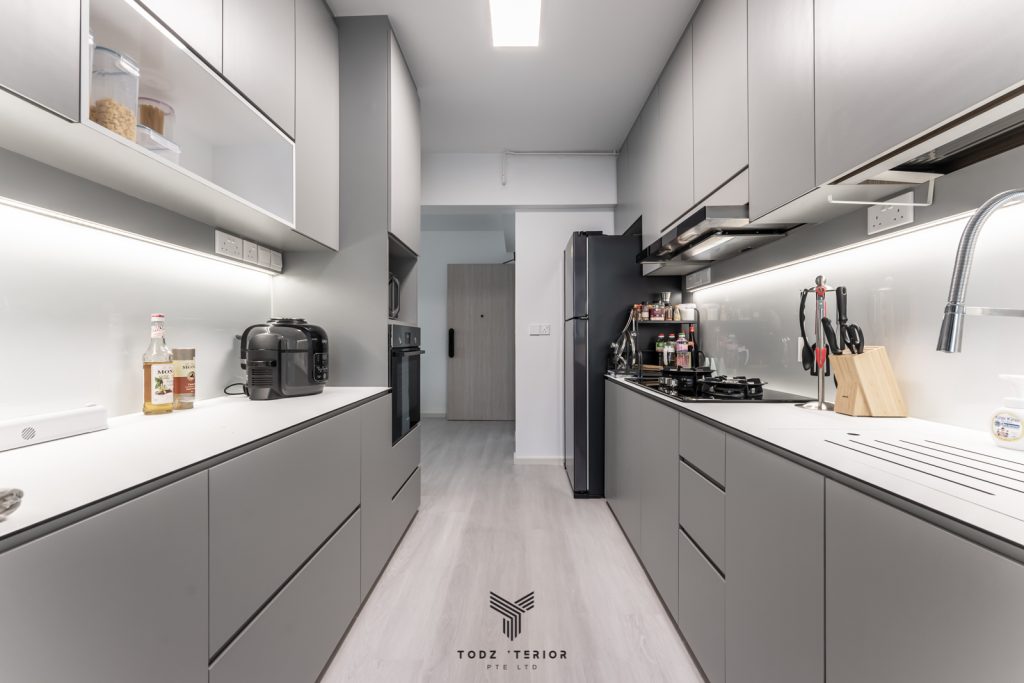 Here, we will describe a few ideas which you can adopt to change the appearance of your HDB kitchen . Be it a small one or a big one, we have creative ideas to suit your needs!
Use Cool And Serene Color Themes
Choose cool, deep, and serene colours for your kitchen to create such beautiful interior design themes that are bound to catch the attention of anyone who enters. The use of cool colours helps you enjoy the process of meal preparation and cooking, so it does not feel like a burden to you. A perfect example of such a kitchen is displayed in the following image where the space was renovated by us. The cabinets and shelves are of a deep and calm shade of blue, whereas the countertop is white. This perfectly balances the colour theme through the added use of accent and recessed lighting. The floor and walls are of ash grey colour, which further complements the whole design.
Experiment With New And Exciting Tiled Backsplash
When you think about keeping things simple in your HDB kitchen, it applies mostly to the cabinets, counters, and the floor. However, this does not mean that you cannot add an element of surprise and excitement to some parts of the kitchen during renovation.
One such way you can add a bit of trend and pop is to use unique patterned backsplash tiles. These tiles can be used in the form of patchwork or other geometrical patterns to create eye-catching designs. An example is displayed in the following image of an HDB kitchen renovated by us. Notice how different shades of brown and gold tiles are installed to create a unique fan-tiled backsplash. This design not only adds a different character to the kitchen's design but also offers beauty and elegance.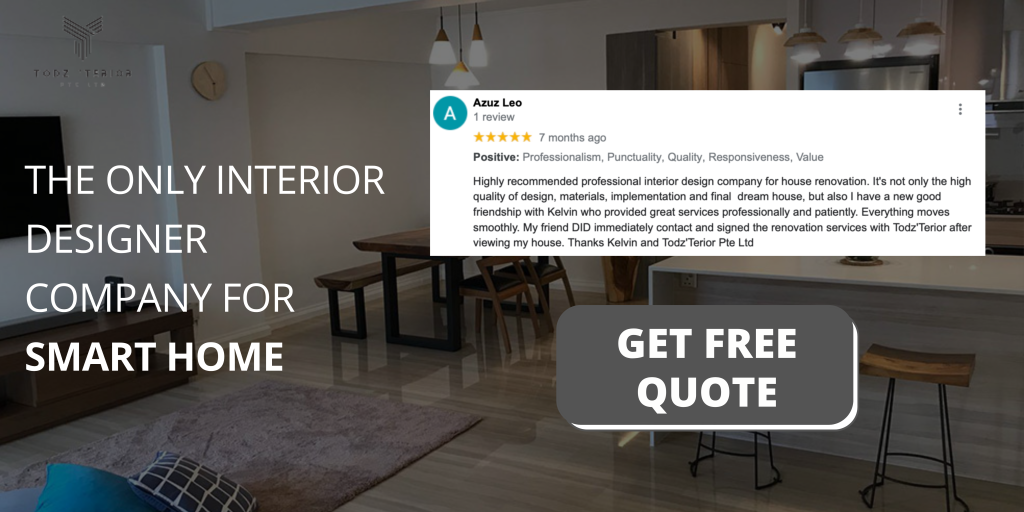 Focus On The Flooring
Although the main emphasis of a kitchen is on its functionality and where everything is placed, the floor is just as important when it comes to its interior design. If the remaining elements of the kitchen have been designed immaculately, but the floor fails to match it, the whole space will look like a disaster. Ideally, the floor should be tiled in very light colours so it can help make the area look spacious.
The floor tiles could match the colour of the backsplash tiles or be a shade darker or lighter than it. You can even opt for wooden appearance and texture tiles to match the other elements of the kitchen. Again, the options in case of flooring of a kitchen are limitless.
Open Concept Haven
An open concept HDB kitchen not only takes much less space but is trending these days as well. When no apparent walls are separating the kitchen from the living room, your whole apartment or condo appears spacious and airy.
Below is an HDB kitchen renovated by us, notice how the countertop can be utilized for dining purposes as well. This open concept looks stylish and elegant as well as provides the added functionality of dining without taking any extra space. 
This is probably the most common type of HDB kitchen design especially for smaller homes and studio apartments. It takes relatively lesser space. Because of its open concept, it does not appear congested even though it covers less surface area.
It also allows more light to enter the kitchen which would not have been possible had it been a conventional one. This kind of design is especially useful if you have small kids. It allows you to keep an eye on your surroundings while you cook.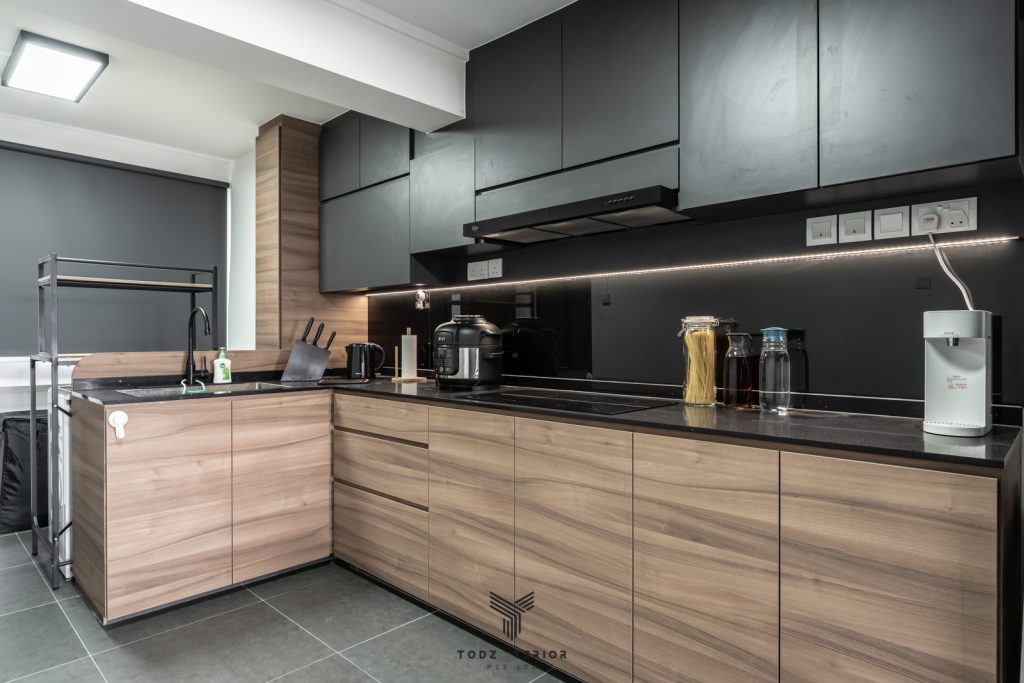 Bright And Functional
Having a white themed kitchen brightens up the whole area immediately. If you have a small HDB kitchen, a white theme will be especially useful since it will make the space appear spacious and big. You can add white cabinets with a light grey or beige backsplash. The floor tiles can also be white or pastel-coloured to match the overall white theme. A white themed kitchen does require more effort in cleaning, but it presents it elegantly and beautifully.
Also, try to keep the kitchen functional. Only add those elements which are going to be of use to you, so you do not waste any space with unnecessary items. Provide ample room in the form of counters to add maximum functionality. Add a bar and chairs if you have space.
These are some of the trending interior design ideas which you can incorporate in your HDB kitchen during renovation. According to space availability and other factors, you can make certain changes in them and customize the designs according to your preferences and requirements. In the end, you are bound to have the HDB kitchen of your dreams that is classy, modern, and trendy.
Todzterior provides renovation services, HDB kitchen design and condo interior design services for homeowners in Singapore. We have separate packages for kitchen renovations as well in which they create customized designs that exceed the clients' expectations.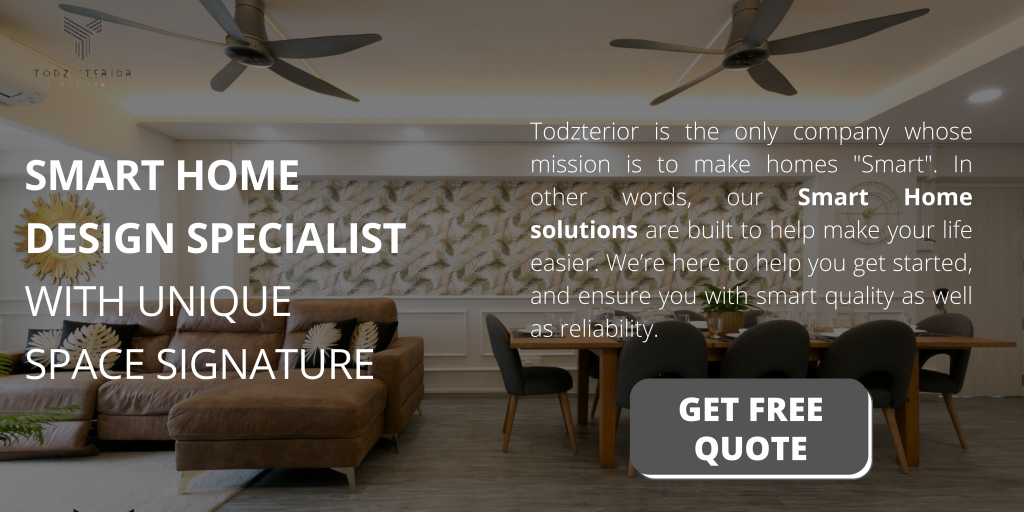 We're here to help you get started Smart Home solutions
Todzterior is the only company whose mission is to make homes "Smart". In other words, our Smart Home solutions are built to help make your life easier. The possibilities for the future of the smart home are endless. You've come to the right place. We're here to help you get started Smart Home solutions, and ensure you with smart quality as well as reliability.