Are you still searching for the best kitchen cabinet design for your 4-room flat? Then keep reading.
When it comes to designing a kitchen, there are some things you should take into consideration. A kitchen is a place where the family spends lots of time together. The kitchen is the hub of the home. And the kitchen is the area where most of the meals are cooked.
So it is important that you make sure the design of your kitchen reflects the nature of the space that it is placed in. So you should make sure the design of your kitchen is in line with the rest of your 4-room flat.
In this article, I'm going to give you an awesome kitchen cabinet design for a 4-room flat. And this kitchen cabinet design is sure to turn your flat into the most gorgeous flat ever!
If you want to learn how to build the best kitchen cabinet design for your 4-room flat now, then read on…
All-white kitchen cabinets design
The sleek design of this kitchen creates a functional space for your family to eat, cook and hang out. 3D tiles for the backsplash complement the granite countertop seamlessly. The white cabinetry opens up the space and makes the kitchen look light and airy. The striated marble floor tiles complete the look of this kitchen.
Moreover, the kitchen cabinet design is simple, functional and timeless. So this kitchen cabinet design will work for you for years to come. The white cabinets also create a seamless transition with the white wall. And they also provide a clean and clear look for the kitchen.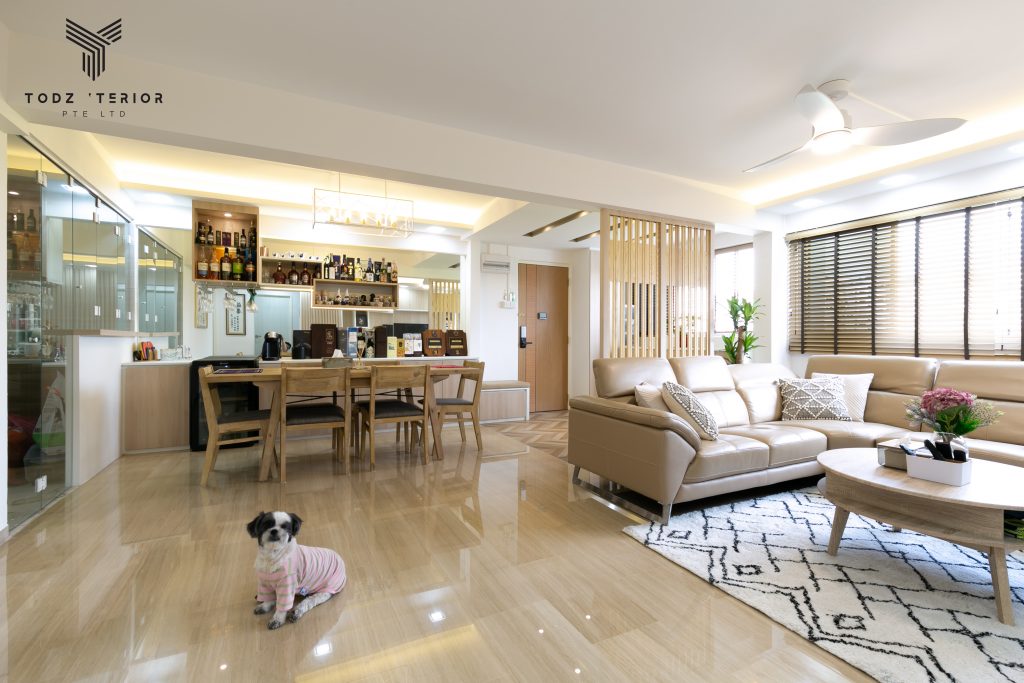 Country style kitchen cabinet design
This open-style kitchen is classic, and pairs perfectly with the charming white cabinet doors and pristine white countertop. A brilliant idea for your HDB kitchen design Singapore is the pendant light. Add these to your design and see the magic unfold! Plus, the open kitchen cabinet design creates a space for the family to hang out and enjoy. It is also very practical for your family.
Furthermore, the country style kitchen cabinet design is also very easy to clean. Plus, it's the perfect kitchen cabinet design for your 4-room flat than your old 4-room hdb kitchen design. So if you are looking for the best kitchen cabinet design for your 4-room flat, this is it!
Black and white modern design
The kitchen with the black and white combo is a timeless classic that will never go out of style kitchen cabinet design singapore. This modern-style chandelier makes the room look more elegant.
Here is a good example of space optimization, as this kitchen has been made aesthetically pleasing with black and white colors and other accessories. You can combine the dining area with the kitchen by adding an island. The island is a must-have for your 4 room HDB design. It can store lots of your kitchen utensils and can also double as a bar bto kitchen design.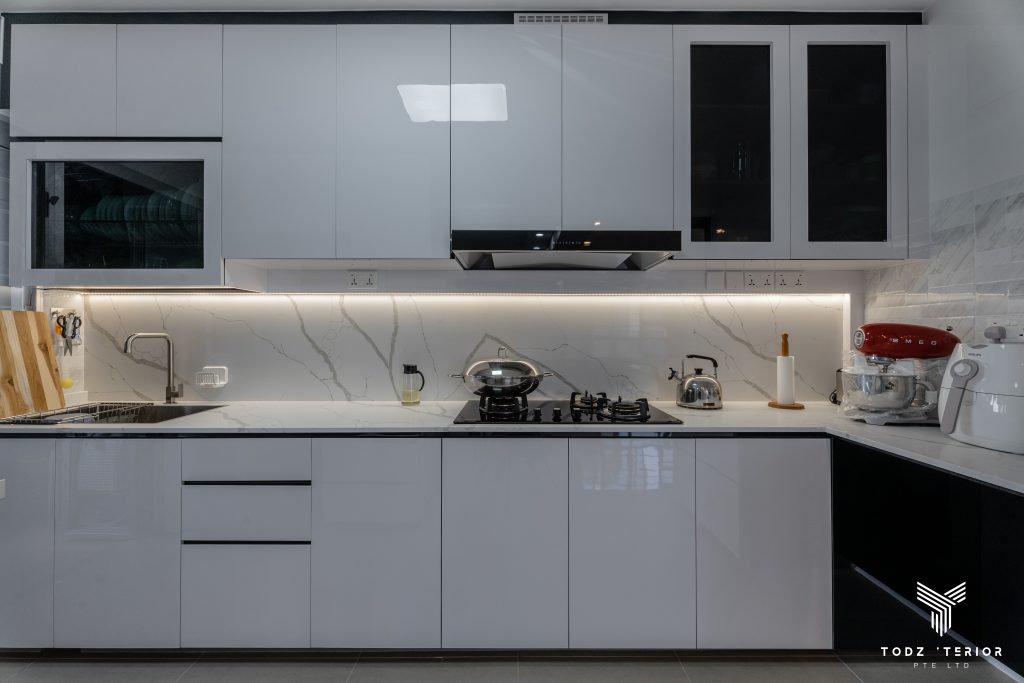 Last but not least, create more storage
Storage is important for every room. With a kitchen like this, you will have no dearth of storage space here. Look at all those drawers, cabinets and lofts! You can store the world in your kitchen, while the shutters take care of keeping the space from looking dense for kitchen interior design singapore.
However, there is one thing you need to keep in mind. Make sure the size of your kitchen cabinet is in line with the size of your kitchen. You don't want to make your kitchen look too small. So you should make sure you have enough storage space for your kitchen or you will have a lot of clutter on your kitchen floor.

What can Todz'Terior do for you?
If you are looking for the best kitchen cabinet design for your 4-room flat, you should definitely check out our website at Todz'Terior. With Todz'Terior, we can help you to design your 4-room HDB kitchen with no worries, we guarantee you the best quality because our professional designer will serve you the best! You don't have to worry 'bout the cost too, as we offer affordable prices to all customers!