Are you looking for HDB kitchen renovation package? If so, we have a wide range of entire HDB kitchen renovation packages at affordable prices. Our kitchen renovation package include everything from cabinet design to HDB kitchen sink installation and more! We have a HDB kitchen renovation package that will work with any budget.
HDB Kitchens layout have evolved into a variety of arrays and configurations, each of which is designed to meet a specific room size, layout, theme, and style, and the island kitchen is one of these common kitchen arrangements. You might be wondering, what exactly is an island kitchen.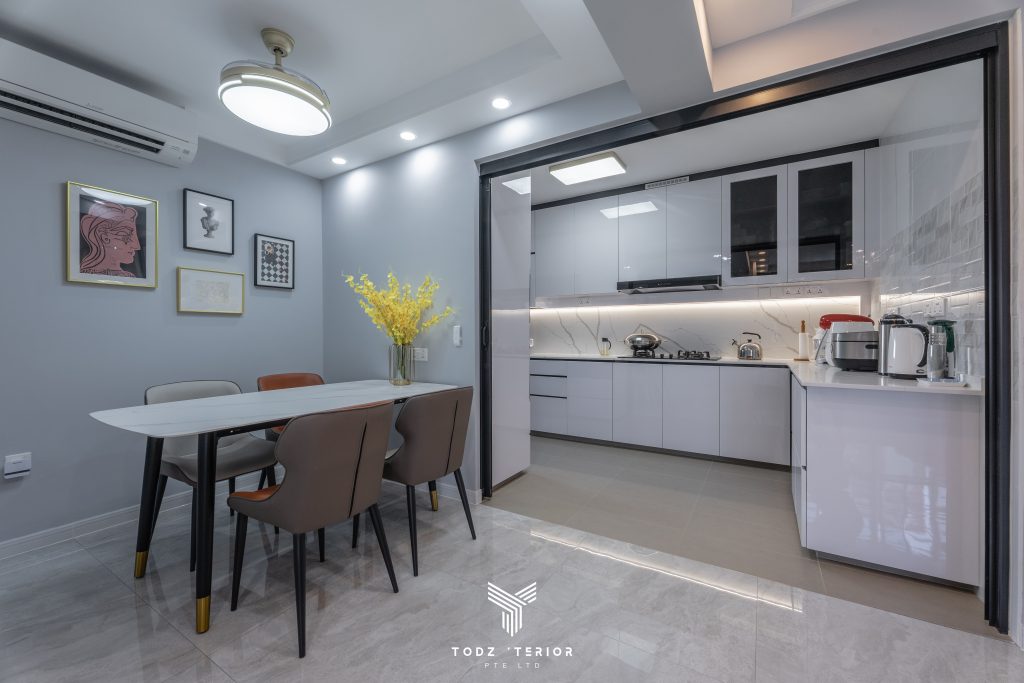 As the name suggests, it is a kitchen layout, or rather a section of a kitchen, that is distinct from the rest of the kitchen and where the majority of the cooking and prepping takes place. The name comes from the fact that the island kitchen layout is usually found in the middle of the kitchen cupboards or in the open kitchen area.
Here's a query that many HDB residents have for designers. Is it possible to have an island kitchen in a hdb apartment? Is it possible to boost the value and attractiveness of the property? Will it, more crucially, take up too much room layout? Many designers would tell you that if you think outside the box and look at the photographs, anything is possible. So, if you're considering getting one, here are some things to think about as well as some ideas to explore when it comes to designing your own hdb island kitchen layout.
1. KNOW YOUR KITCHEN INTIMATELY
Let's begin with the most basic step. Do you desire an island kitchen, but your space won't allow it? What are your plans for it? This is where you should become acquainted with the intended region and take notes. Check to see if electricity and water are available. Is there adequate room in your chosen cooking layout area? Is there a window or, at the very least, ventilation?
It's easier to figure out specific sites if you jot down the measurements on a piece of paper. Then, presuming you're going for integrated appliances in your hdb island kitchen layout, make a list of the sizes and types you'll be employing.
Some hdb homes have restrictions on the kind of appliances that can be used. Some of the rules could include allowing induction cookers or only using inverter refrigerators, among other things. Because of these concerns, not all island kitchens layout will have the same look, as much as you desire to have that picture perfect and full island kitchen.
As a result, certain aspects will be altered, such as the size, the materials and hardware utilized, and possibly the general location. But that doesn't rule out the possibility of having that kitchen layout. In fact, it provides you with a plethora of options for creating a one-of-a-kind island kitchen.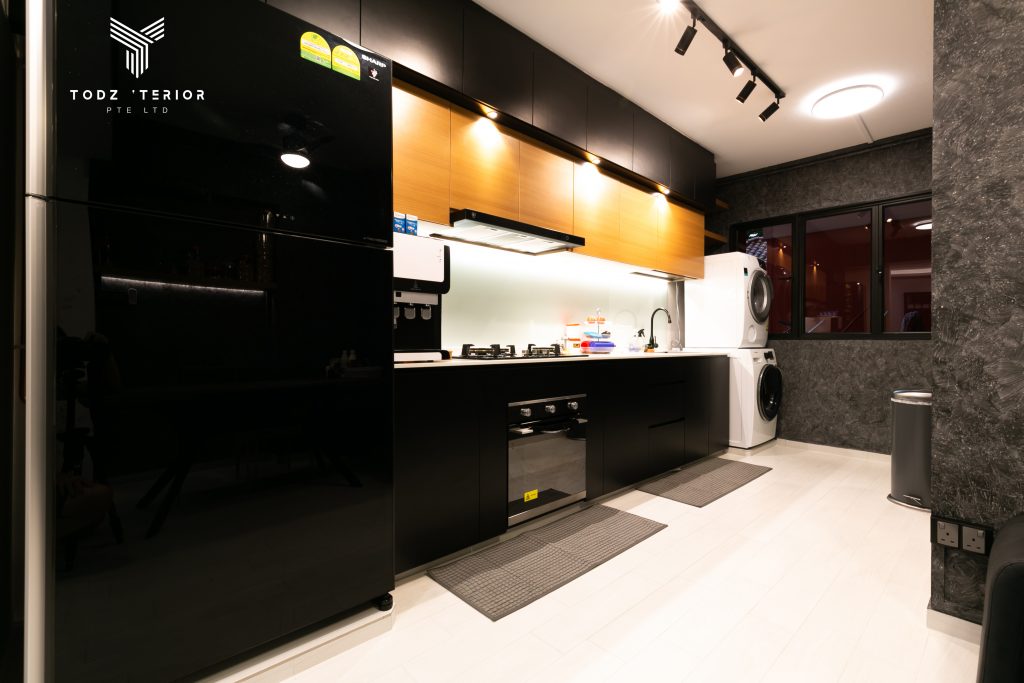 2. SHOW STOPPING COOK AREA
It's time to design your dream kitchen design now that you know what you want to do with your available space and the materials you'll use. Have you ever watched Rachel Ray or Emeril Lagasse's cooking shows? If you have, you'll note that they have an island kitchen with a kitchen sink and cooktop.
So why do they use that?
Simply put, they practice "live cooking," in which the chef prepares and cooks the dish in front of the guests before serving it immediately. Use this unique discussion starter as inspiration for your island kitchen. A breakfast nook is a pretty cool and functional element to add to your hdb island kitchen layout.
This could be a cantilever shelf a few millimeters below or a few centimeters higher than the island kitchen counter; a narrow table top supported by tiny legs; or even a little extension of the counter itself. Combine it with some beautiful and robust bar chairs so that your visitors can relax and watch a live cooking demonstration in your home.
3. STORAGE IS ESSENTIAL!
We've discussed space efficiency and making the most of your available space. When it comes to your island kitchen, the same can be stated. Why not use the same idea for your island that you use for the rest of your kitchen cabinets?
You can designate the island kitchen storage for regularly used cookware so that it is much easier to reach for them when you are preparing your ingredients.
On one side of the island kitchen, you can put either doors or drawers. Placing open shelf cubicles on either side of the island to store condiments, pasta and sauce jars, and even cutlery is a great kitchen design idea to test out.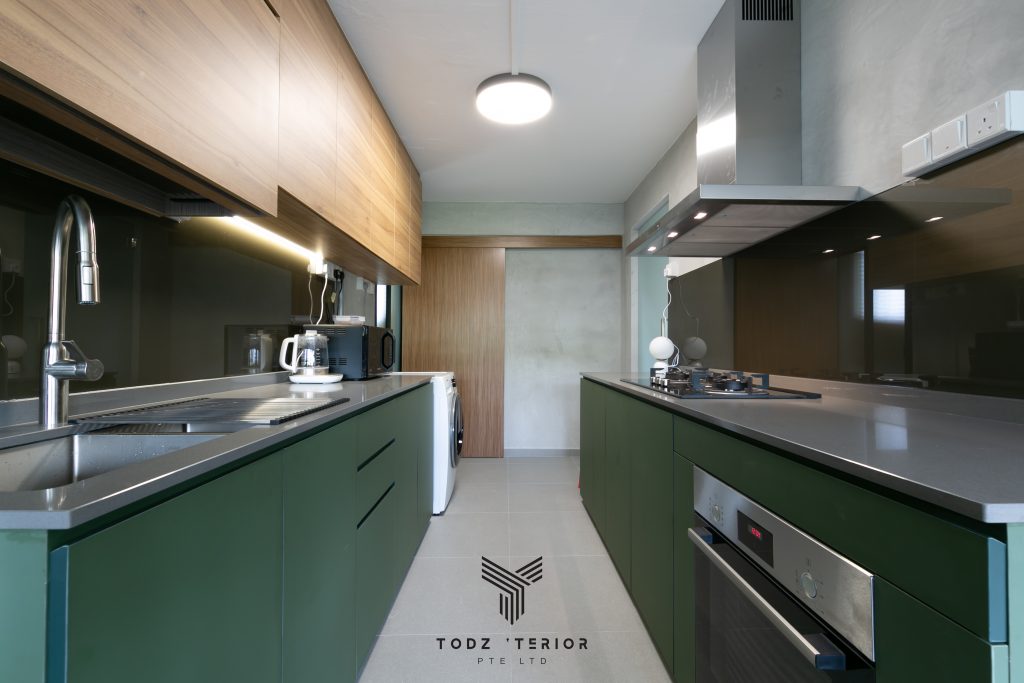 4. PRACTICAL SIZING
In the past renovation packages, island kitchens were typically large and rectangular in shape. They are usually the same width as the rest of the kitchen cabinet in consideration of balance. However, not all HDB homes layout have ample kitchen area. They have smaller places on occasion.
Again, this should never be a hindrance when designing your kitchen. Believe it or not, the island can be changed to fit your needs. You can use the island as a prep area or a dining space, depending on how you operate in the functional kitchen. You can have a smaller island kitchen, such as one that is 1500mm long or even 1200mm long.
Having one side of the island kitchen supported by a single post is a wonderful technique to make it appear smaller and lighter. This will make your kitchen appear much more open and interior design minimalist overall. With a foldable countertop that can stretch out to a bigger safe, you can even build a perfect square island measuring 1000mm.
5. ROLL AWAY KITCHEN ISLAND!
When you combine functionality, portability, and the island kitchen layout, what do you get? You receive a one-of-a-kind island kitchen that doubles as a prep station, and when you need more kitchen floor space, simply unclip the wheel locks and move the island kitchen to the sides, where it can double as a buffet.
This concept transforms the hdb island kitchen into a convertible and adaptable piece of furniture. Especially if your hdb apartment is fairly small and having limited floor space is not an option. You can even add a countertop that extends or folds.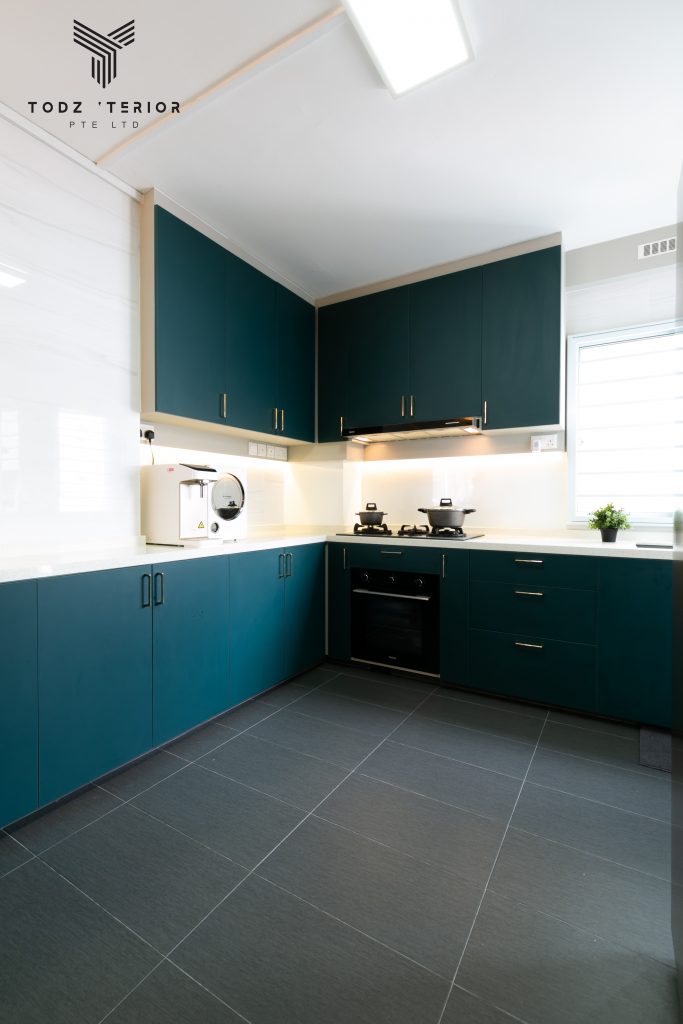 6. WHEN IN DOUBT, IT'S OKAY TO ASK HELP
You may have the concept in your head, but when it comes to putting it into practice, you may meet a brick block. Both literally and metaphorically. It's totally OK to seek professional help when in doubt. In Singapore, there are a plethora of designers who specialize in building space-saving and stunning island kitchens.
Property recommended designers should be consulted for hdb island kitchen projects since they are knowledgeable with the property rules and regulations when it comes to remodeling and building. Apart from that, they have years of expertise working on other hdb properties and can use that knowledge to execute and design your one-of-a-kind island kitchen.
What is the typical HDB kitchen renovation cost in Singapore
Kitchens are one of the most crucial areas in any home, and Singaporeans are no exception when it comes to kitchen renovation. But, with so many variables influencing the pricing, how do you know if you're getting a decent deal?
In this post, we'll look at some of the most frequent kitchen renovation cost in Singapore, as well as the factors that influence them. Let's get this party started!
A kitchen renovation can be done in a variety of ways. How much of the property needs to be restored and whether or not it is a complete kitchen renovation, including new plumbing fixtures, are the two key considerations that will influence the price.
To begin with, choose what will stay unblemished and what will modify.
On the off chance that simply old racking cupboards are annihilated and new ones introduced, you should pay for hacking and new racking. The expense is dictated by the length of the new cupboards. You should think about the expense of hacking and introducing your tiled, in addition to work costs in case you are searching for an exhaustive retrofit. Moreover, incorporate the establishment costs for new armoires.
As the kitchen layout is respected to be a soggy space, it is important to satisfactorily protect and lake (utilizing static pressing factor by beating water on the inside face to distinguish water spillage).
This likewise expands your expenses. At long last, the expense of transport and the cost for corrosive washing the tiles after the establishment.

If your are looking for Best Affordable HDB Kitchen Renovation Package Singapore
In Gambas Crescent Singapore, it may seem like there is an endless variety condo interior design firm to choose from. The challenge becomes narrowing down your choices and finding the best fit for your specific needs.
We would be happy to provide any consultation or guidance you need in order to make these decisions so that you can find what works best for your kitchen renovation.
What kind of kitchen renovation package You Might Want? Let us know your ideal kitchen renovation package by contacting us