Do you live in a 4-room resale HDB flat? Do you need 4-room HDB renovation ideas, especially for your kitchen? Are you bored with your old 4-room HDB kitchen design? Are you in search of design ideas for the 4 room resale kitchen in your home?
It's hard to believe that the 4-room resale kitchen has seen better days. It can sometimes feel like an outdated and ugly kitchen. You'll find that there are many design ideas you can do to renew the look of your kitchen.
When you have a 4 room resale kitchen, you usually find that its walls are a dull gray color. That can be quite unappealing. But it doesn't have to be that way. You can change all that with some simple design ideas.
In this article, I'm going to tell you what can be done to make the 4-room resale kitchen come alive again.
So if you want to renovate your 4 room HDB resale kitchen and bring a new lease of life into it, then read on…
Kitchen With Greenery
The first idea is to add greenery to your kitchen. It's not a common idea, but worth it to try. Greenery in your kitchen will make you feel as if you're in an open space. You can add green plants in some spots, and use wooden-material furnishings such as tables and chairs. To make it greener, you can choose green-coloured furnishings or paint the wall green.
Modern Touch
The modern style could be a perfect choice for your kitchen. By applying modern interior design, you'll be more comfortable cooking in the kitchen. You can blend black and white and combine it with metal/stainless furnishings. For the flooring, the materials that are used for the modern style are granites, concrete, and wood.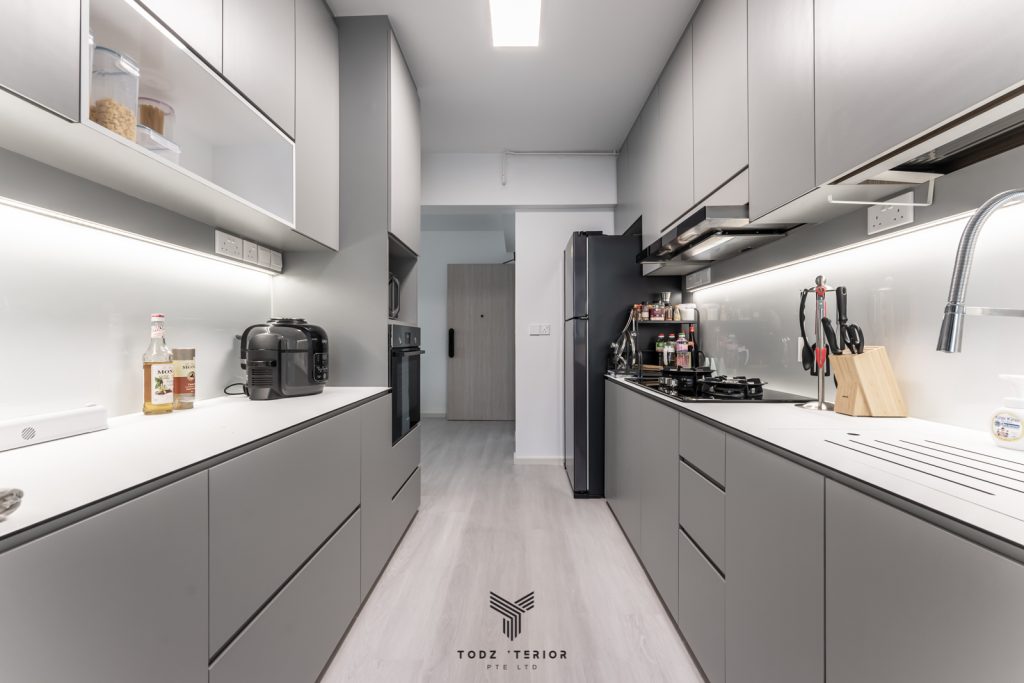 Industrial Charm
There's no doubt that industrial style has its roots in the Industrial Revolution because the industrial interiors came from the need to repurpose factories into a living space in the Industrial Revolution. And, if you need HDB small kitchen design ideas, the industrial style may be a perfect choice for it since it embraces minimalism. Giving the sense of unfinished work, you can add brick wallpaper on the wall and concrete floors. Also, blend various rustic and wooden materials in furniture and lighting.
Full of Decorations
When a kitchen is a space to place many stuff and furnishings (refrigerator, table, chairs, stove, cabinets, and utensils), many people think they can't put decorations in it. They just prove that they're wrong because it's not impossible to add decorations to your kitchen. For example, you can add floating wooden shelves to place the utensils or recipe books. You can add small plants to the table or hang artworks on the wall. You're also allowed to lay on rugs or carpets on the floor. Just make sure the decorations you add to suit the style you apply.
White and Skylights
If you like something simple, you can try all-white in your kitchen. Not only will it make your kitchen look clean and fresh, but also will it make it look more spacious. You can apply white to the wall, cabinet, floor, and furnishings. Especially if your kitchen is small, you can install skylights to make it look even wider. A skylight can maximise the exposure and with natural lighting, it will help reduce the humidity in your kitchen.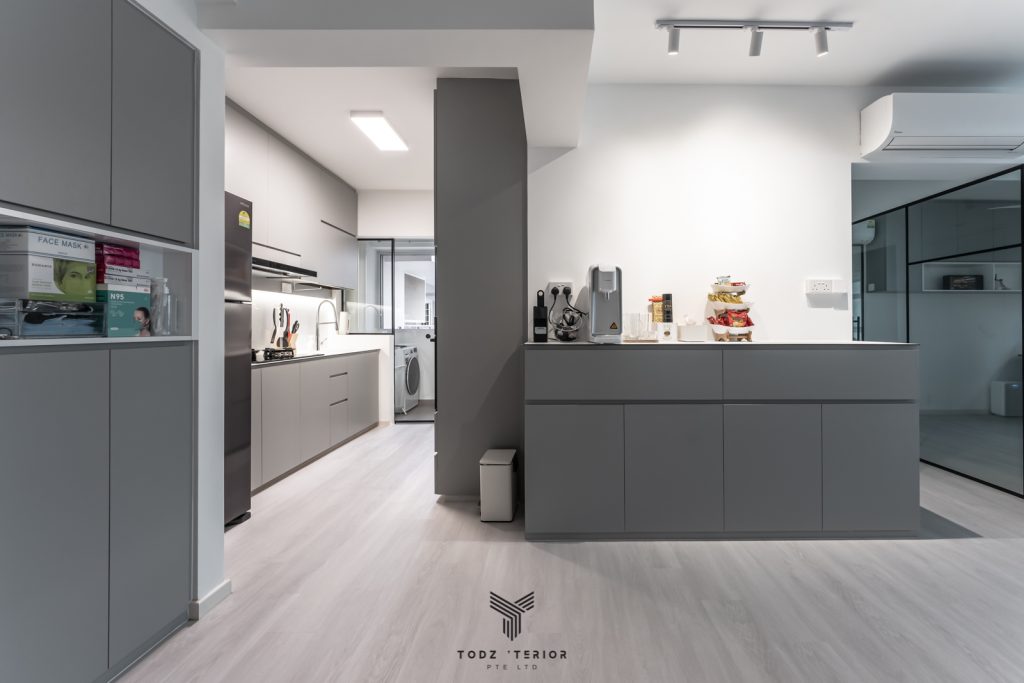 Try to Be Bold
Don't be afraid to give bold colours to your kitchen. Because, with appropriate considerations, you can make your kitchen appear chic and different. For instance, you can blend red with white, black with orange, or pink with grey for the walls and furnishing, and see how stunning your kitchen is!
Pastel and Wood
Mixing pastel colours and wood accents will make your kitchen look warm yet cute. Choose wooden cabinets, shelves, tables, chairs, and shelves, and paint some parts with pastels. For instance, the door, and the top of tables, chairs, and shelves. While letting the other parts show their wooden material. Or simply paint the walls with pastel colours and combine them with wooden furniture.
What will you get with Todzterior compared to other firms
What you will love about LivSpace
From design plan to installation, you'll find everything you would like beneath one roof. Simple handle that matches their high-end cost!
What you will love about Weiken
Other than making a great interior design, Weiken too has pleased our clients with our inviting, mindful, and inventive services and solutions.

What you will love about Todzterior
TodzTerior is one of the most excellent interior design firms in Singapore that's eminent for its brilliance in interior design and building. We are more than fair, a straightforward interior house, easy process, more friendly, more inventive assistance, and dazzling to understanding what you would like. We're your perfect interior designers. We improve by utilizing space, materials, color, texture, light, shade, furniture, and indeed delicate furniture. We like to guarantee you the most noteworthy quality, unwavering quality, and proficient 'before and after' service.
You'll get so much more than fair design with us!