Do you need to be minimalistic in decorating your home?
Minimalism is a trend that has been gaining popularity for a while now. It's not a new trend and it isn't a fad. It's just one that makes so much sense that the more people start to adopt it, the more they become hooked on it.
For some people, minimalism is about having the most basic kind of interior design in their house. But for other people, it is about keeping as few things as possible. And for still others, it's about keeping it all simple and minimalistic and having the best of everything in their house.
In this article, I'm going to show you 5 simple ways to decorate your home so that it becomes the best minimalist house design and attractive home ever.
If you want to get into minimalist interior design, then read on…
Minimalist Design For The Living Room
The living room design minimalist is about stripping away the unnecessary elements of the home. One of the ways to add some luxe minimalist industrial style to your minimalist living room is to incorporate industrial-style accessories, such as metal light fixtures and plush rugs. Neutral colors like white and black are also perfect for the industrial minimalist style.
To create a simple, clean-lined look, you should consider using natural materials such as stone, wood and leather. You can also use bolder colors, but they should not overwhelm the minimalist design.
Minimalist Design For The Bedroom
You can also go the industrial route with a striking bed. You can pick one with a frame to make a statement and complement it with a stylish headboard. You can mix the industrial light fixtures and the contrasting black and white colors with a neutral palette. Playing with textiles like adding soft gray pillows, blankets and rugs will add vigor and a new dimension to your minimalist HDB interior design.
Vibes is a great word to describe the atmosphere in your minimalist bedroom. The best way to create a great vibe is to use wood tones and earthy colors. Also, don't forget to pair the natural tones with the typical minimalist bright whites as a foundation.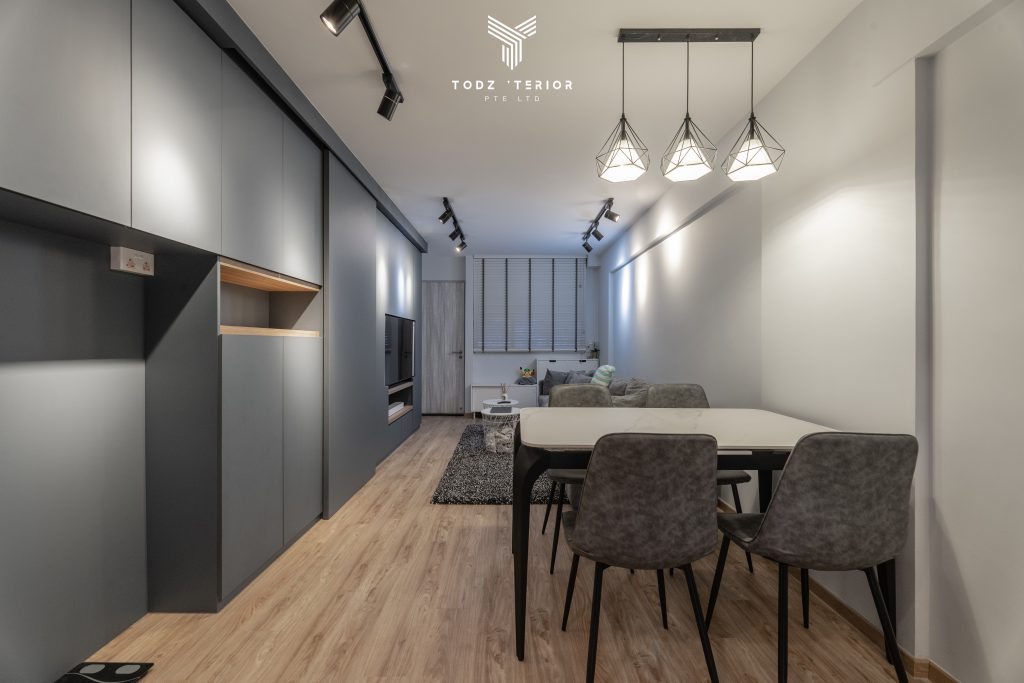 Minimalist Design For The Dining Room
A minimalist interior design can use a few statement pieces in a room. The dining room can benefit from chairs of clean lines and a stylish chandelier. However, you can go further by adding a mid-century dining table along with chrome-base seatings.
Create a space that is airy, with grayish tones, and use wooden tones to complete the overall look. Add some abstract pieces of art and a rug to complete the space.
You can also consider a more traditional minimalist dining room. You can try adding elements that go with the interior theme while adding character to the overall space. Simply bring in some minimalist furniture, including upholstered chairs and a modern wood table. Perhaps, you can also use a bench to add some visual interest.
Minimalist Design For The Kitchen
If you are planning to remodel your kitchen, you should consider going with a modern minimalist kitchen design. It offers an all-white design palette, and it is a very practical option.
The trick to mixing white appliances with black cabinets is to choose appliances that are not white and then apply a dark stain to the cabinets. You can then finish the cabinets with a light wood stain.
The kitchen doesn't have to be entirely monochromatic. You can use a tiny pop of color to liven up the atmosphere. Focus on the kitchen's focal points with some dimmed lights. The contrasting hues will do the rest.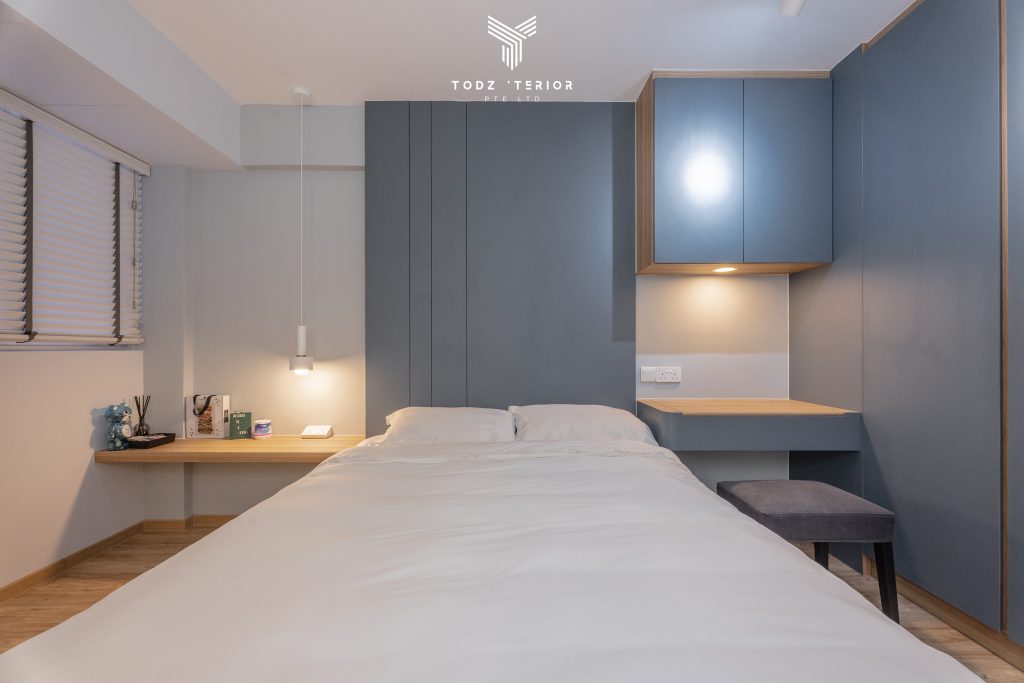 Minimalist Design For The Bathroom
With a minimalist bathroom design, everything is kept simple, with a white and gray color scheme and monochrome tile designs. A beautiful marble textured wall tile adds character to the bathroom, and the modular vanity unit has handleless cabinets that adhere to the minimalist theme.
The minimalist interior design theme is ideal for small spaces, so it is perfect for HDB or Condominium bathrooms which tend to be limited in space.

What Can Todz'Terior Do For You?
The minimalist design has become popular because it is versatile and functional. You can make the most of the minimalist style with an industrial touch and a modern approach. With Todz'Terior, you can create a minimalist look to your home without breaking the bank! We will help you to design your dream home with our trusted professional designer.